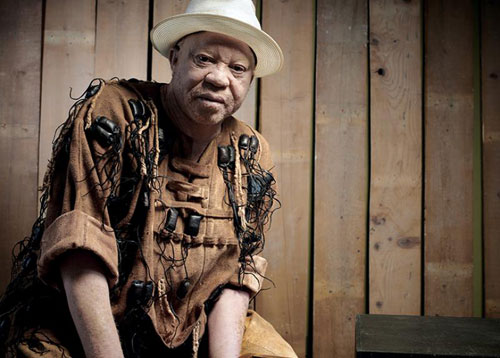 A master of West African rhythms and credited as one of the founders of the Afropop genre, Salif Keita is world renowned for his unforgettable live performances, soaring vocals and his emotionally-fueled songs.
Born in Mali, West Africa in 1949, Salif Keita comes from a noble family, and is a descendant of Sunjata Keita, who founded the Mali Empire in 1240. Salif Keita was the third of thirteen children born to Sina Keita, a landowner in the village of Djoliba, where he grew up, near Mali's capital, Bamako.
Born albino in a land of blistering sun and heat, with limited eyesight and poor despite his social standing, his mother had to hide him to avoid the attacks of the superstitious crowds who called for his death. In addition to the problems of growing up as an albino, Keita found the opposition of his family to his interest in becoming a singer since the traditions of his ancestry excluded members of the nobility from becoming singers. Keita's decision to become a musician broke an important taboo as in Mali as only the lower jeli class made its living from music.
In 1970, at the age of 18, Salif Keita left Djoliba for Bamako, where he spent time as a street musician and playing in bars. The first group that he worked with was the legendary Super Rail Band, a state-supported ensemble that was based at a Bamako railway station hotel, and served as an important launching pad for the careers of numerous West African musicians, including kora player and singer Mory Kante, and guitarist Kante Manfila.
In 1973, Salif Keita left the Rail Band, and with guitarist Kante Manfila he joined Les Ambassadeurs, which later became Les Ambassadeurs International. The new group developed the fusion between traditional music and western electric influences. 1977 saw Salif Keita being awarded the National Order of Guinea by Sekou Toure, the Guinean President. By that time, Salif Keita had also discovered American singers like Stevie Wonder, Ray Charles and Tina Turner. Their powerful way of singing and presence on stage taught Keita a lot about live performances.
Restricted by the limited opportunities and political climate in Mali, the group moved south and set up base in Abidjan in the Ivory Coast, where they performed and recorded successfully during the late 1970s. The epic 12 minute track "Mandjou", that is featured on the Mansa of Mali album, was recorded live in Abidjan during this period.
In 1984 Les Ambassadeurs Internationales broke up, and Salif Keita moved to Paris, launching a career that saw him recording the classic Soro album in 1987, produced by Ibrahim Sylla.
A recording deal with Island Records followed, which resulted in the release of the album Ko-Yan in 1989, an album influenced by influential jazz fusion band Weather Report, and that led directly to Salif's collaboration with Weather Report keyboardist, composer and arranger Joe Zawinul in 1990. With help from Carlos Santana, Wayne Shorter and a number of carefully picked musicians from Mali and France, Zawinul produced Amen, the album that made Salif the first African band leader to win a Grammy nomination.
The impressive Mansa of Mali retrospective was released in 1993 to coincide with Salif Keita's tours of the United States, and Southern Africa. Recorded in Paris, New York and Bamako, his album, Papa, features special guests Vernon Reid (Living Color), Grace Jones and John Medeski, an album of the new African/American music, bringing together musicians from Mali and America.
On his 2002 album, Moffou, Salif Keita was joined by excellent musicians, including Cape Verdian diva Cesaria Evora on the track Yamore, guitar-hero Djeli Moussa Kouyaté from Guinea, and his old freind Kanté Manfila (acoustic guitar), both of them long-time companions of Salif.
Moffou is both the title of the album and the name of of the club that the singer opened in Bamako in 2002 to promote the West African music scene. In both cases, the choice of the name expresses his genuine desire to return to the roots of Mali.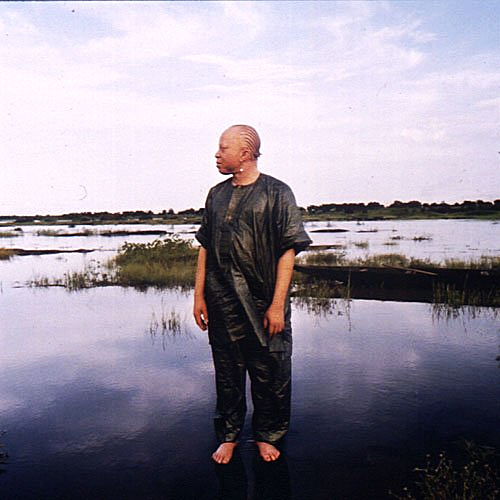 In April of 2004, Decca/Universal Music released Remixes from Moffou. The album expanded on the original recording of Moffou that took him on a tour around the world. He collaborated with some of the world's finest producers and DJs, each bringing a unique contribution to the music, changing its tempo and atmosphere. A sound with a whole new dimension, the disc has traces of funk, house and drum-n-bass.Each song on Remixes is transformed – the songs were given a new face without distorting the delicate melodies that were originally written. The idea to remix the entire album was spawned from the feedback that was given from young music fans. They rushed out to buy "Yamore" (Keita's duet with Cesaria Evora) and club kids went crazy for Marin Solveig's remix of "Madan." European FM radio stations also took notice of the remix which prompted Universal France to take a step further.
Patrick Votan, artistic director at Universal Jazz France explained, "Following the success of "Madan" we decided to ask electro artists who are close to the African scene such as Osunlade, Doctor L and Frederic Galliano to work on remixes of other tracks from the album. We also got major mainstream electro stars such as La Funk Mob (the defunct duo of Cassius Philippe Zdar and Boombass who got back together for the project), Charles Webster and Luciano on board the project in the hope that this would take the work of Salif Keita, a unique and original artist, to the ears of a new public."
On M'Bemba (2006), the traditional instruments such as the ngoni lute played by Mama Sissoko, and the kora played by Toumani Diabate, evoke the memory of Salif Keita's own ancestor, Sundiata Keita, the warrior king who founded the Manding Empire in the 13th century. Representing a genuine piece of family history, the new recording was the first time Salif's foster-sisters joined him on record for the chorus of the title track. Also appearing on the album was dancehall/reggae great, Buju Banton, who lent his talents on the upbeat track "Ladji."
The same talented group of musicians who performed on Moffou also joined Salif on M'Bemba, including Djeli Moussa Kouyate on guitar, Mino Cinellu on percussion, Salif's early mentor, guitarist and arranger, Kante Manfila with Ousmane Kouyate also on guitar.
Keita aims to spread his message of hope through his music, through his actions, and through his words. "Happiness isn't for tomorrow," Keita said. "It's not hypothetical; it starts here and now. . . . Nature has given us extraordinary things. . . . Let's take advantage of the wonders of this continent at last – intelligently, in our own way, at our own rhythm, like responsible men proud of their inheritance. "Let's build the country of our children, and stop taking pity on ourselves. Africa is also the joy of living, optimism, beauty, elegance, grace, poetry, softness, the sun and nature. Let's be happy to its sons, and fight to build our happiness."
Discography:
Dans L'Authenticité Vol.1, with Kante Manfila ‎(Badmos, 1979)
Dans l'Authenticité Vol. 2, with Kante Manfila ‎(Badmos, 1979)
Tounkan (Celluloid, 1981)
Salif Keita & Les Ambassadeurs Internationaux ‎(Badmos International Records, 1981)
Mandjou (Celluloid, 1984)
Soro (Mango, 1987)
Salif Keita & Mory Kante (Syllart Records, 1988)
Ko-Yan (Mango, 1989)
Amen (Mango, 1991)
L'Enfant Lion, soundtrack ‎(Mango, 1993)
Folon…The Past (Mango, 1995)
Sosie (MS Verdenshjørnet, 1996)
Seydou Bathily ‎(Sonodisc, 1997)
Papa (Metro Blue, 1999)
Moffou (Universal Music Jazz France, 2002)
The Lost Album Inédits (Cantos, 2005)
M'Bemba (Universal Music Jazz France, 2005)
La Différence (Universal Music France, 2009)
Talé (Universal Music France, 2012)
Videos
Salif Keita – World Music Portrait (Shanachie, 2004)