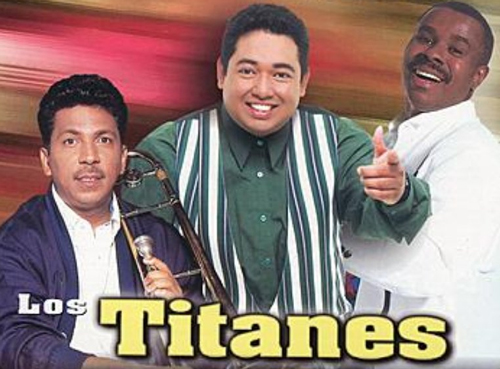 Los Titanes has been recognized as the most representative Colombian salsa orchestra in countries such as Venezuela, Ecuador, Panama, Mexico, US, Canada, and in Europe. Conducted by trombonist Alberto Barros under the label Discos Fuentes, Los Titanes came to life in 1982.
A native of Barranquilla, Alberto Barros, musical director, (former musical director of Grupo Niche) pursued his academic studies in the city's music conservatory. He also participated in other successful orchestras, namely that of Adolfo Echeverria and Pacho Galan. During that same year's edition of the Carnaval de Barranquilla's Music Festival, Los Titanes was awarded a Congo de Oro.
1986 was the year in which this orchestra first began recording albums, success didn't take long to come their way. In 1989, the single "Sobredosis" topped the Salsa charts and became the most listened song of the year. From their fourth album, the title "Por Retenerte", by Quindio-born composer Pedro Neira, became a smash hit.
Oscar Quesada, joined Los Titanes as a vocalist in 1989. Born in Barrancabermeja, Quesada first took part in a trio, through which he accumulated a number of awards, he then left to put together his own band, and finally joined the ranks of Los Titanes.
Brigido Cheverra, aka Macondo, sings Alberto Barros' "No me Vuelvo a Enamorar" and Isaac Villanueva M.'s "Desnuda". Macondo, born in Turbo, Antioquia, began his artistic career singing Folk and African-American melodies. Later, he took part in other orchestras and finally became a member of Los Titanes.
In November of 1989, Los Titanes traveled to the US. Their sixth release came in 1991, along with a Peruvian award as best international orchestra. In 1993, after 11 years in the music industry, Los Titanes began to be recognized as the best salsa representative by audiences in US, Spain, France, Belgium, UK, Switzerland and Latin America. "Basto una Mirada", "Loca Pasion", and "Dame una Oporunidad" are always awaited with expectation during any concert. These and other hits have a special place in the hearts of Salsa fans.
Los Titanes, today considered the international ambassadors of Colombian salsa, have everything that is necessary to succeed in the world of Caribbean music, and succeed they have. With their blend of a trombone driven Salsa rhythm, romantic lyrics, and accomplished vocals that have characterized their artistic style since the late 1980s.
Discography:
Los Titanes y Sus Invitados (1981)
Los Titanes (1982)
Llegaron los Titanes (1985)
Furor Bailable (1986)
Apriétala (1988)
Sobredosis de Amor y Salsa (1989)
Amor y Salsa (1990)
Tentación (1991)
En Su Salsa (1993)
Bastó Una Mirada (1993)
6a. Avenida (1994)
El Titán de la Salsa (1995)
Grandes Éxitos de Salsa (1995)
Rompiendo Esquemas (1996)
Salsa al Máximo Voltaje (1998)
Tributo a Héctor Lavoe "La Voz" (1999)
Salsa Magic (2001)
Tremenda Salsa (2001)
Salsa Super Power (2003)
Heavy Salsa (2003)
Mano a Mano (2008)
Tributo a la Salsa Colombiana Vol. 3 (2010)
Essential de Tributo a la Salsa Colombiana (2011)
Tributo a la Salsa Colombiana Vol. 4 (2012)
Tributo a la Salsa Colombiana Vol. 5 (2013)