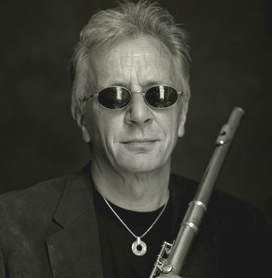 Brian Dunning had been a professional flutist in Ireland, playing regular classical and jazz gigs, before coming to the U.S. in 1977 to study at the Berklee College of Music in Boston. "I remember hearing a flute solo on a tune by Them (with Van Morrison) when I was about 16." Dunning recalls, "and it really used to send me. But jazz became my love." So it's not surprising that Dunning's influences would include both classical master James Galway and jazz great Herbert Laws. But it was after hearing Micheal Ó Domhnaill and Kevin Burke playing duets at a music festival in Birmingham, Alabama that Dunning realized what direction his own music might take. "I jammed with Micheal there," he says, "and that really made me want to write music that had on Irish flavor but with the freedom of jazz."
From collaborating with bodhran player Tommy Hayes in a Celtic-tinged improvisational project called Puck Fair, Dunning and O Domhnaill settled into their long-term musical relationship in Nightnoise.
Dunning has also collaborated with keyboardist Jeff Johnson since the late 1980s, recording several albums together, including The Music of Celtic Legends – the Bard and the Warrior (1997), Byzantium (2000), and Patrick (2004).
His music appeared on the soundtrack to Gangs of New York, Windhorse, and The Outcasts.