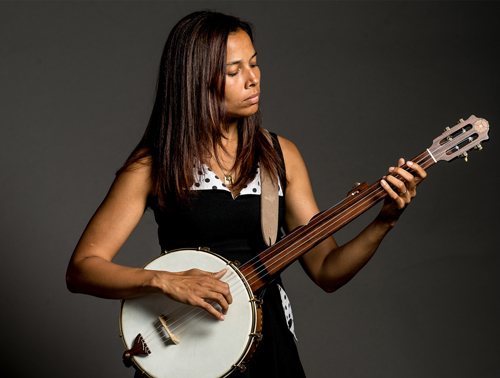 Rhiannon Giddens was born February 21, 1977 in Greensboro, North Carolina. She is a renowned multi-instrumentalist, composer, singer-songwriter and researcher, best known as one of the founders of the country, blues and old-time music band Carolina Chocolate Drops, where she was the lead singer, violinist, and banjo player.
The Carolina Chocolate Drops' album Genuine Negro Jig won the Grammy Award for Best Traditional Folk Album at the 53rd Annual Grammy Awards.
One of the essential part of Giddens' work is her research of folk instruments and traditions of the African-American diaspora.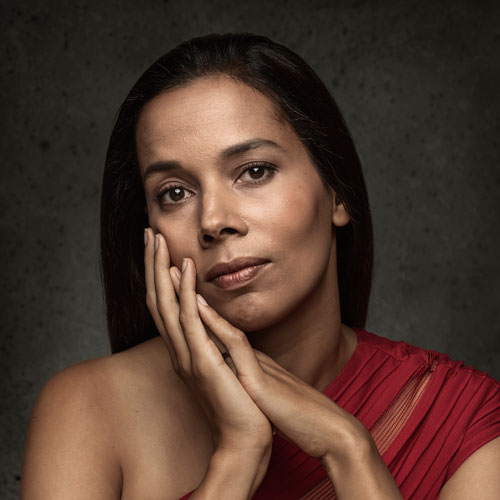 A MacArthur "Genius" Grant recipient, Rhiannon has performed for the Obama's at the White House and acted in two seasons of the hit television series Nashville.
In February 2015, Giddens released her debut solo recording
Tomorrow Is My Turn on Nonesuch Records to widespread critical acclaim. Produced by T Bone Burnett, the album includes songs made famous by Patsy Cline, Odetta, Dolly Parton, and Nina Simone.
In addition to her solo recordings and her albums with the Carolina Chocolate Drops, Rhiannon recorded Out On the Ocean: Music of the British Isles (2004) and Northern Lights (2005) with Gaelwynd; Lost on the River: The New Basement Tapes (2014) as The New Basement Tapes; and Songs of Our Native Daughters (Smithsonian Folkways), a collaborative album that tells the stories of historic black womanhood and survival. Rhiannon has European American, African American and Native American background.
In 2016, Rhiannon received the Steve Martin Prize for Excellence in Banjo and Bluegrass.
in 2019 she collaborated with Italian multi-instrumentalist Francesco Turrisi. they released an album titled
Dicography:
With Carolina Chocolate Drops:
Dona Got a Ramblin' Mind (Music Maker, 2006)
The Great Debaters Soundtrack, with Alvin Youngblood Hart, Sharon Jones and Teenie Hodges (Atlantic, 2007)
Heritage (Dixiefrog, 2008)
Carolina Chocolate Drops & Joe Thompson (Music Maker, 2009)
Genuine Negro Jig (Nonesuch, 2010)
Carolina Chocolate Drops/Luminescent Orchestrii EP (Nonesuch, 2011)
Leaving Eden (Nonesuch, 2012)
As Rhiannon Giddens:
We Rise, EP (NC Music Love Army records, 2014)
Tomorrow Is My Turn (Nonesuch, 2015)
Factory Girl, EP (Nonesuch, 2015)
Live at Jazzfest 2016 (MunckMix, 2016)
Freedom Highway (Nonesuch, 2017)
Live at Jazzfest 2017 (MunckMix, 2017)
There Is No Other, with Francesco Turrisi (Nonesuch, 2019)