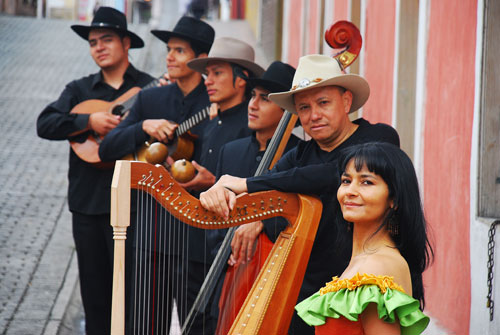 The Grupo Cimarrón ensemble is known for their explosive música llanera (plains music) and fast-paced, triple-meter joropo. They live up to the meaning of their name Cimarrón: "wild bull."
Since creating Grupo Cimarrón in 1986, leader and harpist Carlos Rojas has looked both backward and forward in time. The música llanera and joropo have roots in 19th-century Colombia, and the style of singing, playing and instruments used have been carefully modeled on tradition. The ensemble has created a new mix by emphasizing rhythm and creativity and insisting that joropo dance be a part of the performance wherever possible. Grupo Cimarrón has performed in China, Europe, and North and South America.
Harp, guitars (bandola and cuatro), maracas, wooden box drum (cajón) and the rhythm of the dancers' feet are the instruments used by the high-energy Grupo Cimarrón, all of whom carry strong ties to the cattle country of the Colombian plains. Each band member is a virtuoso in his or her own discipline, and the albums provides a medium for both collective and individual expression.
The group's 2004 Smithsonian Folkways release Sí, Soy Llanero earned a GRAMMY nomination for Best Traditional World Album.
Discography:
Sí, Soy Llanero – Joropo Music From The Orinoco Plains Of Colombia ‎(Smithsonian Folkways, 2004)
Joropo Music From the Plains of Colombia ‎(Smithsonian Folkways, 2011)
Orinoco (Cimarron Music, 2014)