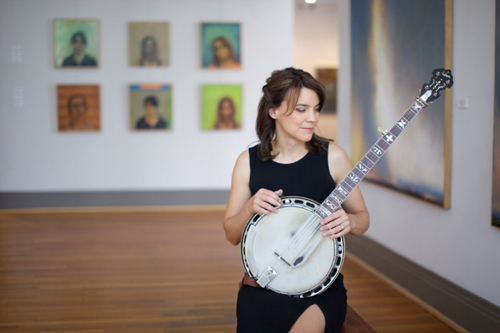 Kristin Scott Benson grew up in South Carolina, surrounded by a musical family. After receiving a much-anticipated banjo for Christmas when she was thirteen, Kristin became enthralled with the instrument and spent her teen years studying the playing of all the banjo greats from Earl Scruggs to Bela Fleck.
After high school, she attended Nashville's esteemed Belmont University, where she graduated Summa Cum Laude with a BBA in Marketing and a minor in Music Business.
She was a member of the Larry Stephenson Band for seven years. In 2008 she joined Nashville bluegrass band the Grascals, replacing Aaron McDaris.
After 13 years in Nashville, she relocated back to the Carolinas with her husband and young son. Her solo release, Second Season, features eight instrumentals (half of them originals) and four vocal performances. The album showcases her powerful banjo playing, while still appealing to fans that aren't motivated solely by instrumental prowess.
is the four-time International Bluegrass Music Association's Banjo Player of the Year (2008, 2009, 2010, 2011).
Kristin Scott Benson is the 2018 winner of the Steve Martin Prize for Excellence in Banjo and Bluegrass. "My family and I are overwhelmed with gratefulness!" said Benson. "Getting to know my banjo heroes, many of whom are on the board, is prize enough, but Steve Martin's graciousness is a huge blessing. We don't know how to adequately say thank you for something like this!"

Discography:
Straight Paths (Pinecastle, 2002)
Second Season (Pinecastle, 2009)
Life Finds A Way, with the Grascals (Mountain Home, 2012)
When I Get My Pay, with the Grascals (Mountain Home, 2013)
…and then there's this, with the Grascals (Mountain Home, 2016)
Stringworks (Mountain Home, 2016)
Before Breakfast, with the Grascals (Mountain Home, 2017)