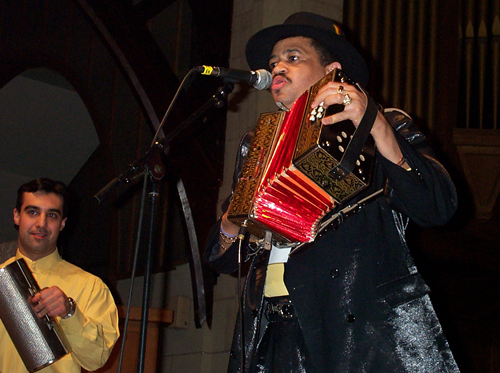 As a young boy, Joaquín played every night at the biggest hotels in Santo Domingo. He began his musical career as a street musician in the streets of San Domingo, Dominican Republic. "I was playing my music in the streets of Santo Domingo when I was nine years old. I was the oldest of seven children and we were very poor," Joaquín offers with a knowing smile. "Music was more than just a love for me. It was survival."
At the age of 12, this Dominican "king of accordion" was playing for guests at a local hotel, and by the time he was 17, he was performing at the Olympic Games, played for the president of the Dominican Republic at his presidential home, won first prize at the highly competitive Merengue Competition of Santo Domingo and appeared each week on the Sabro Show, a favorite variety program on Dominican TV. He also toured with the Folk Ballet of the Dominican Republic.
Díaz has performed at numerous venues and festivals around the world "This music is in my blood. It is everything to me. It is my destiny," says Joaquín Díaz.
Now residing in Montreal, Canada, he continues to delight audiences wherever he goes. Since his arrival in Canada, Díaz has put together a band that has demonstrated the musical heritage of the Dominican Republic. In 1998, he and his group of extremely talented musicians received a grant to produce their first full-length CD Merengue Más Merengue, which showcases Díaz's stellar accordion playing.
Discography:
Merengue Mas Merengue ‎(Magra Multi Média, 1998)
Merengue Alegre (Arhoolie, 2002)
Ola (Cinq Planètes, 2006)