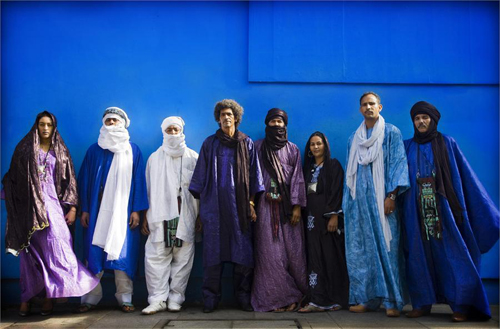 Tinariwen (originally Taghreft Tinariwen, or "edification of the lands") became known for vocalizing the political plight of endangered nomads. Their music spoke to the Tuareg or Kel Tamashek, appealing for a political awakening of consciousness.
For a century, the tribes of the southern Sahara searched the barren landscape for every weapon available to maintain hope in the midst of ethnic cleansing and public executions. With the dawn of the 21st Century, the Kel Tamashek turned to the global circuit. Musicians are the modern warriors. And lyrics have changed to focus on suffering, love, and hope. A Tinariwen song claims, "If I could sing so that those in London could hear, then the whole world would hear my song."
Although Tinariwen formed in 1982, they remained underground (Mali and Algeria banned the political lyrics) until the group moved to the Malian capital of Bamako in 1999. There, the ten members drew on a rebel rock sensibility, openly playing their passionate, trance-like Desert Blues. During the first eclipse (and first full moon) of the millennium, Tinariwen performed at The Festival in the Desert. Staged near the ancient ruins of Tamaradant, remote and distant from any visible life, the Festival was an effort to further goals of reconciliation, development, and international awareness.
Reporter Andy Morgan asserted that Tinariwen's soulful music produced a magical effect on the crowd, causing "the young Tuaregs to stamp and dance with abandon in front of the stage. These men were heroes and mentors." The ten band members are indeed the pride of the Tuareg people. Experiences in battle have created many legends. Kheddou is said to have received 17 bullet wounds after leading several raids, armed only with a guitar on his back and a Kalashnikov in his hands. Once, he was doused in gasoline, owing his life to a faulty lighter.
After witnessing his father's murder at the hands of Malian soldiers, a drought forced Ibrahim to join a training camp in southern Libya, where Ghadaffi made promises to help the Tamashek cause. In between classes about revolution, Islamism, and guerrilla warfare, Ibrahim smoked cigarettes and played music with Hassan and Intayedan (who has since passed away). Upon hearing the music of Bob Marley, Bob Dylan, John Lennon, and Moroccan music for the first time, they discarded traditional instruments like the shepherd flute and tinde drum in favor of the electric guitar, bass, and drums. However, they continued the tradition of Assak, or the traditional male skills of poetic composition, and choral call-and-response. Soon they became musical revolutionaries, creating a new style of music called Tishoumaren, or simply guitar.
The songs of Tinariwen are petitions for political and cultural self-determination. They have become a point of identity for Tuareg youth. In a land void of laptops and TVs, cheap cassette recordings spread hope and resolve. Sick of the suffering caused by armed rebellion, the music of bands like Tinariwen is the new weapon of choice.
Discography:
Ténéré ‎(EMI, 1993)
The Radio Tisdas Sessions (Wayward Records/World Village, 2001)
Amassakoul (/World Village, 2003)
Aman Iman: Water Is Life (Independiente, 2006)
Imidiwan: Companions (World Village, 2009)
Tassili (V2, 2011)
Live At Bouffes Du Nord ‎(2011)
Emmaar (Anti-/Wedge, 2013)
Live In Paris (Anti-/Wedge, 2015)
Elwan (Epitaph, 2017)