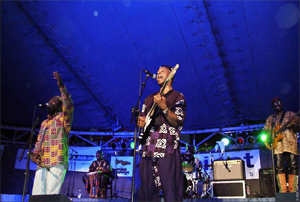 Osibisa exploded onto the music world in 1971 with a pulsating and vibrant sound. Translated from Ghanaian, Osibisa means "criss-cross rhythms that explode with happiness". Their innovative music style matched the exciting progressive rock scene of the era. Osibisa's albums featured fantasy artwork by Roger Dean, an artist connected to some of the most iconic progressive rock album covers.
The band's percussive influence began to manifest itself within the music of their contemporaries. The Osibisa poly-rhythms and percussive breaks were to be an integral feature of the disco boom that was to follow in the late 1970s. Their unique fusion of Africa, Caribbean, rock, jazz, Latin and R&B paved the way for other potent music force such as Bob Marley and the emergence of African music in the 80's. Indeed, Osibisa are seen by many as the Godfathers of World Music.
One of the important reasons for Osibisa's enduring success has been their highly energetic and extravagant stage show. However their music is still an influential factor in dance music of today with no fewer than a dozen covers of "Sunshine Day", which was also used for the Euro 2000 football tournament.
For many years now, they toured tirelessly, headlining numerous festivals and performing in every far-flung comer of the globe. Highlights have included a major tour of India, which resulted in a No 1 Gold Album – an unprecedented achievement for a Western band. The mid 90′ s saw a re-emergence of Osibisa in North America where African and Reggae music are gaining in popularity. The band also had a cameo in the Ken Russell TV film about Cropready Festival in Oxford during this time.
Former President Jerry J Rawlings honored Osibisa in Ghana, where they played a series of concerts celebrating their homecoming. "The enthusiasm shown by the Ghanaian people, especially the youth was quite amazing" recalled Teddy Osei, Osibisa's bandleader. United Kingdom Europe
Discography:
Osibisa (MCA Records, 1971)
Woyaya (MCA Records, 1971)
Heads (MCA Records, 1972)
Super Fly T.N.T. soundtrack (Buddah Records, 1973)
Happy Children (Warner Bros. Records, 1973)
Osibirock (Warner Bros. Records, 1974)
Welcome Home (Island Records, 1975)
Ojah Awake (Bronze, 1976)
Black Magic Night (Bronze, 1977)
Mystic Energy (Calibre, 1980)
Celebration (Celluloid, 1980)
Osibisa Like's Live ‎(Multi-Sound, 1981)
Unleashed-live (Magnet, 1982)
Live At The Marquee (Celluloid, 1983)
Movements (in-akustik, 1989)
African Criss Cross (Pulsar, 1990)
Monsore (Red Steel Music, 1996)
Live At Cropredy ‎(Red Steel Music, 1998)
Aka Kakra – Acoustic ‎(Red Steel Music, 2001)
African Dawn, African Flight (Red Steel Music, 2003)
Wango Wango, compilation (2003)
Osee Yee ‎(Cadiz Music, 2009)
Osibisa Afro Mix ‎(Gonzo Multimedia, 2016)
Osibisa Tribal ‎(Gonzo Multimedia, 2016)