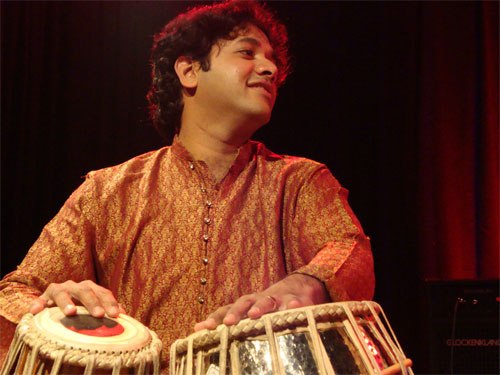 Nitin Mitta was born in 1975 in, Hyderabad, India. He has performed worldwide with some of leading Hindustani classical musicians, including Pandit Jasraj, Ustad Amjad Ali Khan, Ustad Shahid Parvez, and Pandit Vishwa Mohan Bhatt, and with such important Carnatic musicians as Lalgudi G.J.R Krishnan and Lalgudi Vijayalakshmi.
Mitta has also collaborated with pianist Vijay Iyer and electric guitarist R. Prasanna, as well as with vocalist Kiran Ahluwahlia, exploring jazz with Indian music.
Born and raised in Hyderabad, India, he trained with Pandit G. Satyanarayana and Pandit Arvind Mulgaonkar, both disciples of Ustad Amir Hussain Khan, the legendary doyen of the Farukkhabad school of tabla. He first played solo tabla at the age of 10, and in his early years won many awards, including first prize in the All India Music Competition.
Nitin Mitta moved to te United States n 2002. He joined the faculty of the LearnQuest Academy of Music in Massachusetts. He has appeared at many important festivals in India, and prestigious venues in the US, including Zankel Hall at Carnegie Hall, Lincoln Center, the Metropolitan Museum of Art, The Smithsonian (Washington DC) and Royce Hall (Los Angeles). He currently lives in New York City, where he teaches, performs, records music, and conducts tabla workshops.
Discography:
Soul Strings, with Ravi Kiran, Gaurav Mazumdar, and Patri Satish Kumar
Color of Strings, with Pandit Ramesh Mishra and Snehashish Mazumdar
Tirtha (ACT Music, 2011), with Vijay Iyer and Prasanna