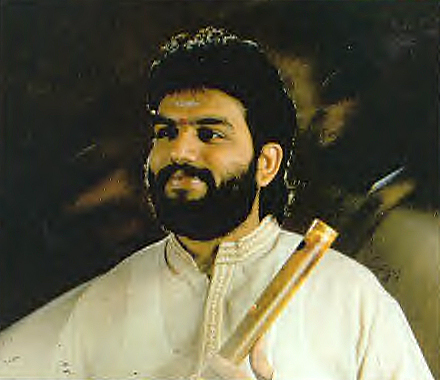 V.K. Raman, one of the leading flutists in the Carnatic style of Music, started learning flute at the age of 9. At the age of 15, he started giving full-fledged concerts. Since then Raman has performed in many prestigious organizations in India and abroad. Raman has had the privilege of performing flute duets along with his Guru, the great flute maestro Dr. N. Ramani on several occasions.
Enchanting and transcendent music flows from Raman's flute as he has mastered superb blowing and fingering technique by which the tonal quality is at its peak. He plays the krithis in Gayaki (Vocal) style, combining it with the unique mind-boggling possibilities of his instrument. He has also performed Jugalbandhi, Fusion Concerts and has been very
successful as a Music Composer. He is a Grade I composer of All India Radio and Doordarshan. He has scored music for many Audio / Video Albums,CD's and Dance/Theatre productions in India and abroad.
'Surmani' Raman , an 'A' Grade artiste of All India Radio has captivated the audiences in a number of India's major music
festivals and toured widely in USA, United Kingdom, Switzerland, Sri Lanka and Japan.
Discography
Raman has released more than 50 albums,.
Mohana Rama
Swara Raga Sudha
Magic Bamboo
Divine Melodies
Sur Milan (Sagar Music, with Dr. Suma Sudhindra on the Veena)
Sur Sangam (Sagar Music, with Nanda Kishore Muley on Santoor)
Classical Indian Flute (Inner Splendor Media, 2007)
Classical Indian Flute & Violin With Virtuoso Brothers V.K. Raman and Mysore V. Srikanth (Inner Splendor Media, 2008)
Classical Indian Flute and Violin Vol. II With Virtuoso Brothers V.K. Raman and Mysore V. Srikanth (Inner Splendor Media, 2008)
Confluence (Felmay, 2009)
Navarasa – Eternal Emotions