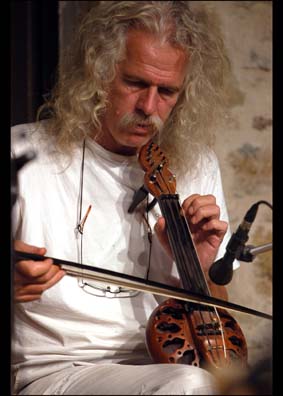 Of Irish descent, born in England, Ross Daly traveled as a child with his family around the world and soon his deep interest in music emerged. His first instrument was the cello, which he studied in his childhood years in America. He later began studying the classical guitar in Japan at the age of eleven.
The late 1960s found him in San Francisco, where having experienced both the classical discipline and the air of freedom and experimentation of the time, he first encountered Eastern musical tradition which completely changed his life. Of particular interest to him was Indian Classical music which was destined to be the first non-western tradition that he actively studied. The following years found him traveling extensively studying a variety of instruments and traditions. At that time his main emphasis was on Indian and Afghani music.
In 1975 he traveled to Crete which he had previously visited for a short time in 1970 and 1972 where he had been greatly impressed by the lyra (a small pear-shaped upright fiddle which is the primary folk instrument of the island). After a six month period of wandering from village to village encountering local musicians, he settled in the town of Hania on the west of the island and began studying the Cretan lyra with its great master Kostas Mountakis.
This apprenticeship was to last for many years. During this same time he frequently visited in Turkey where he studied Ottoman classical music as well as Turkish folk music. After many years of intensive training in a variety of musical traditions, Ross Daly turned his attention largely to composition drawing heavily on the various sources that he had studied.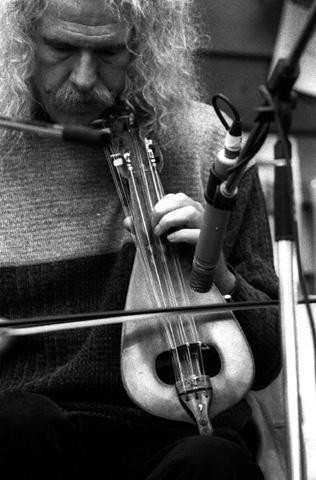 Daly has released many recordings of his own compositions as well as of his own versions of traditional melodies that he collected during his travels. The island of Crete in Greece still provides a base for his personal and musical research as he travels around the world performing his music.
A virtuoso of Eastern musical instruments, he plays the Cretan lyra, Afghan rabab, lauto, kemence, sarangi, ud, saz and tanbur. A unique composer, Ross Daly, builds his compositions around the subtle but powerful interaction between the sound textures of the various traditions which he has studied.
In recent years, Daly has been performing and recording with composer and Cretan lyra master Kelly Thoma.
Discography:
Ονείρου Τόποι – Oneirou Topi (AEME, 1982)
Lavyrinthos (AEME, 1984)
Ross Daly (1986)
Anadysi (1987)
Elefthero Simio (1989)
7 songs and 1 Semai, with Spyridoula Toutoudaki (RCA, 1989)
Kriti 1, with Manolis Manassakis (RCA, 1989)
Pnoe, with Vassilis Soukas (1990)
Hori (1990)
The Circle at the Crossroads (1990)
Kriti 2, with Babis Chairetis aka "Vourgias"
Selected Works (Oriente Musik, 1991)
An Ki, with Djamchid Chemirani (RCA, 1991)
Mıtos (Network Medien, 1992)
Cross Current, with Djamchid Chemirani & Irshad Khan (1994)
Naghma, with Paul Grant, Bijan Chemirani & Nayan Ghosh (1998)
At The Cafe Aman (Network Medien, 1998)
Synavgia (1998)
Beyond The Horizon (2001)
Gulistan, with Bijan Chemirani (L'Empreinte Digitale, 2001)
Kin Kin (Music Box, 2002)
Music Of Crete (FM Records, 2002)
Iris (Protasis, 2003)
Mıcrokosmos (L'Empreinte Digitale, 2003)
Echo Of Time (2004)
Spyrıdoula Toutoudaki – Ross Daly / Me Ti Fevga Tou Kerou (2004)
Live At Theatre De La Vılle / Avec Le Trio Chemıranı (2005)
White Dragon (2008)
The Other Side (2014)
Tin Anixi Perimenes, with Vassilis Stavrakakis, Giorgos Manolakis (2015)
Osi Hara'Houn ta Poulia, with Evgenia Damavoliti-Toli (2016)
Lunar, with Kelly Thoma (2017)