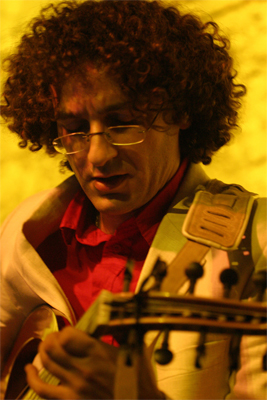 Tunisian born, Parisian musician Jean-Pierre Smadja (Smadj) grew up listening to Middle Eastern, Brazilian, funk, soul, and folk music. Entering a jazz school at age 15 due to his intense interest in the guitar, Smadj's musical development came to be characterized by transforming traditional jazz styles into eclectic sounds. This interest in the mechanics of making music led Smadj to pursue a degree in sound engineering, which led to a fruitful career as a recording & sound engineer for famous classical and folk musicians.
Releasing his first album in 1994, it was not until 2000 that Smadj became recognized on an international scale for his signature blending of acoustic and electronic sounds on Equilibriste, which would ascend on the European World Music Charts to the number 4 position. In 2002, Smadj joined fellow ud magician, French musician Mehdi Haddab, for a special project that would transport the oud to the 21st century in DuOuD. Supporting their triumph of an album with a 2 year world tour, the album also received 2nd place in the Best Album category at the prestigious BBC World Music Awards.
In 2003, Smadj joined master percussionist Burhan Ocal for and the Trakya All Stars featuring Smadj, and in 2005 he stepped behind the scenes to serve as artistic director for Burhan Ocal's New Dream. Smadj continues making music in the city where east meets west, Istanbul.
Discography:
Equilibriste ‎(M.E.L.T. 2000, 1999)
New Deal ‎(Electric M.E.L.T., 2000)
Kırklareli İl Sınırı (Doublemoon, 2003)
Take It and Drive (Most Records, 2004)
Smadj Presents SOS (Doublemoon, 2005)
Trakya Dance Party (Doublemoon, 2006)
Selin ‎(MVS Records, 2009)
Hü (MVS Records, 2010)
Fuck The DJ (Smadj Records, 2012)
Spleen ‎(Jazz Village, 2015)
Solotronic ‎(Whirling Wolf, 2017)