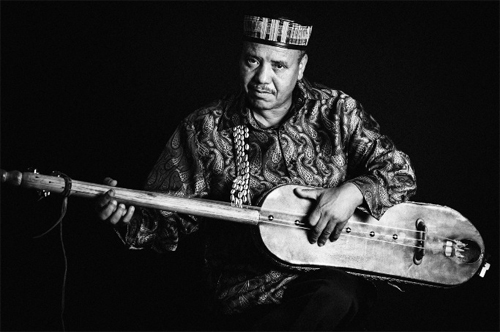 Majid Bekkas was born and still lives in Sale, Morocco. He learned Gnawa music through the teachings of the master Ba Houmane.
Bekkas includes elements of contemporary western music in Gnawa music and has worked jazz musicians such as Peter Brotzmann, Archie Shepp, Flavio Boltro, Louis Sclavis, Joachim Kühn, and Ramon Lopez.
His song "Daymallah" represents Morocco on the award-winning CD compilation Desert Blues 2.
In his Afro-Oriental Jazz Trio he plays with reed player Manuel Hermia and percussionist Khalid Kouhen.
Discography:
Soudaniyé (1991)
African Gnaoua Blues ‎(Igloo Records, 2002)
La Cité Invisible – Rencontre À Casablanca ‎(Nord Sud, 2003)
Mogador ‎(Igloo Records, 2004)
Kalimba (Act Records, 2007)
Out of The Desert (Act Records, 2009)
Passport to Morocco, avec Klaus Doldinger (Wea, 2009)
The Art of Baroque, Jazz, Dance & World Music (Keytone Records, 2009)
African Jazz 'n Bar ‎(Hippo Records, 2009)
Makenba (Igloo Records, 2010)
Les Amants De Juliette & Majid Bekkas ‎(Quoi de Neuf Docteur, 2010)
Makenba ‎(Igloo Records, 2010)
In All, Marula (Morgenland Records, 2010)
Chalaba (Act Records)
Mabrouk (Bee Jazz, 2011)
Vodoo Sense (Act Records, 2014)
Al qantara ‎(Igloo Records, 2013)
Laafou (2015)