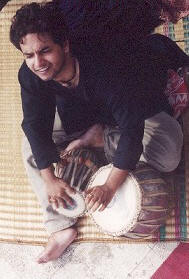 Mayookh Bhaumik was born on November 14, 1977 in New Jersey. He began performing on television, radio and various stages from the age of five. He was acknowledged as a child prodigy by Ali Akbar Khan in 1981 at the age of four. At seven, he won the "Ny State Under 18 Science Award" for creating an original string instrument.
Mayookh returned to India to train under Pandit Jnan Prakash Ghosh and later from Ustad Sabir Khan of the Farukhabad Gharana. He also studies with Kathak legend, Padmabhushan Pandit Birju Maharaj. He is presently under the able tutelage of Pandit Kumar Bose of the Benares Gharana.
Mayookh entered the music industry very early and was a recording studio musician at the age of twelve. He has played with various artistes of global repute includingUstad Vilayat Khan, Ustad Amjad Ali Khan, Pandit Birju Maharaj, Pandit Jasraj, Pandit V. G. Jog, Pandit Monilal Nag, Pandit Ramesh Misra, Tarun Bhattacharya, Niladri Kumar, Prattyush Banerjee, Arnab Chakraborty, Ustad Nusrat Fateh Ali Khan, Ustad Farukh Fateh Ali Khan, Snehashish Mozumder, Jean Michel Pilc, and Ustad Sabir Khan.
He is featured on over fifteen released and internationally marketed albums including his solo album "The Beginning" on Gathani Records and also with Pandit V.G. Jog, Smt. Purnima Chaudhari, Ustad Sabir Khan, Pandit Ramesh Misra. Mayookh has worked on film music in India and the United States as a composer and recording artist.
Discography:
Jaja (2013)
On My Tab (2014)
Requiem for a Tillana (2014)
FZCK (Take one) (2015)
Teri Soorat- Aziz Miyaan Homage, with Kinan Azmeh (2017)