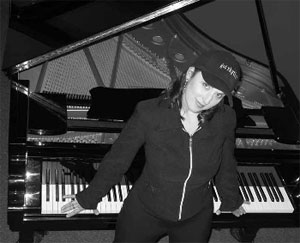 Rebeca Mauleón was born April 16, 1962 in Santa Monica, California. Rebeca Mauleón has been at the forefront of Latin and American world music for over 25 years. A prolific pianist, composer, arranger as well as author and educator, Mauleón has performed with luminaries in the Latin, Pop and World music scenes, including Carlos Santana, Mickey Hart, Tito Puente, Steve Winwood, Israel "Cachao" Lopez, Giovanni Hidalgo, Carlos Patato Valdez, Joe Henderson and others.
Her performing and arranging credits include Tito Puente (Goza Mi Timbal), Steve Winwood (Junction 7) and Carlos Patato Valdez (Ritmo y Candela). In the 90s she recorded and toured with Mickey Hart's Planet Drum as its Musical Director; highlights include Woodstock '99, the Conan O'Brien show, and the Regis and Kathy Lee Show.
As a producer, Mauleón's first solo release, Round Trip, garnered international critical acclaim, earning Top 10 status on the Latin Beat Hit Parade for seven consecutive months, including number one.
As the leader of her own ensemble, Rebeca has appeared at numerous renowned music festivals, including the Kennedy Center's "Women in Jazz" festival in 1999, the Monterey Jazz Festival, and San Francisco and San Jose Jazz Festivals.
In 2001, she was the recipient of the prestigious Meet The Composer New Residencies Award, for a three-year residency at San Francisco's Yerba Buena Center for the Arts.
Rebeca is also much in-demand as a teacher and clinician throughout the U.S. and Europe, specializing in Latin music performance and history, combining hands-on master classes with high-energy performances by her ensemble. She is the author of several texts on Latin music technique (all published through Sher Music). She has also published articles for top industry magazines including Keyboard. Grammy Gateway, Modern Drummer, Mix en Español. and Bass Player.
Rebeca is a tenured professor of Latin American Music at City College of San Francisco, a guest lecturer at U.C. Berkeley, and sits on the Board of Directors of the San Francisco Jazz Festival.
Books:
The Salsa Guidebook for Piano & Ensemble
101 Montunos
Discography:
Round Trip (Bembe Records, 1999)
Latin Fire (Rumbeca Music, 2004)
Descarga en California (Universal, 2006)