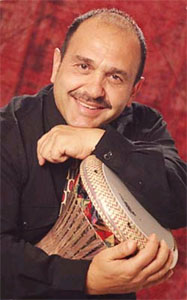 Master percussionist Souhail Kaspar is known for his brilliant technique, scintillating performances and impeccable teaching skills. His musical sensitivity and ability to improvise and embellish the basic rhythmic patterns familiar to Arabic Music, as well as his extensive knowledge of ethnic musical history have made him unique.
Mr. Kaspar was born in Lebanon, and trained at Nadi al-Fonun al-Arabia (conservatory of Arabic Traditional Music) in Aleppo, Syria, where he became proficient in both classical and ethnic rhythmic patterns and techniques and received a Degree in Classical Arabic Performance. In his career, he has traveled extensively throughout the world. His expertise has found him performing with Arabic superstars such as Feiruz, Faiza Ahmed, and working with legendary Egyptian composers such as Farid El Atrash, Sayyed Makowi and Hanni Mehanna, and playing in front of many celebrities and dignitaries as Pope John Paul II, as well as Ronald Reagan.
Additionally, he has an extensive body of recorded work, including credits on the soundtracks for the movies The Prince Of Egypt, The Siege, Sinbad and as a guest percussionist with the cutting edge Kronos Quartet.
Though his primary instrument is the Egyptian drum known as tablah [also spelled tabla]or dumbek, he is also proficient on tar (a large frame drum), large and small tambourines known as mashar and riqq, respectively, as well being an expert in various Persian and Turkish instruments. His skillful presentation and comprehensive teaching technique has led to him performing and conducting master seminars at prestigious institutions such as The Brooklyn Academy of Music, UCLA, as well as a yearly stint at Mendocino Middle Eastern Music Camp, an intensive week-long series of workshops held in Northern California. He often performs (and teaches ) with peers such as renowned oudist John Bilezikjian, multi-faceted musician Simone Shaheen, and prominent ethnomusicologist Dr. Ali Jihad Racy, Professor of Ethnomusicology at UCLA.
As a teacher, Mr. Kaspar is gifted, passing on not only skills but academic knowledge of Middle Eastern music to his students, many of them Westerners not previously familiar with the complex patterns of Arabic music.
Currently, Souhail Kaspar lives in Los Angeles and is performing, recording, and teaching both nationally and internationally.
Discography:
Mystical Legacies, with Ali Jihad Racy (Lyrichord, 1997)
Awzan – Arab Rhythmic Modes (Near East music, 2005)
When The Soul Is Settled: Music Of Iraq (Smithsonian Folkways, 2006)