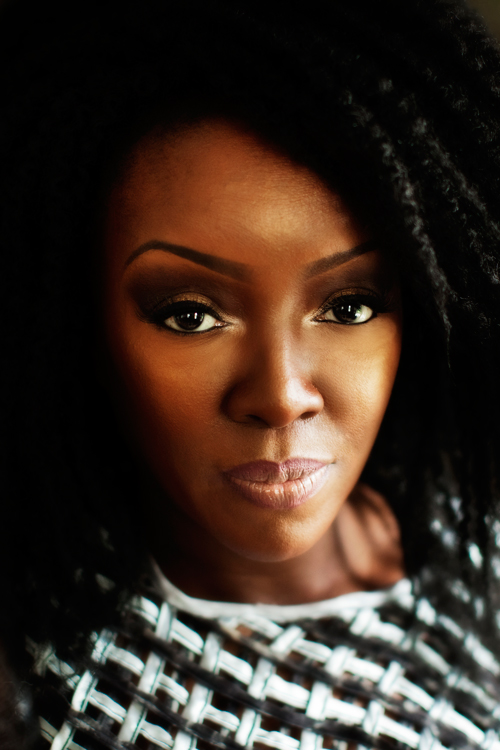 Kaïssa greets me warmly at the door of her New York City apartment. She is a tall, thin, striking beauty with dark penetrating eyes. Born in Cameroon, she left at thirteen for France. As a young woman in Paris, she was first inspired musically by her elder brother. Raymond Doumbè Mouloungo is a bass player and led Miriam Makeba's band for several years.
Kaïssa began her musical apprenticeship in Paris, singing backing vocals for some of the greatest musicians to emerge from Africa: including Salif Keita and Manu Dibango. In 1996 she emigrated to New York. Here, she began to sing, songwrite and record independently. I Am So Happy, her second solo CD, was released in July 2011. We met in New York to discuss her life, her music, and this CD.
When you left for France as a young teenager, did you still feel a connection to Cameroon?
"Yes a very strong connection! I have to acknowledge this was quite a trauma. It was quite a change. I moved from a very warm place, filled with people, a huge family. I am the youngest of ten, so you know when you get the love from your mum, it's not the only woman's love you get, you will see that when you go to Africa."
The sense of community in your country, is that what you're talking about?
"Absolutely, that was what was terribly missing in France." (Her voice is decisive.) "It was a culture shock. Something I first observed was an older woman, my neighbor's children did not visit her. This happened in the French, modern, so called 'civilized society. So, no, Cameroon never left me, because it was in me. Why the move at such a young age? Because my parents were told by a doctor that there was something wrong with my eyes, and they wanted me to get the best treatment available."
You moved alone?
"I traveled alone, but my three brothers and one sister lived here and were attending Parisian Universities. As a teenager, I used to break my brother's ears, I want to sing, I want to sing," (she chuckles), "One day he said, 'you want to sing, don't you want to sing? He was a member of ALAFIA band and Angelique Kidjo was one of the singers. She was unable to make the gig that night, that was the beginning."
Tell me about that time in Paris, your musical life?
"When I moved to France, Africa was very present culturally; it was a rich platform being in Paris in the late seventies and eighties. I sang in Bambara, Arabic, Wolof, Zulu, Duala, and French. You had so many African musicians," She says enthusiastically.
So living in Paris exposed you to music that you would not have heard had you grown up in Cameroon?
"Exactly, Paris was a very, very rich platform. So that's when my brother said 'viens, apprendre' come, learn, and I had one week to learn the songs in Mina, one of the languages from Benin." She laughs.
"So the experience in France, it prepared you for the musician you are now, doing backing vocals for all these great artists?
"Absolutely, yes, my experiences in Paris, the diverse tours I did with Salif, Papa were the greatest schools, music and all of that, show business."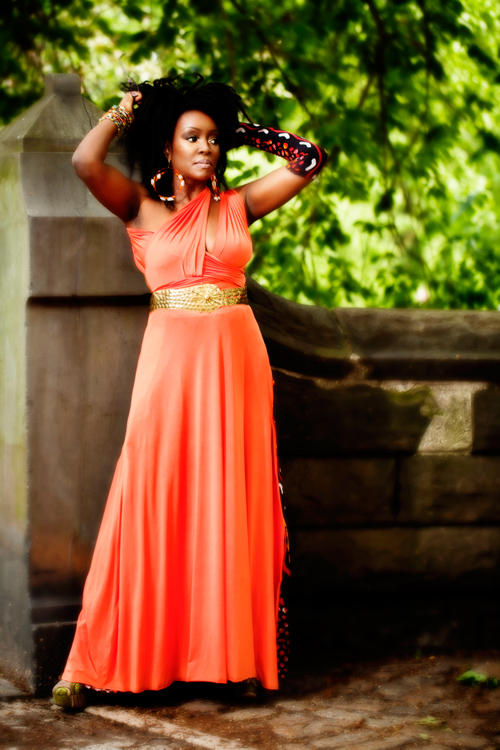 But, before Paris, you said that your father was musical?
"Oh yes, it was how we would occupy ourselves on Saturdays, long meals, ten kids at the table, plus Uncles, Aunts, friends visiting, so, yes, we could all hear him. He could sing, and of course being born in Cameroon, that is one wonderful artistic tapestry. You have music, art, culture every day, every hour.
The particularity of Cameroon is that there are so many different people. It is a country in Africa with over two hundred and fifty languages; so many different languages mean many different rhythms. You go, for example, from the pop Soul Makossa of Manu Dibango with its strong bass to the music of the Bamilike, which is a 6/8 rhythm. We grew up listening to that diversity every day and I am really feeling blessed I was born there."
I am So Happy captures just the musical diversity that Kaïssa describes. It ranges effortlessly from soul to jazz to slow ballads. Each track is unique, yet the tracks work easily together. Kaïssa's vocals strengths are twofold: she sings from the heart and has great vocal versatility. The first track on the CD, "Baka", successfully highlights her technique. Here her voice becomes fun, playful, percussive, mimicking a drum. The rhythms interweave with repetitive breathing on this song, reflecting the traditional sounds of the Baka forest people.
Talk to me about the song "Baka.
"Growing up I saw some kids making fun of the Baka and them being disregarded. Why should that continue today in a world where they should be protected, where the natural habitat should be restored? They are known as pygmies, but I don't like that word because it is condescending. Growing up, kids would call them monkeys, and yet these are the original people of Africa. How can we go forward if we ignore everything from the past and treat them as if they are animals? And let me tell you their music is beautiful and they have a profound understanding of herbs, life and more."
Indeed, a concern for humanitarian issues weaves its way throughout this CD. Kaïssa speaks to justice in her music, "One lady said 'you should not sing about female genital mutilation on "Fanta." You're going to alienate a lot of people, and you're not going to be understood. They might not play the CD.' But I had to do it. This song "Fanta" is very personal to me even though I was not a victim of genital mutilation, this problem concerns us all. I first heard about this practice as many people did in France in the early eighties. This Malian child was about three and she died as a result of mutilation. It was all over the news, and I think legislators in France were forced to take action to try to prevent it from happening again. I remember crying, and asking my brothers. I was fourteen, and I could not believe it! I said, 'Her own parents took her, explain to me why do they do that?' I swore that one day I would write and maybe sing about it. I wrote the lyrics about four years later, exactly as they are."
"Fanta," is an earnest and introspective song. It is simple, yet full of feeling with the spare, gentle accompaniment of guitar and kora. Kaïssa sings, "Babo ba nongui oa owone, the lyrics say:
They took you away,
thinking they knew only the best that is good for you.
They never looked into your eyes,
because they would have seen you are such a precious, little being.
Kaïssa said, "I wrote it and then I met Idan Raichel about five years ago and he said, "Oh I have a melody,' so we worked on it and then I re-recorded it a couple of months ago for the album. So you know this CD has really been a long work in the making."
Tell me about the inspiration of your father – the fact that he got arrested in Cameroon. You have said this was a pivotal moment in your life. Did he influence you in terms of your commitment to justice?
"My Dad was Secretary of Culture in the first Cameroonian government in the early 1960's. He was arrested in 1973 for writing "subversive" literature.
To me he was a visionary, more than a politician, I don't think he should have touched politics, because he had to speak his mind and criticized the government. They used the pretext of the book he'd written to say he said bad things about the government. His thoughts about life, justice, liberty, left a serious imprint on me. After he got arrested, we went as a family to visit him in prison. They had taken his shoelaces away.
I remember asking my mother why they did that. Then closing, locking the door and it was so dark in that prison cell. After that, they never took me back. I came to realize he was jailed on no grounds, no court, no trial, nothing! You see one of the most important people in your life being taken away, and it's an image that will never leave me until my last breath. So, yes, I sing about things that matter to me, that I believe are important."
Tell me about working with Salif Keita, one of the best known singers from West Africa? What was that like? (Keita's inspiration can be felt on her version of "Mandjou," a song previously recorded by him)
"I love Salif, I love Mandinka music, it moves me, I always liked it. Working with Salif was an honor, an unbelievable great school."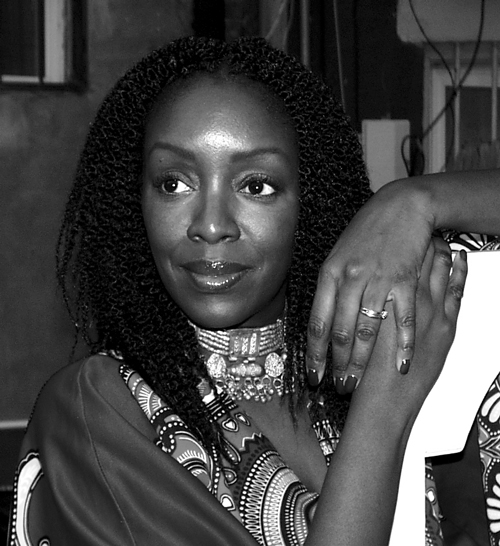 You don't like to be in one box, in one genre of, for example, rhythm and blues, Salif symbolizes West Africa. You like your music to be diverse.
"No I don't! It is too restrictive. My music is diverse firstly because of the great diversity we have in Cameroon. Between my first solo CD and this one, the woman who inspired me the most musically, Miriam Makeba, who I called Mazi passed away. I recorded "Ntylo Ntylo" as tribute to her. She came to one of my first gigs with my mum and my brother." (Kaïssa smiles fondly), "And when my brother confirmed that she would be there my throat went bloop, (gasp) because I had never sung in front of her before, and she gave me a standing ovation. That was a wonderful gift. That is something I will never forget."
And finally, tell me about the title track, "I am So Happy." This is truly an upbeat song." (The sound is light, fast, somewhat funky, pop in feel).
"When our oldest brother Eyoum passed in 2001, my sister Mamadé sent me a beautiful poem saying: 'I'm not dead, I just went to the other side, keep on talking to me as you used to.' I don't remember who wrote those words, but they strongly helped me go through the process of grief. When Mamadé passed 5 years ago that poem she had handwritten helped me to go through the terrible pain of losing a loved one."
It gave you comfort.
"Yes, it gave me a lot of comfort, because those words are so true. You lose someone, but at the end of the day, they are still somehow in you. And then you realize that love does not end. And that's why I sing, "I am So Happy" because love never ends."
What would you want a listener to take away from this CD?
"It's really for people to get what they want; I'm not here to educate or to indoctrinate. When people come to Zinc bar, for example, and tell me: 'Oh, I walked in and I was so sad and disappointed by life and now I'm leaving and I am uplifted'. (She laughs.) "Oh boy, that feels good, I know that I am doing what I am supposed to be doing. Music can be a powerful tool. It has helped me deal with my own demons. And when people tell me they feel better, I feel great, because that's what I want my music to do, to relax, for people to have fun, to think, for listeners to take whatever they want to take from it. I am putting out there things that are important to me, that make me smile, that shock me, and that I think should get more attention. Finally, I want to stay true to myself, to my music and what I want to present. I want to put people in a place of joy."
For more information about Kaïssa, please visit www.kaissa.com