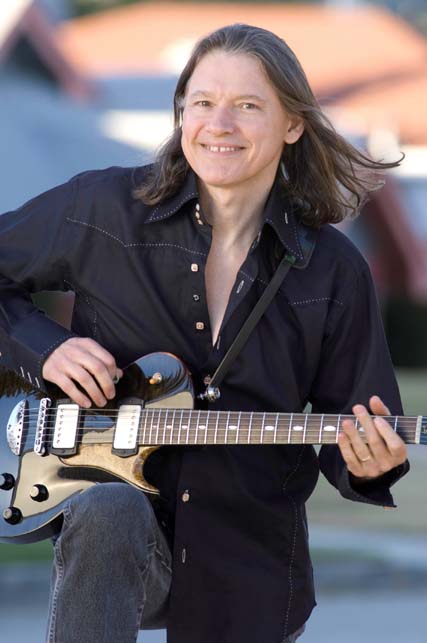 Robben Ford was born on December 16, 1951 in Woodlake, California, U.S.A.
Robben Ford's earliest musical steps were in the blues playing with his brothers in the Charles Ford band and backing harmonica great Charlie Musselwhite. Robben then joined the legendary Jimmy Witherspoon. But his career took an unexpected turn in 1974 when he was discovered by saxophonist Tom Scott.
Ford began to perform and record with Scott's jazz-fusion band L.A. Express and joined them in backing songwriter Joni Mitchell for two years. He played on her Court and Spark tour and double album Miles of Isles (1974) as well as contributing his guitar work to The Hissing of Summer Lawns (1975).
Based on his live work with Mitchell, Ford was recruited to join George Harrison on what would be the ex-Beatles only solo tour ever. In the program book for the Dark Horse tour it is noted 'Only once in a blue moon is there an artist so natural to the blues and to jazz as Robben Ford."
In 1979, Ford released his solo debut album, a fusion-flavored production called The Inside Story. Out of that recording came the legendary group Yellowjackets that would go on to record two albums for Warner Records.
In the late 1970s and early 1980s Ford worked with so many different artists that he was labeled a "fusion guitar player." Robben says "it just wasn't true. Not in my heart anyway. And it wasn't until my second album Talk to Your Daughter in 1988 that I got to make my first blues offering." That album received a Grammy nomination for Best Contemporary Blues Recording.
The promotional tour for Talk to Your Daughter eventually led to the formation of a full time blues-based band called Robben Ford and the Blue Line, with Roscoe Beck on bass and Tom Brechtlein on drums. The trio recorded a series of landmark albums including a self-titled debut in 1992 Robben Ford & the Blue Line, Mystic Mile in 1993 and 1995's Handful of Blues.
By the second half of the decade Robben was again ready for a change. After a friendly split with the Blue Line he recorded Tiger Walk in 1997, backed by Keith Richards' rhythm section. "Tiger Walk was an instrumental rock and R&B record which was nothing that my audience expected at the time," says Robben. "And the next record Supernatural (1999) was an even further departure." The album Supernatural was well received and "In the Beginning" (from Tiger Walk) was nominated for a Grammy in the Best Instrumental Rock category.
Robben returned to blues with Blue Moon in 2002 and Keep on Running in 2003. Keep on Running includes a core group of first class players: bassist Jimmy Earl and drummers Toss Panos and Steve Potts.
Discography:
Discovering the Blues Live (1972) (Live)
Sunrise (1972)
Jimmy Witherspoon & Robben Ford Live (1976)
Schizophonic (1976)
The Inside Story (Elektra, 1979)
Love's a Heartache (1983)
Talk to Your Daughter (Warner Bros., 1988)
Words and Music (Warner Bros., 1988)
Robben Ford (Warner Bros., 1988)
A Song I Thought I Heard Buddy Sing (ITM, 1992)
Handful of Blues (Blue Thumb, 1995)
Blues Connotation (1996)
Tiger Walk (1997)
Supernatural (Universal Classics & Jazz, 1999)
Blue Moon (Concord Jazz, 2002)
Keep on Running (Concord Jazz, 2003)
The Color of Things (2005)
City Life (Westwind, 2006)
Truth (Concord, 2007)
Soul on Ten (Concord, 2009)
Bringing It Back Home (Provogue, 2013)
A Day in Nashville (Provogue, 2014)
Live at Rockpalast (Repertoire, 2014)
Into the Sun (Provogue, 2015)
Lost in Paris Blues Band (Ear Music, 2016)
Supremo (2017)