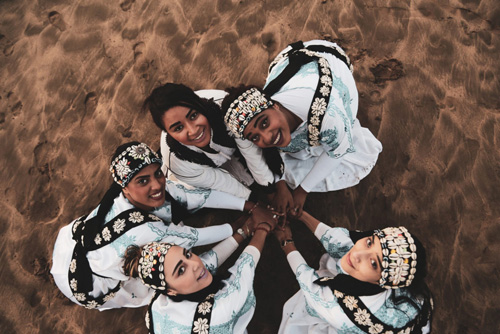 Asmaa Hamzaoui is the leading female performer of Gnawa music. Together with her band Bnat Timbouktou (Daughters of Timbuktu), she performs Gnawa music that goes back in time when this community was held as slaves and the music revolved around storytelling about their suffering.
Her father is the celebrated Maâlem Rachid Hamzaoui. From an early age, Asmâa learned to play the guembri and accompanied her father at celebrations. Traditionally, Gnawa women don't play during ceremonies. Asmâa Hamzaoui is the exception.
Asmaa Hamzaoui and Bnat Timbouktou sing in the native Gnawan language. They advocate for equal rights and for the preservation of traditions and spiritual practices in modern-day Morocco and throughout the world.
In the fall of 2019, Asmaa released her first album Oulad Lghaba, focused on Gnawa spirituality.
The lineup in 2019 included Asmaa Hamzaoui on guembri and vocals; Aicha Hamzaoui on karkabas and vocals; Soukaina Elmeliji on karkabas and vocals; and Lamgammah Hind on karkabas and vocals.
Discography:
Oulad Lghaba (Ajabu! Records, 2019)