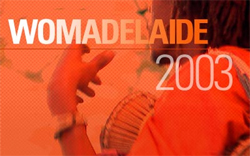 WOMADelaide 2003 – March 7th-9th
Botanic Park, Adelaide, Australia
Like a fine South Australian red wine, WOMADelaide has matured well with age. Debuting in '92 as part of the Adelaide Arts Festival, WOMADelaide quickly established its own identity, running bi-annually as a separate event over the last decade, in alternate years to the Arts Festival.
According to WOMAD's international supremo Thomas Brooman, "WOMADelaide has become one of the jewels in the crown. It's such a magic setting, the organisation is superb and the audience is truly wonderful". Celebrating ten years of WOMAD in Australia, and nestled once again into its green Botanic Park home, Womadelaide 2003 opened on Friday night with a huge crowd.
The evening began with a short traditional "Welcome to Country" ceremony from the local indigenous Kaurna people on the main stage, followed by an energetic display of dance and percussion from Burkina Faso's impressive musical family Badenya Les Freres Coulibaly. As the other two major stages kicked in with Scotland's sprightly Shooglenifty and Canadian Celtic/Quebecois band La Volee d'Castors (The Flying Beavers), the festival was well and truly off and running.
An inspired set from Pakistan's Rizwan-Muazzam Qawwali showcased not only the still-maturing talents of the late Nusrat's talented grandnephews, but also the dub backing of UK beatmeisters Temple of Sound. Having not played together for seven months the collaboration between the two groups was a little sloppy at times, but Count Dubulah's bass-heavy lines still managed to mesh perfectly with the qawwalis' potent and impassioned vocals. Muazzam's body language was at times distinctly reminiscent of his famous uncle, all flailing arms and facial contortions, and their Pakistani backing chorus boasted some of the most enthusiastic hand-clappers I've ever seen. It should be fascinating to watch these young Ali Khan men develop more fully over coming years.
Another Friday highlight was an animated set from Mexico's Zapatista-inspired ska/hiphop outfit Los de Abajo. Fresh-faced and full of fun they managed to create WOMADelaide's first-ever mosh pit, with a blend of bright brass and righteous resistance. The night closed beautifully with the expected sarod brilliance of classical Indian maestro Amjad Ali Khan, accompanied by his two sons and musical heirs, Amaan and Ayaan.
Early on Saturday afternoon Australian acts King Kadu from the Torres Strait Islands and Papua New Guinean/Fijian/Aboriginal band Drum Drum were equally impressive. Both acts combine modern technology with traditional culture, and the group members all looked sensational. Other local acts that received good responses included Greek/Aussie instrumentalists Apodimi Compania and indigenous country/folk singer Kerrianne Cox.
Colombia's ageless Toto La Momposina excited the Stage 2 crowd with her fiery, colourful display of cumbia and salsa rhythms, and a wardrobe that would put Las Vegas showgirls to shame. Her experienced band was relaxed, but tight, effortlessly shifting from lively Cuban son to bouncy bolero beats. Meanwhile diminutive young Irish singer Cara Dillon more than filled the vastness of Stage1, her strong tradition-based vocal renditions winning over the hearts of even the harshest Celtic critics.
As the afternoon began to fade, Jamaican guitar legend Ernest Ranglin didn't have to work too hard in order to please the rapturous crowd. At 70 years of age and still skanking strongly, his flurried fret runs and laid-back demeanor was backed by a seasoned posse of Jamaican session players who swung freely. Looking like Nelson Mandela's funky younger brother, and with his hollow-bodied guitar glistening in the sun, Ranglin effortlessly worked through his familiar jazz/reggae "Below The Bassline" repertoire. No surprises here, but sometimes the tunes that you know are just the ones that you want to hear. An understated triumph of cool groove.
Elsewhere, American guitar virtuoso Bob Brozman was in fine form on one of the smaller stages, dueting with veteran Okinawan sanshin player Takashi Hirayasu. Working the material from their two excellent collaborative albums, their sets and workshop were a delightful and educative journey into the pop/jazz stylings of Japan and Okinawa, with a little bit of Hawaii and vaudeville thrown in as well.
Less successful on Stage 1 was Benin/French singer Julien Jacob whose songs were based around his own made-up vocal language, and backed by a competent but underwhelming band. While pleasant enough, his set quickly became predictable once the language novelty wore off, and his repeated pacing of the stage didn't make for a very visually stimulating show. Bobby McFerrin he's not, and he really should have been presented on a smaller stage.
Later, Senegal's dreadlocked wonder Cheikh Lo energized the record Saturday night audience with a stirring set. Looking like Sammy Davis Jr. gone to seed, the whippet-thin Lo led his excellent band through their paces. With complex Senegalese mbalax rhythms ricocheting against some exciting tama drum excursions, Lo himself was both visually and vocally strong. While possibly not as personally
magnetic onstage as past Senegalese WOMADelaide superstars Baaba Maal and mentor Youssou N'dour, Cheikh Lo's eclectic performances this year would certainly have satisfied most West Africa music fans.
But the main man on Saturday night was French/Algerian bad-boy Rachid Taha. With a seemingly endless supply of attitude, arrogance and rock star pretension, Taha's set was an explosion of frenetic electric oud and guitar soloing, screaming stadium cock-rock posing, and generally a whole lotta fun. Swinging his microphone like some crazed Arabic version of Roger Daltry (but lacking the finesse to actually catch it properly) Taha strutted the stage like a pumped-up rooster, urging his crack band to ever-increasing levels of testosterone-fuelled musical self-indulgence. Most of the crowd loved it of course, but divided opinions the next day varied from "The best thing I've ever seen" to "What a wanker!". Rachid, it would seem, is something of an acquired taste.
For those with stamina the late night WoZone dance club, held at the Student Union of nearby Adelaide University, was a jammed-packed way to keep the party going through the wee hours. Highlights that I enjoyed, before finally succumbing to a few hours of much-needed sleep, were DJ Desperado (aka Thomas Brooman in retro-ska disguise), a dazzling beat-heavy session from the Temple of Sound fellas, and a sample-rich World sound montage from Melbourne's disc-spinning, odd couple Systa BB & DJ Angelina.
Back at Botanic Park on Sunday afternoon, most acts took the opportunity to flog their CDs, appear on a different stage, and further impress with a second set. Tatarstan/Australian singer Zulya Kamalova led her band through a moving performance, her achingly beautiful voice highlighting the many reasons why it would be no surprise to see her increasingly representing this country overseas in coming years.
Spanish band Felpeyu demonstrated once again the group's dexterous mastery of their Asturian/Celtic heritage, and solid second sets from Totó La Momposina (with big brass!), Ernest Ranglin, Cheikh Lo and Los de Abajo confirmed their star status. Yet another impassioned performance from Rachid Taha (actually the same set, just with different pants) was slightly more in a Bruce Springsteen mode this time, compared to his Saturday night Algerian Elvis impersonation. It was also impossible to get him off the stage at the end of his set. That guy was born to be contrary.
An all-star Festival Finale brought the weekend to a close. Bravely working by the Chaos Theory, English cellist Matthew Barley made a gallant attempt to supervise the unorganizable throng, which while ragged, still successfully encapsulated the musical spirit and comradery of the entire weekend. Notable contributions in this mad final set were made by Irish troubadour Andy White, Takashi Hirayasu, Ranglin, Zulya, various Temple of Sounders, Toto's entire brass section and sundry Mexicans. The security boys had a nightmare trying to decide who to let onstage and who to turn away, and in the end, to their credit, simply gave up. A pleasant time was had by all. One helluva good festival.
Postscript:
As a result of a deal announced earlier in 2002 between WOMAD International and the South Australian Government, WOMADelaide will henceforth become an annual, rather than bi-annual, festival. Dates for the 2004 event are yet to be confirmed.