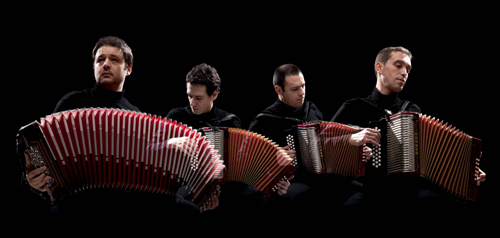 Danças Ocultas is an ensemble comprising four accordionists from Agueda near Porto, in Portugal. The quartet is among the most innovative and most exciting representatives of contemporary Portuguese music. Their concept is based on tranquil, lyrical, almost traditional music, performed with only four diatonic accordions.
The quartet's name, Hidden Dances, has nothing to do with mysterious domains but instead means that Dancas Ocultas play music for dances that have yet to be invented. Portuguese fado plays a minor role in the ensemble's sound; the band's inspiration comes instead from traditional village music, Tango Nuevo and the chamber music exemplified by the Russian Terem Quartet.
Dancas Ocultas neither engage in virtuosity competitions, nor do they play pure folk music. "Impressionist Folk" is perhaps the best definition for this timeless art music: minimalist, thoughtful sound designs full of unanticipated turns and gracious melancholy.
One of the first supporters of Danças Ocultas was Gabriel Gomes, the accordionist of Portugal's most famous world music band Madredeus. He encouraged them to explore their own sound worlds.
Dancas Ocultas' collaboration with choreographer Paul Ribeiro and the Gulbenkian Ballet, regular appearances at international festivals and a highly acclaimed showcase at the World Music Expo (WOMEX) in 2010 have resulted in wide international recognition.
The line-up includes Artur Fernandes on diatonic accordion; Francisco Miguel on diatonic accordion; Filipe Cal on diatonic accordion; and Filipe Ricardo on diatonic accordion.
Discography:
Danças Ocultas (EMI VC, 1996)
(EMI VC, 1998)
Travessa da Espera (L'Empreinte Digitale, 2002)
Pulsar (Magic Music, 2004)
Tarab (Numerica, 2009)
Alento (iplay / Galileo MC, 2011)
Arco, EP (Uguru, 2014)
Amplitude (Uguru/Galileo Music, 2016)
Dentro desse mar (Galileo Music, 2018)