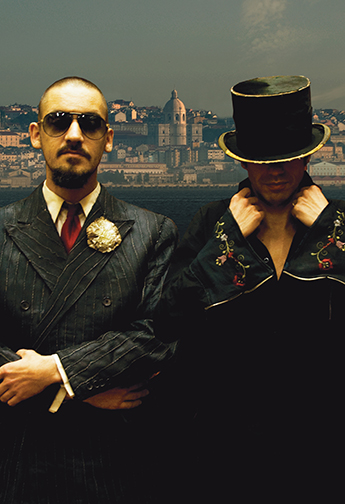 Dead Combo was formed in 2003 by an invitation of Henrique Amaro from Antena 3 Radio, to record the track Paredes Ambience included in the tribute CD to the genius of the Portuguese guitar, Carlos Paredes. The album was titled Movimentos Perpetuos – Musica para Carlos Paredes. Dead Combo incarnate two characters that could have come from a comic book: a caretaker and a gangster.
Pedro V. Goncalves comes from the world of jazz, while Tó Trips
has a rock background. As they grew closer and older, the two musicians exchanged CDs, movies and comics. Influences range from Cesaria Evora and Slayer to Brad Melhdau and Debussy. Other influences include Quentin Tarantino, Abel Ferrara, John Carpenter and Jim Jarmusch's movies and their soundtracks.
In Vol.2: Quando a Alma não é Pequena, Dead Combo provide tango, flamenco, the American Far West as seen by Ennio Morricone, the real Cuba and the one Marc Ribot sighted, Jewish klezmer and Sicilian drama.
Discography:
Vol. I (Transformadores, 2004)
Vol. II – Quando a Alma não é Pequena (Dead & Company, 2006)
Guitars From Nothing (Rastilho Records, 2007)
Lusitânia Playboys (Dead & Company, 2008)
Live Hot Clube (Dead & Company, 2009)
Lisboa Mulata (Dead & Company, 2011)
A Bunch of Meninos (Universal, 2014)
Live at Teatro São Luiz (Dead & Company, 2014)
Odeon Hotel (Sony, 2018)