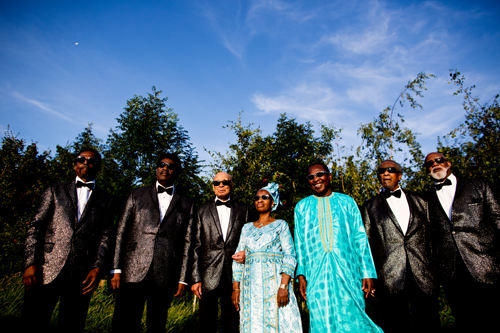 Malian duo Amadou & Mariam are presently on tour in Europe with the Grammy award-winning American band Blind Boys of Alabama. In celebration of the collaboration, the two groups have joined forces on the singles "Bamako to Birmingham" and "Two Cultures, One Beat."
The cross-genre collaboration emerged after conversations between the groups on opposite sides of the Atlantic. The Blind Boys started the recording process by laying down two tracks in the United States, featuring their distinctive vocals, with Amadou & Mariam adding their contributions from the studio in Mali.
The two groups are currently on a joint tour together in Europe, with upcoming performances set for Cork, Ireland; Cambridge, England; Edinburgh, Scotland; and Västra Götalands län, Sweden.
Tour dates:
August 1
Cork, Ireland
Skibereen Arts Festival
August 2
Cork, Ireland
Skibereen Arts Festival
August 4
Cambridge, England
Cambridge Folk Festival
August 7
Edinburgh, Scotland
Edinburgh Fringe Festival
August 8
Västra Götalands län, Sweden
Way Out West