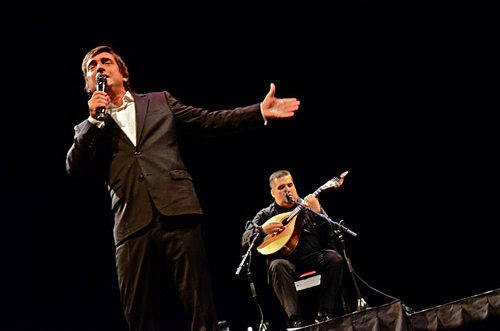 Carlos Manuel Moutinho Paiva dos Santos Duarte, better-known as Camané, was born on December 20, 1966 in Oeiras, Portugal.
He started getting appreciation in Portugal in 1979 after winning the 'Grande Noite do Fado' (Great Fado Night) contest. He became one of the leading male singers and achieved commercial success with six certified gold albums: Uma Noite de Fados (1995), Na Linha da Vida (1998), Esta Coisa da Alma (2000), Pelo Dia Dentro (2001), the live recording Como sempre… Como dantes (2003), and Sempre De Mim (2008).
Infinito Presente (2015), the product of an extended collaboration with the writer José Maria Branco, includes lyrics and arrangements that are deceptively simple. The songs express the mysterious emotion that the Portuguese claim as uniquely and exclusively theirs: saudade, which is at once the happiness that brings sadness, and the sadness that brings happiness.
On Camané's 2017 album, Canta Marceneiro , he revisits the repertory of Alfredo Marceneiro, an early 20th century fado singer who, though only moderately competent as a technician, completely changed fado's possibilities for artistic expression through unrestrained inventiveness and wit. Camané's Canta Marceneiro is filled with mischievous stories that reveal the common cares and fears in all of us through the lives of astute waitresses, drunken painters, and kings' courtiers.
Discography:
A Alma Jovem Do Fado ‎(Riso E Ritmo Discos, 1982)
Uma Noite de Fados ( EMI-Valentim de Carvalho, 1995)
Na Linha da Vida ( EMI-Valentim de Carvalho, 1998)
Esta Coisa da Alma ( EMI-Valentim de Carvalho, 2000)
Pelo Dia Dentro (EMI Portugal, 2001)
Como sempre… Como dantes (EMI Portugal, 2003)
Ao vivo no São Luíz (2006)
Sempre de Mim (EMI Portugal, 2008)
Do Amor e dos Dias (EMI Portugal, 2010)
O Melhor 1995–2013 (Warner Music Portugal, 2013)
Infinito Presente ( Warner Music Portugal, 2015)
Canta Marceneiro ( Warner Music Portugal, 2017)