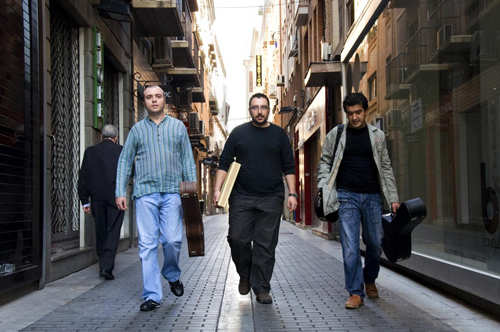 Azarbe is a folk music group that was formed in Murcia in 1999 with a classic format of the traditional bands of the Spanish Southeast.
The majority of its members come from the traditional music scene, and they had experience performing in well-known groups such as Cuadrilla Maquilera, directed by Manuel Luna.
The group has a wide repertoire rooted in the strength of traditional Murcian tunes (aguilandos, jotas, malagueñas, marches, etc.) and original songs that incorporate influences from the entire Mediterranean musical arch.
Musicians:
Oscar Esteban: cajon, darbuka, drums, percussion.
Pedro J. López: Spanish guitar, acoustic guitar.
Carmen María: voice, tambourine, percussion.
Emilio Mateos: Spanish lute, classical guitar, flamenco guitar.
Eugenio M. Concepción: violin.
Paco Morales Nicolás: fretless bass, 5-string Spanish guitar, tenor guitar, percussion.
Discography:
Acuarela de mi tierra Producciones (Trenti, 2001)
Cuerdeando (B. Producciones, 2003)
De la huerta al noroeste (Sonopress, 2007)
Vengo de la romería (Discmedi, 2010)
Murcia por Navidad (Surefolk, 2012)
15 años de folk (El Sr. Guindilla Records, 2015)