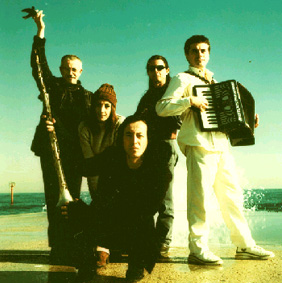 Companyia Electrica Dharma's main objective was to create music that ascribed to the Mediterranean mentality and sensibility. Companyia Electrica Dharma (C.E.D.) was started by the Fortuny brothers in 1974. It became a popular band in Catalonia (northeastern Spain).
The founders, Esteve, Joan and Josep, successfully introduced into the Iberian rock scene the melodies and sounds born from the Mediterranean and Catalan folklore. The band combined, in its own special way, typical rock instruments (drums, bass, electric guitar and synths) with a soprano sax that sounds very similar to the Catalan "tenora". Some called it sardana rock.
Esteve Fortuny died in 1982. Josep Fortuny died in 2013.
Discography:
Diumenge (Edigsa/Zeleste, 1975)
L'Oucomballa (Edigsa/Zeleste, 1976)
Tramuntana (Edigsa/Zeleste, 1977)
L'Àngel De La Dansa (Edigsa/Cabra, 1978)
Ordinaries Aventures (Edigsa/Cabra, 1979)
L'Atlantida (Belter, 1981)
Companyia Eléctrica Dharma I Cobla Mediterránia – Al Palau De La Música Catalana (Belter, 1982)
Catalluna Polydor, 1983)
Força Dharma! Deu Anys De Resistència (PDI, 1985)
No Volem Ser (PDI, 1986)
Fibres Del Cor (PDI, 1989)
Tifa Head (PDI, 1991)
Que No Es Perdi Aquest So (PDI, 1993)
El Ventre De La Bestia ‎(Picap, 1996)
Racó De Món ‎(Picap, 1998)
Llibre Vermell ‎(Discmedi, 2002)
Dharmasseria ‎(Discmedi, 2004)
30 Anys, La Dharma L'arma ‎(Música Global Discográfica, 2006)
El Misteri D'En Miles Serra I Les Músiques Mutants ‎(Picap, 2008)
Nit Col.lectiva! ‎(Picap, 2012)