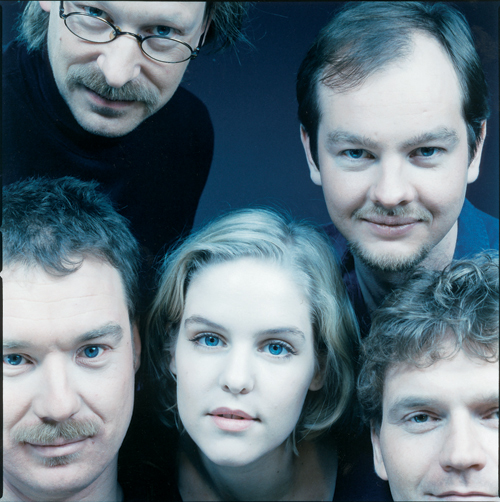 Groupa plays its own brand of modern Swedish folk music. Since 1980, the band has been in the vanguard of the Nordic roots music scene: deeply rooted in tradition, yet always embracing modern instrumentation and improvisation. In the music of Groupa, you find a composed picture of the traditions of yesterday, the whims of today, and the possibilities of tomorrow.
Groupa's music emanates from the band's three personalities' innermost passions. Groupa draw much of their musical inspiration from 'hallingar' (a specialty of the Nordic folk song form that could be called a celebratory holler) as well as waltzes and polskas, both traditional and newly-composed. All these elements contribute to the rhythmic drive that gives their music its own tone and color.
Over the years, many important figures in the Nordic music scene have worked with Groupa, including Ale Moller and Lena Willemark from Frifot and the Nordan Project, Hallbus Totte Mattsson from Hedningarna, and Gustav Hylen from Hoven Droven.
In 1991 they were awarded the top Swedish music award for their album Manskratt. The jury's verdict read: "For pulling the old woolly feeling off folk music with a curious smile!"
In 1992, the band's founder, Mats Eden, was appointed the Composer of the Year at the "Musik vid Siljan" festival. The band won its second Swedish award (equivalent to the Grammy in the US) in 1996 for their album Imeland.
In 1998, NorthSide marked the band's achievements with Fifteen Years, a 70-minute collection of some of their finest moments and their first North American record release.
Their blending of old folk melodies, contemporary improvisational style and creative instrumentation has influenced a whole generation of musicians.
Groupa are: Mats Eden on fiddles and accordion; Jonas Simonson on flutes and bass saxophone; and Terje Isungset on percussion.
Discography:
Av Bara Farten (Amigo Music, 1983)
Vildhonung (Amigo Music, 1985)
Utan Sans (Amigo Music AMCD 721, 1988)
Manskratt, with Lena Willemark (Amigo Music AMCD 725, 1990)
Imeland (Amigo AMCD 73, 1995)
Fifteen Years (NorthSide NSD615, 1997), retrospective compilation
Lavalek (Europe: Xource/ North America: NorthSide NSD63, 1999)
Fjalar (Xource 134, 2002)
Frost (Footprint FRCD4, 2008)