'El Cigala' (the langostine or Norway lobster) is the nickname given by the Losada brothers to Diego Jimenez Salazar.
Cigala is a Gypsy singer-songwriter born in Madrid in 1968 and nephew of Rafael Farina. Since his childhood, he has been singing in his Madrid neighborhood of El Rastro (known for its large, popular flea market), later doing the same in the peñas (Flamenco fan clubs), and at the age of 12 he won a prize in the Gente Joven (Young People) competition and first prize in the Flamenco Joven (Young Flamenco) competition in Getafe (a city in Madrid's southern metropolitan area).
He has accompanied such famous dancers as Cristóbal Reyes, Mario Maya, Manolete, Carmen Cortés, Guito, Farruco and Manuel Camacho. He has performed on records by Camarón, Paco Peña, Gerardo Núñez, Tomatito, and has worked with renowned musicians of the likes of Jorge Pardo, Carlos Benavent and Michel Camilo, to name but a few.
He has traveled the world over, visiting Iraq, Canada, Japan, Australia, New Zealand, United States and more.
In 1994, he embarked on his solo career accompanied by the guitarist Antón Jiménez and was chosen by the public of the Sala Revolver concert venue in Madrid as Best New Artist of the year.
In 1995, he shared the billing with Morente, Mercé and Parrita. In May of that year he released Undebel with the participation of David Amaya, Paquete, Parrita, J.M. Cortina, Bandolero, Chaboli and El Piraña.
El Cigala's best known collaboration was the recording Lágrimas Negras with Cuban pianist Bebo Valdes. These two renowned performers, from two distinct disciplines, joined forces to create a third, powerful and distinctive musical language. Bebo Valdés was the pianist and composer arranger who helped shape Cuban music for the last 60 years. He was also the father of jazz phenomenon Chucho Valdés. Diego 'El Cigala' was the younger traditional soul-searching flamenco singer from Spain. They used boleros as their medium, Spanish as their language, and together they created Afro-Cuban influenced boleros with a distinct flamenco personality.
It was film director Fernando Trueba who had the idea of putting Bebo Valdés (85 at the time), and "El Cigala" (who was 35), together to record the all-time classic album and recreate songs such as "Lágrimas Negras", "Corazon Loco", "Se me olvidó que te olvidé" and "La bien pagá".
Lágrimas Negras became an international best seller, with over 700.000 copies sold all over the world, 300.000 in Spain.
In 2006, El Cigala won the Latin Grammy Award for Best Flamenco Album with Picasso en Mis Ojos.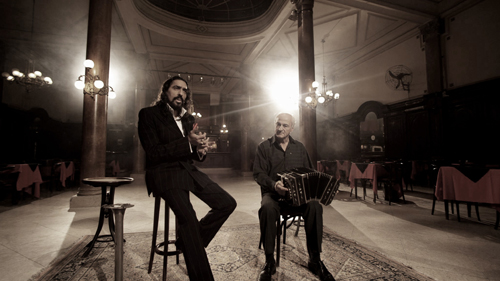 He explored tango and flamenco in 2010's Cigala & Tango and continued his interest in South American music with Romance de la luna Tucumana.
In 2014, Cigala recorded a live album as a tribute to Paco de Lucía with Diego del Morao on guitar.
In 2016 he released Sony Music Latin CD debut, Indestructible, an album where he explored the intersection of flamenco singing and classic 1970s salsa.
Discography:
Undebel (EMI, 1998)
Entre Vareta y Canasta (18 Chulos Records, 2000)
Corren Tiempos De Alegría Ariola (BMG Spain, 2001)
Teatro Real ‎(BMG Spain, 2002)
Blanco y Negro – En Vivo, live (Calle 54 Records, 2003)
Lágrimas Negras (Calle 54 Records, 2003)
Picasso En Mis Ojos (Sony BMG, 2005)
Dos Lágrimas (Edge Music, 2008)
Cigala & Tango (Cigala Music, 2010)
Romance De La Luna Tucumana (Cigala Music, 2013)
Vuelve El Flamenco – en vivo – Homenaje a Paco de Lucía (‎Cigala Music, 2014)
Indestructible (Sony Music Latin, 2016)