Out of Nations – Quest (Riverboat Records, 2018)
Out of Nations is a Berlin-based world fusion band led by talented reeds player and composer Lety Elnaggar. Born in the United States, Lety has Egyptian and Mexican immigrant parents and this diverse background incorporates Middle Eastern and Latin American influences to her music.
The rest of the band includes musicians from various nations, who live in Germany and add an even further multiplicity to Out of Nations. They dress in advanced, sci-fi outfits that point to a future world where humanity goes beyond nations.
On Quest, Out of Nations delivers an exquisite selection of instrumental pieces and spoken word where world music, funk and electric jazz fusion intermingle with ease. The album was recorded in Berlin and Cairo.
The musical instruments are equally diverse, including Lety's reeds, global percussion, Arabic oud, a string ensemble, electric guitar, bass and keyboards.
The spoken word segments address issues of increased xenophobia, border security and violence against immigrants.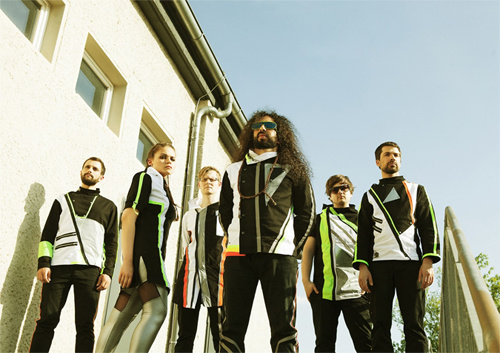 Out of Nations includes Lety ElNaggar on saxophones, clarinet, flute, nay; Khalil Chahine as producer and arranger; Christian Tschuggnall on drums and percussion; Charis Karantzas on electric guitar; Jonas Cambien on piano, keyboards and synthesizer; Ayman Mabrouk on percussion; and Ahmed Nazmi on electric bass (who delivers superb lead bass melodies).
Guests include:
Khaled Owaida, Mohamed Refaat, Shady Elian, Mohamed Medhat, Mostafa Zaky, and Mohamed Raouf on violin; Wael Rezk, Karim Fouda, and Ashraf Ragab on viola; Dr. Khaled Dagher and Mohamed Hamdy on cello. Hany Badry on nay; Hazem Shaheen on oud; Abdallah Abozekry on saz; Brigid Babbish on bassoon; Martin Loyato on trumpet; Michel Bardon on trombone; Juan Ospina on maraca; Hany Bedair and Medhat Mamdoh on Middle Eastern percussion. Spoken Word: Verena Horne, Clare Richardson, Michael Edwards, and Axel Reinemer.
Quest is a spectacular world music album that wanders with ease and elegance between propulsive, rhythmically dynamic global beats; melodies from various traditions and vibrant jazz-rock fusion.
Buy the CD from amazon UK or the digital download from amazon.com