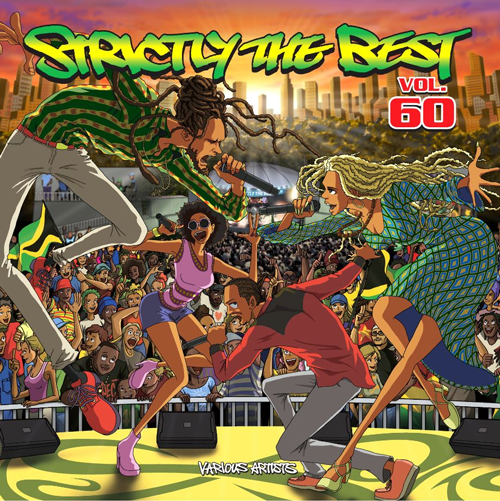 VP Records has announced the release of Strictly the Best Vol. 60. The set includes current and breaking hits from some of the top artists in roots reggae and dancehall. The album is scheduled for release on November 22, 2019. For this latest release, the label will produce a live show to be broadcast Tuesday, November 19 from the BRIC production facility in Brooklyn, New York.
STB 60 includes an illustration by Japanese artist Murasaki, inspired by the scenery of the VP Records 40th Anniversary Concert held at Summer Stage in Central Park, New York in August.
STB 60 contains two discs of hits in one package. Disc 1 consists of reggae and lovers rock tracks. Highlights include "General" by Christopher Martin and "Together we Stand" by Richie Spice. Exclusives on the album include a remake of Lorna Bennet's "Breakfast in Bed" by former Voice winner Tessanne Chin and "Lost My Heart" by emerging solo reggae artist, Kumar Bent.
Disc 2 features dancehall tracks. High spots include "One Way" by Vybz Kartel and "Glow" by Romain Virgo and Christopher Martin. The music video for "Glow" has recently accumulated over 628K views on YouTube. Another exclusive to STB 60 is "No Stress" by Noah Powa who has been attracting attention in New York City and beyond with recent interviews on Breakfast Club, Lip Service and an appearance on Angela Yee Day.
"As our 40th anniversary year winds down, we are happy to release Strictly The Best 60," said Richard Lue, Director of Business Development and Project Manager for VP Records. "Everything from the tracks, to the cover of the album by Murasaki, to the event coming up in Brooklyn, is aligned perfectly to celebrate the 60th edition of one of VP's staple compilations," he concluded.
STRICTLY THE BEST VOL. 60 Tracklisting
* Denotes Exclusive Track
Disc 1 – Singers
1. Play That Song (remix) – (feat. Agent Sasco) – Duane Stephenson
2. General – Christopher Martin
3. Only One – Beres Hammond
4. Girl Like You – Busy Signal
5. Breakfast In Bed – Tessanne Chin*
6. Million Reasons – Alaine
7. Change My Mind – Freddie McGregor
8. Lost My Heart – Kumar Bent*
9. Progress – Romain Virgo
10. Babylon Bridge – Emeterians (feat. Kymani Marley)
11. Better Tomorrow – Raging Fyah
12. Together We Stand – Richie Spice*
Disc 2 – Deejays
1. One Way – Vybz Kartel
2. Wileside Government – Jahvillani
3. Dutty Badmind – Alkaline
4. Clean Like Jesus – TeeJay
5. Glow – Romain Virgo & Christopher Martin
6. Something To Say – I-Octane
7. Life Short – Chronic Law
8. The Trophy – Shane-O
9. 1Option – Squash
10. Charge – Masicka (feat. Dunw3ll)
11. No Stress – Noah Powa (feat. Shams The Producer)*
12. Hold Back – Kes
13. Red Skirt – Munga Honorable