Czech Violinist and winner of three Anděl Awards, Jitka Šuranská passed away on Monday, October 28, 2019 after a severe cancer illness.
Jitka Šuranská had been actively involved in music since her childhood. She played traditional folk music for ten years with the Dulcimer ensemble of Stanislav Gabriel. Jitka also devoted herself to classical music. She was a member of the Bohuslav Martinů Philharmonic in Zlín.
The meeting with musician and journalist Jiří Plock was essential for her. Together they recorded "Písňobraní" (i.e. Song-gathering) for which they won the Anděl Award in 2005. In 2012, Jitka Šuranská moved on. She bought a Loop Station and started playing and singing solo. This was followed by cooperation with the Slovak trio Pacora, producer Stan Palúch, and in 2013 the first solo album "Nězachoď slunečko". She received the second Anděl Award in the World Music category for her album.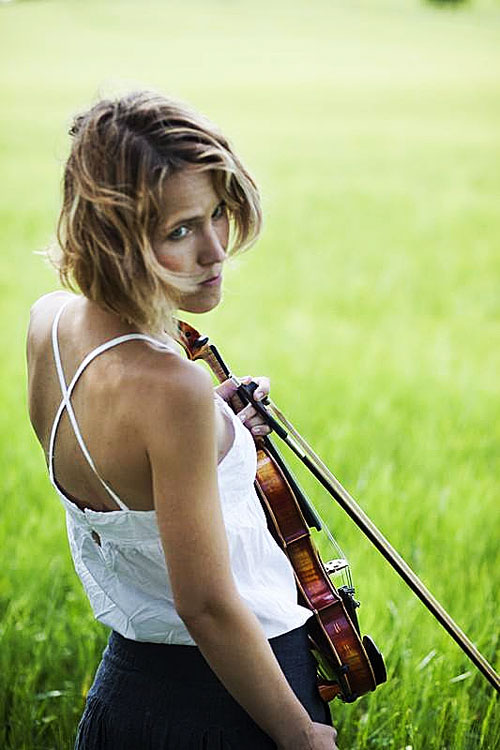 In 2014 she fulfilled her dream of having her own band. "What more could I have wished for – the Jitka Šuranská Trio," she said on her website. In 2016, the debut album of the trio called Divé husy (i.e. Wild Geese) was released. In the same year, she began to cooperate with the Women's Choir of Kudlovice.
She won the last Anděl Award in 2017 for a music project with the eponymous album name Beránci a vlci (i.e. Lambs and Wolves). This happened in the Folk category. Together with her trio, it was awarded to the Women's Choir of Kudlovice, the Association of Independent Jazz Artists and the Beskydy band RukyNaDudy.
Czech record label Indiescope stated in a press release: "The passing of the energetic musician, who was breaking the borders of folk music and pushed it into new spheres, is an irreplaceable loss not only for the Moravian music scene."
headline photo: Jitka Šuranská in 2015 – Photo by Barka Fabianova