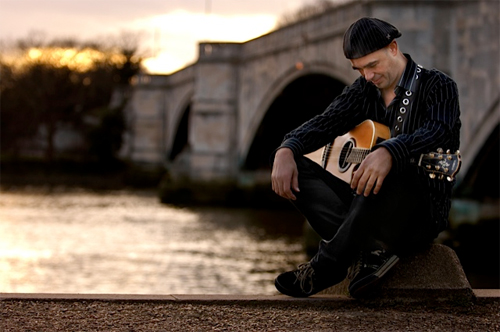 England based Italian guitarist Antonio Forcione has developed a dynamic and original blend of gypsy, folk, flamenco, jazz, Indian and Latin sounds.
He has recorded many albums of predominantly original material with companies such as Virgin Venture, Jazzpoint, Naim and K-Tel International, with guest artists such as Trilok Gurtu and Kai Eckhardt. Several of these have hit the top 10 of various European Jazz Charts such as Jazz FM, MTV, Tower Records and others.
Forcione has shared the stage with John McLaughlin and opened, often solo, for others such as Phil Collins at the Royal Festival Hall, Bobby McFerrin in Germany, Zucchero in Austria, Van Morrison in Madrid, Barclay James Harvest and Jools Holland.
Antonio Forcione was awarded the Covent Garden Entertainer of the Year in 1983 when he first arrived in England which led straight to a BBC TV appearance. Since then the Arts Council of Great Britain have granted him project awards
In 2001 at the Edinburgh Festival he won the 'Best Spirit of the Fringe 2001' Award
In 2002 he won the Award for Excellence at Adelaide Festival 2002.
In 2003, he released Touch Wood, his first recording with his World Music Quartet, featuring Jenny Adegayan (Nigeria), Adriano Pinto (Brazil) and Giorgi Serci (Sardinia).
His first recordings were as a duo with Spanish musician Eduardo Niebla. He has performed or recorded with Bobby McFerrin, Phil Collins, Jools Holland, Zucchero, Pino Daniele, Charlie Haden, John McLaughlin, Trilok Gurtu, Steps Ahead, Leo Kottke, and Biréli Lagrène.
Discography:
Light & Shade ‎(Sol International Records, 1984)
Eurotour 84 (Sol International Records, 1985)
Celebration (Virgin Records Venture, 1987)
Poema ‎(Jazzpoint Records, 1992)
Dedicato (Naim, 1996
Acoustic Revenge (Naim, 1993
Live at Edinburgh Festival (1993)
Dedicato (Naim, 1996)
Meet Me In London (Naim, 1998)
Ghetto Paradise (Naim, 1998)
Vento Del Sud ‎(Naim, 2000)
Live! ‎(Naim, 2000)
Touch Wood (Naim, 2003)
Tears Of Joy (Naim, 2005)
Heartplay (Naim, 2006)
Sketches Of Africa ‎(Antastic, 2012)
Compared To What (Antastic, 2016)
DVDs
Live! (Inspiration) (2000)
Antonio Forcione Quartet in Concert (2005)