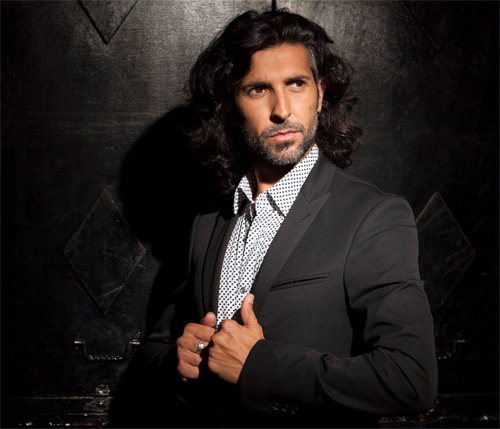 While in his early twenties, Arcángel became part of a select group of flamenco singers. He maintains this position because he wants to, because he can and because he knows how to do it.
Francisco José Arcángel Ramos, better known as Arcangel, was born in Huelva in 1977. His family was originally from the town of Alosno, known as the birthplace of fandango and the main source of the province's rich folklore. At a mere 10 years of age, Arcángel demonstrated an unprecedented command of the local fandango when he took First Prize in a children's competition organized by a flamenco association in Huelva called "La Orden" ("The Order"). This trophy was the prelude to a long series of honours that would eventually encourage Arcángel to dedicate himself professionally to his passion for singing flamenco.
Arcángel is capable of maintaining control of his singing technique, including compás, voice tuning and musical structure, while broadcasting an endless reverberation of perfectly rounded tones. That's how you connect! And we're not talking about his influence in the feminine arena, which we know nothing about, but to his amazing ability to present a cante (flamenco song) in one go, at a slow radiant pace while barely taking a breath.
Without a doubt, he has an Olympic temperament, comparable to the bullfighter's ability to 'moderate, adjust and control' a charging bull. One of Arcángel's outstanding characteristics is the intelligent way that he updates the traditional styles from his homeland. He revives them by adding infinite melodic overtones and by minimizing constraints.
In 2012, along with Fahmi Alqhai, he received the Giraldillo for Best Music at the Flamenco Biennial of Seville for the show Las idas y las vueltas. In 2015 he released his album "Tablao". In February 2017 he was awarded the Medal of Andalusia.
[Translated by Rita Granda]
Discography:
Arcángel (Virgin, 2001)
La Calle Perdía ‎(Ediciones Senador, 2004)
De Oscura Llama ‎(Anemos, 2009)
Quijote De Los Sueños (Sony Music, 2011)
Las Idas Y Las Vueltas ˙ Músicas Mestizas ‎(Alqhai&Alqhai, 2012)
Tablao ‎(Universal Music, 2015)
Al Este Del Cante (Universal Music, 2018)