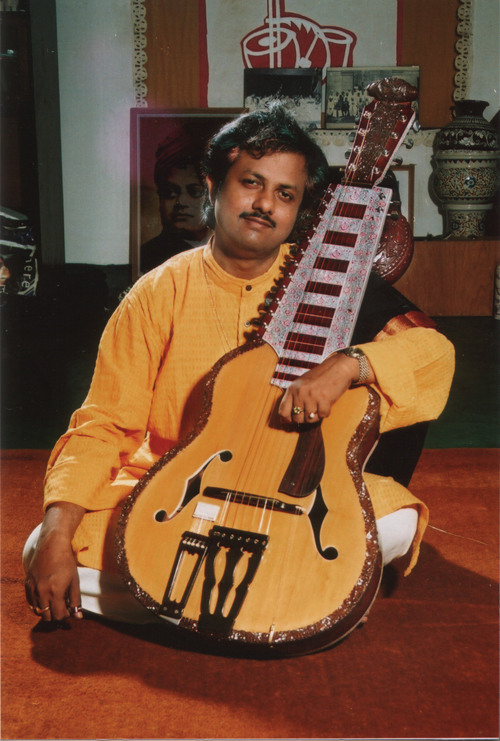 India's Debashish Bhattacharya is one of the greatest slide guitarists in the world. He has, both through creating the actual design of the instrument, and with his incredible talent and discipline, elevated the Hindustani slide guitar to be the highest evolution of slide guitar anywhere. Debashish started Indian music from his parents before he learned the alphabet.
Born into a musical family on January 12, 1963, in Kolkata (Calcutta), India, Debashish Bhattacharya learned to sing before he could talk. At the age of 3, he started playing the Hawaiian lap steel guitar, giving his first major concert on All India Radio at 4.
In his childhood he mastered many Indian classical instrumental styles as well as vocal music from different musical teachers in Calcutta. He became a disciple and student of Brij Bhushan Khabra, the father of Indian classical guitar, for 10 years, and also trained under Ajoy Chakrabarty, the eminent Indian vocalist. He also studied with Ustad Ali Akbar Khan.
The first slide guitarist to receive the President of India Award in 1984 he was made a Pandit (master) at 40. Since then he has been established as one of the world's most outstanding slide guitarists by tours of inspirational live concerts and bestselling albums, including the breathtaking collaboration with slide guitarist Bob Brozman, Mahima. A designer, as well as a virtuoso, Debashish has designed nineteen slide guitars since he began experimenting in his twenties.
To develop his playing, he has undergone decades of disciplined study of Indian vocal technique combined with his instrumental work. Debashish can sing perfectly in parallel with every blindingly fast melody he plays. Possessed of a very open musical mind, Debashish is eager and more than qualified to collaborate and truly blend with musicians from any other country.
Since 1996, his collaboration with Bob Brozman has resulted in two "World of Slide" tours of the USA and Canada, plus more appearances with Bob, and with The International Troupe, in Canada and South Africa. Debashish also toured Europe and recorded with John McLaughlin with Shakti. In 2002, Debashish returned to Quebec with Bob.
All the guitars heard on 3: Calcutta Slide-Guitar 3: Calcutta Slide-Guitar (Riverboat TUGCD1036), his 2005 album, are unique instruments designed by Debashish himself, a Trinity of Guitars, Chaturangui, Gandharvi and Anandi, representing three generations of instruments, while also continuing a thousand-year tradition of music. 3: Calcutta Slide-Guitar is shaped from Debashish's original three-finger picking technique.
Discography:
Ahir Bhairav & Bhairavi (India Archives, 1992)
Calcutta to California (Frequency Glide, 1996)
Raga Bhimpalasi (India Archives, 1997)
Sunrise (Sagarika Music, 1998)
Hindustani Slide Guitar (India Archives, 2000)
Mahima (Riverboat, 2003)
Till Death Do Us Part (Saregama, 2004)
Season of Life (Saregama, 2004)
The Melting Pot Overfloweth (Saregama, 2004)
Love's Dawn (Saregama, 2004)
Calcutta Slide-Guitar, Vol. 3 (Riverboat, 2005)
Raga Pahadi Jhinjhoti (India Archives, 2007)
Calcutta Chronicles: Indian Slide Guitar (Riverboat, 2008)
O Shakuntala! (Riverboat, 2009)
Beyond the Ragasphere (Riverboat, 2013)
Madeira: If Music Could Intoxicate (Debashish Bhattacharya, 2013)
Slide-Guitar Ragas From Dusk Till Dawn (Riverboat, 2015)
Hawaii to Calcutta: A Tribute to Tau Moe (Riverboat, 2017)