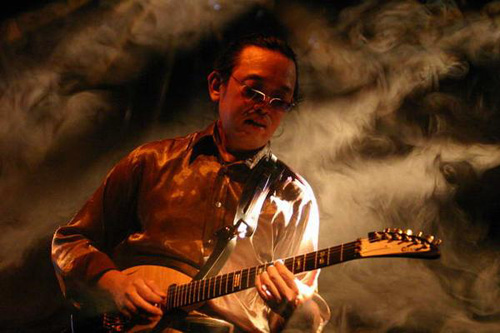 Born in Paris to Vietnamese parents, the self-taught Nguyên Lê began to play drums at the age of 15, followed by guitar and electric bass. After graduating in Visual Arts, he majored in Philosophy, writing a thesis on Exoticism. Then he devoted to music, creating Ultramarine (1983), a multi-ethnic band whose CD "http://www.amazon.com/gp/product/B000FIHFB4?ie=UTF8&tag=musidelmund-20&linkCode=xm2&camp=1789&creativeASIN=B000FIHFB4 |Dé" was considered "1989's best World Music album by Philippe Conrath of Libération. Lê easily slides from rock, jazz, and funk to Vietnamese, Indian, and North African music.
Nguyên Le is a self-taught musician, with a wide scope of interests: rock & funk (Jim Cuomo, Madagascar tour 84), jazz standards & contemporary Jazz (bass player with Marc Ducret, guitar player with Eric Barret), Improvised Music (Yves Robert), singers (Ray Charles), Contemporary Music (André Almuro, Tona Scherchen, Marius Constant, Mauricio Kagel), Ethnic Music: African & Caribbean with Ultramarine, Algerian with Safy Boutella & Cheb Mami, Indian with Kakoli, Turkish with Kudsi Erguner, Vietnamese with his "Dan Bau" (traditional one-stringed instrument) teacher Truong Tang.
In September 1987 he was chosen by director Antoine Hervé to play with the O. N. J. (French National Jazz Orchestra). Within this big band, he played with such musicians as Johnny Griffin, Louis Sclavis, Didier Lockwood, Carla Bley, Steve Swallow, Randy Brecker, Toots Thielemans, Courtney Pine, Steve Lacy, Dee Dee Bridgewater, Gil Evans, Quincy Jones. Nguyên Le's work also deals with programming synthesizers, effects & computers as well as writing orchestral pieces : "Processor" composed, arranged & recorded on CD O.N.J. 87 & Lunik II" co-arranged with Dominique Borker & performed by the O.N.J. 1989.
In September 1989 he recorded Ultramarine's 2nd album De &, in May 90, his first album as a leader Miracles, recorded in the U.S.A. with Art Lande, Marc Johnson & Peter Erskine. At the same time he worked with such musicians as Michel Portal, Miroslav Vitous, Trilok Gurtu, J. F. Jenny Clarke, Aldo Romano, Daniel Humair, Dewey Redman, Andy Emler, Jon Christensen, Nana Vasconcelos, Glenn Ferris, Christof Lauer, Paolo Fresu, Kenny Wheeler, and John Taylor.
In May of 1992, after a one month tour with Paul McCandless on winds, Art Lande (piano), Dean Johnson (bass) & Joël Allouche (drums), he recorded his 2nd album Zanzibar, which got the prestigious Télérama « ffff » award. In January 1993 he recorded "INIT", a trio with André Ceccarelli, François Moutin & guest Bob Berg, while setting up a new band on the music of Jimi Hendrix, with Corin Curschellas (vocals), Steve Argüelles (drums), Richard Bona (bass).
Since January 93 he's been a frequent guest soloist of Cologne'sd WDR Big band, especially with composer/director Vince Mendoza. Nguyên Lê plays on three of his projects: Jazzpaña, Sketches with Dave Liebman, Charlie Mariano, Peter Erskine, & "Downtown", with Russell Ferrante.
In April 1994 he was the guest soloist of "The New Yorker", a suite by Bob Brookmeyer, with Dieter Ilg (bass) & Danny Gottlieb (drums). With these two musicians he set his first trio, and recorded Million Waves in December of 1994.
In the meantime, he was playing in trio with Michel Benita (bass) & Peter Erskine, recording on Michel Portal's new album with Ralph Towner (guitar), & working with Ornette Coleman on one of his contemporary music pieces, "Freedom Statue".
In June 95 he was invited by WDR BigBand in "Azure Moon", with the Yellowjackets & Vince Mendoza. In July 1995, in Stuttgart Festival, he was one of the guest guitar players to celebrate the "Universe of Jimi Hendrix", besides Trilok Gurtu, Terry Bozzio, Cassandra Wilson, Jack Bruce, Vernon Reid, David Torn, Victor Bailey, Pharoah Sanders.
In April 1996, Nguyên Lê created Tales From Vietnam, a project on Vietnamese music, with a 8-piece band blending jazz & traditional musicians. With stage director P. J. San Bartolomé, he started " Of the Moon & the Wind ", a complete show where traditional & contemporary Vietnamese dancers are integrated to the "Tales from Viêt-Nam" orchestra. The CD Tales From Vietnam received a great welcoming from international critics : Diapason d'Or, Choc du Monde de la Musique, Choc of Year 1996 Jazzman, 2nd best CD 96 for Jazzthing (Germany), Best CD 96 on radio TRS 2 (CH), "a minor masterpiece" Jazztimes (USA).
On April 1997 Nguyên Lê released his 5th CD, Three Trios, with Marc Johnson/ Peter Erskine; Dieter Ilg/ Danny Gottlieb; & Renaud Garçia Fons/ Mino Cinelu.
He recorded 2 CDs with Paolo Fresu's quartet: Angel (February 1998) & Metamorfosi (April 1999). On May 1998, the 6th record came out: Maghreb & Friends, an exploration of Maghreb musical traditions & a deep collaboration with Algerian musicians.
Nguyên Lê produced the 1st CD of Huong Thanh, Moon & Wind , entirely done in his home studio. His CD Bakida, based on his regular trio with Renaud Garçia Fons (bass) and Spanish percussionist Tino di Geraldo (percussion, drums) plus guests from all over the world like Kudsi Erguner, Chris Potter, Carlos Benavent.
In September of 2002, the Huong Thanh CD came out, titled Dragonfly. In June of that year he was invited by the Metropole Orchestra (Netherlands) to play his music arranged by Vince Mendoza.
Purple: Celebrating Jimi Hendrix, an album celebrating Jimi Hendrix was released in September of 2002. Up to now, it is Lê's most successful album, with 20,500 CD sales & non stop touring all over the world.
Mangustao, Huong Thanh's 3rd album, released in January 2004, was awarded as "Choc de la Musique" by French magazine Le Monde de la Musique.
In March of 2005 Walking on the Tiger's Tail was released. This was a new album with his great friends Art Lande, Paul McCandless & Jamey Haddad.
Several projects were carried out in 2006 : the score writing of "Le Sheitan", a movie by Kim Chapiron with Vincent Cassel, & Homescape a very electronic, improvised & mystical recording in duo with Paolo Fresu & Dhafer Youssef, all done at home. There was also the score for the Vietnamese movie "Saigon Eclipse" by Othello Khanh; the recording of "Mozart" last Uri Caine's album; a 13-gig tour in the USA with "Tiger's Tail" quartet, thanks to a CMA/FACE grant; two "classical" compositions commissioned by the Ahn Trio & the Laguna Beach Fest in Los Angeles. In addition, Nguyên Lê was unanimously awarded the guitar "Django d'Or" 2006.
In 2007, after tours in US & China, he released Fragile Beauty, the 4th album with Huong Thanh.
In 2008 he recorded Othello Syndrome for Uri Caine, Blauklang for Vince Mendoza's & also Dream Flight, a new ELB (Erskine, Lê and Benita) album, with guest Stéphane Guillaume on sax.
His 2009 project, Saiyuki, borught together Japanese koto and shamisen player Mieko Miyazaki and Indian tabla player Prabhu Edouard. It draws on a renowned Chinese 16th century novel. The story's epic excursion from China to India becomes a metaphor for the three players' musical journeys, real or imagined. The CD features Mieko Miyazaki (koto) & Prabhu Edouard (tabla) and special guest Hariprasad Chaurasia (flute).
As a sound engineer he mixed Dhafer's Youssef album Abu Nawas Rhapsody.
In 2011, Nguyên Lê released Songs of Freedom, an album with cover versions of pop song hits from the 1970s.
"My language is Jazz, but I have chosen to open it & to feed it with other essential cultures that fascinate me & remind me of my origins," says Lê.
Discography
* Programme Jungle, with Ultramarine (Bloomdido BL 001)
* Dé, with Ultramarine (Musidisc, 1989). Reissued in 2005 (Universal 983 883-0}
* Esimala, with Ultramarine (Musidisc , 1991) Reissued in 2005 (Universal 983 883-1)
* Miracles (Musidisc, 1989). Reissued in 2005 (Universal 983 881-9)
* http://www.amazon.com/gp/product/B000FIHFAU?ie=UTF8&tag=musidelmund-20&linkCode=xm2&camp=1789&creativeASIN=B000FIHFAU | Zanzibar (Musidisc, 1992). Reissued in 2005 (Universal 983 882-0)
* http://www.amazon.com/gp/product/B000024HU8?ie=UTF8&tag=musidelmund-20&linkCode=xm2&camp=1789&creativeASIN=B000024HU8 | Million Waves (ACT 9221-2, 1995)
* http://www.amazon.com/gp/product/B000001YKE?ie=UTF8&tag=musidelmund-20&linkCode=xm2&camp=1789&creativeASIN=B000001YKE | Tales From Vietnam (ACT 9225-2, 1996)
* http://www.amazon.com/gp/product/B000001YKJ?ie=UTF8&tag=musidelmund-20&linkCode=xm2&camp=1789&creativeASIN=B000001YKJ | 3 Trios (ACT 9245-2, 1997)
* http://www.amazon.com/gp/product/B000024CBA?ie=UTF8&tag=musidelmund-20&linkCode=xm2&camp=1789&creativeASIN=B000024CBA | Maghreb & Friends (ACT 9261-2, 1998)
* http://www.amazon.com/gp/product/B0000089Z0?ie=UTF8&tag=musidelmund-20&linkCode=xm2&camp=1789&creativeASIN=B0000089Z0 | Angel, with Paolo Fresu's quartet (RCA Victor, 1998)
* http://www.amazon.com/gp/product/B000028E6W?ie=UTF8&tag=musidelmund-20&linkCode=xm2&camp=1789&creativeASIN=B000028E6W | Metamorfosi, with Paolo Fresu's quartet (BMG, 1999)
* http://www.amazon.com/gp/product/B000042ORG?ie=UTF8&tag=musidelmund-20&linkCode=xm2&camp=1789&creativeASIN=B000042ORG | Bakida (ACT 9275-2, 2000)
* http://www.amazon.com/gp/product/B00009QG7I?ie=UTF8&tag=musidelmund-20&linkCode=xm2&camp=1789&creativeASIN=B00009QG7I | Purple Celebrating Jimi Hendrix (ACT 9410-2, 2002)
* http://www.amazon.com/gp/product/B0007R8E7C?ie=UTF8&tag=musidelmund-20&linkCode=xm2&camp=1789&creativeASIN=B0007R8E7C | Walking On the Tiger's Tail (ACT 9432-2, 2005)
* http://www.amazon.com/gp/product/B000EGCEBS?ie=UTF8&tag=musidelmund-20&linkCode=xm2&camp=1789&creativeASIN=B000EGCEBS | Homescape (ACT 9444-2, 2006)
* http://www.amazon.com/gp/product/B002OC9ZYE?ie=UTF8&tag=musidelmund-20&linkCode=xm2&camp=1789&creativeASIN=B002OC9ZYE | Saiyuki (ACT 9483-2, 2009)
* Songs Of Freedom (ACT, 2011)
* Purple (ACT, 2012)
* Celebrating Dark Side Of The Moon (ACT, 2014)
* Hà Nội Duo, with Paolo Fresu (ACT, 2017)
====== web site ======
http://www.nguyen-le.com