Norway is located in northern Europe, bordering the North Sea and the North Atlantic Ocean, west of Sweden.
Bergen
Bergen is a world heritage city that grew around a medieval town. The city is situated between seven mountains on the North Sea coast. Bergen is surrounded by the Norwegian Fjords, which have now been included on UNESCO's World Heritage List. Bergen is situated between the longest fjord Sognefjord and the beautiful Hardangerfjord.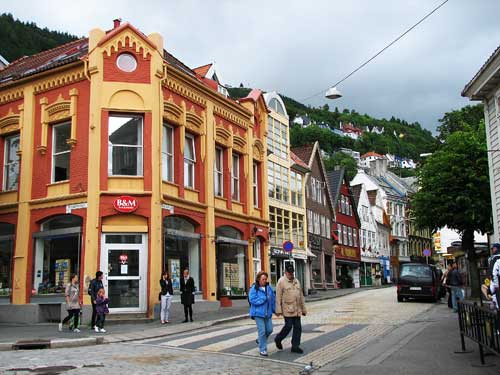 Accordionist and composer Gabriel Fliflet runs an influential folk music club named Columbi Egg, which is one of the biggest scenes for folk music in [[Norway. The club is also renowned for bringing in musicians from all over the world and creating a vibrant hot-spot, not just for folk musicians but for music lovers in general.
Bergen hosts two important music festivals, Bergen International Festival and Night Jazz.
A must is to take the Fløyen Funicular and get a panoramic view over one of the most beautiful cities in Norway.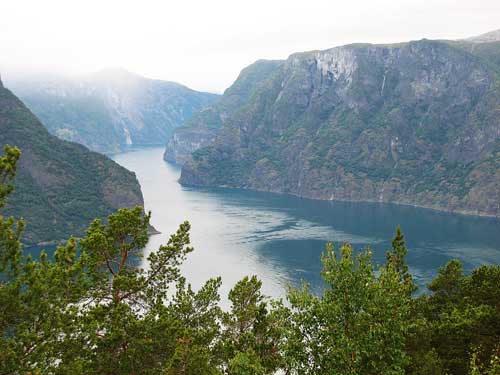 Førde
Førde is situated on the western coast area of Norway, 150 km north of Bergen, surrounded by fjords, mountains, glaciers and waterfalls. It is a small town (12000 inhabitants), and it is uncomplicated to go from one place to another. All distances are easily walked.
Førde was a very small farming community, but over the past few years, it has developed to become the region's most important business center between Bergen and Ålesund.
The annual international folk music festival, Førde Folk Music Festival, is held in July. It is the biggest of its kind in Scandinavia for folk, traditional, world music and dance from all over the world. The festival takes place in beginning of July each year. The main profile is traditional and contemporary folk music on an acoustic basis. Artists from more than 100 different countries were presented at the festival in the past years.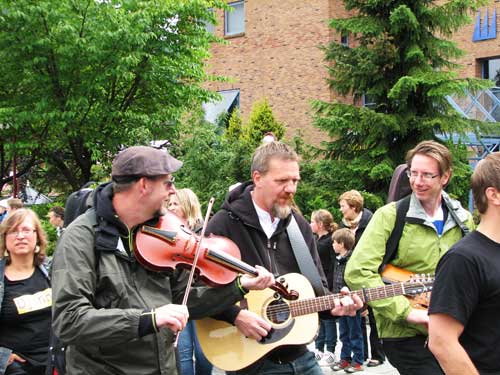 The festival program includes concerts, workshops, exhi­biti­ons, children's events, dance evenings etc. Plus different kinds of projects during the festival week and throughout the year.
The main festival arena is the culture center, "Førdehuset" with four concert halls from 170 to 2500 seats. Festival events also take place in hotels, museums, arts centers and outdoor stages in and nearby Førde, altogether about 20 venues. The festival emphasizes a certain theme each year.
The focal point of culture in the Førde region is "Førdehuset". In Førdehuset you will find theater, cinema, library, fine arts, sports, swimming pool and much more.
Norwegian Musicians
Ånon Egeland
Adjagas
Agnes Buen Garnas
Annbjørg Lien
Arve Moen Bergset
Åse Teigland
Berit Opheim
Bjarne Herrefoss
Bjørn Ole Rasch
Bukkene Bruse
Frode Haltli
Gjermund Larsen
Håkon Høgemo
Hallvard T. Bjørgum
Hauk Buen
Inga Juuso
Jan Garbarek
Johan A. Andersen
Johan Sara Jr.
John Ole Morken
Karl Seglem
Kirsten Bråten Berg
Knut Buen
Knut Hamre
Knut Reiersrud
Lars Underdal
Leif Rygg
Majorstuen
Mari Boine
Rita Eriksen
Rusk
Sigurd Brokke
Sinikka Langeland
Steinar Ofsdal
Susanne Lundeng
Synnøve S. Bjørset
Terje Isungset
Tone Hulbækmo
Transjoik
Trygve Seim
Unni Boksasp
Unni Løvlid
Utla
Vajas
Valkyrien Allstars
Vamp
Vegar Vårdal