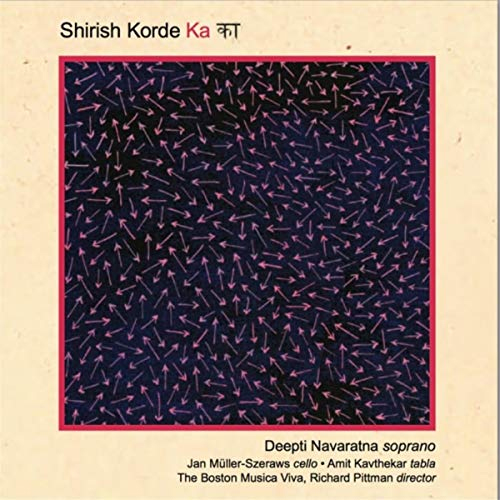 "Ka" (Svrasa Records, 2012) is a vocal work for soprano and chamber ensemble. Here, Indian vocal forms intersect western contemporary classical music. Shirish Korde is a United States-based composer who was born in Uganda to Indian parents.
The vocals are provided by neuroscientist and masterful Indian classical vocalist Deepti Navaratna. On two of the pieces, Deepti Navaratna is joined by Boston Music Viva ensemble. On "Anuswara" we find Deepti interacting with Jan Müller-Szeraws's versatile cello.
"Ka" has a deeply percussive feel, presenting Deepti on evocative vocals and konakol (Indian vocal percussion). This outstanding piece features Deepti on overdubbed vocals and tabla maestro Amit Kavthekar on konakol and tabla. The konakol interaction between the two musicians is truly fascinating.
"Pilu" is a solo vocal composition with spellbinding vocals overdubs and drone.
The Ka album is deeply satisfying and highly original.
Buy Ka