Steve Riley and the Mamou Playboys – 30 Years Live (Valcour Records, 2019)
Steve Riley and the Mamou Playboys celebrated its 30th anniversary with an outstanding live performance in Lafayette, Louisiana. 30 Years Live demonstrates why Steve Riley and the Mamou Playboys has become one of the finest acts in the Cajun music scene.
On 30 Years Live, the band treats the listener to a set of originals and Cajun classics. What makes Steve Riley and the Mamou Playboys such a fascinating and enjoyable live act is its ability to absorb and intertwine various musical influences from the American south: traditional music from southern Louisiana, blues, rootsy country music, rock, and more. Lyrics are in English and Cajun French.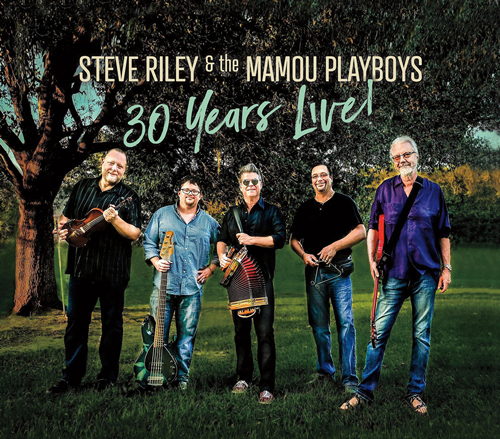 The band is led by Cajun award-winning accordion maestro Steve Riley of Mamou in Evangeline Parish, Louisiana. The Mamou Playboys includes fiddler Kevin Wimme, guitarist Sam Broussard, bassist Brazos Huval and drummer Kevin Dugas.
For this celebration, the band was joined by former member David Greely on fiddle and vocals and various guests, including Chris Stafford on organ and piano, Melete Terry on vocals, Alena Savoy on vocals and Paul "Bird" Edwards on rubboard.
Buy 30 Years Live in North America
Buy 30 Years Live! in Europe