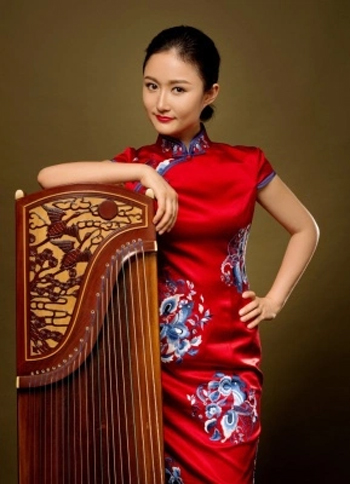 Mengmeng Wu was born in Huaxi village, Jiangsu, southeast China. She learned the guzheng from the age of six and her talent was noticed during her first stage performance at the age of ten.
In 2002, she enrolled in the Affiliated High School of the China Conservatory of Music, where she studied the guzheng for 6 years with distinguished experts Professor Ji Wei. In 2008, she trained for another 4 years at the Central Conservatory of Music, China under Professor Ji Wei and celebrated guzheng Master Professor Li Meng, where she graduated with a BMMus in guzheng performance. In the University, Miss WU participated in premieres of Guzheng quatet "One Thousand Kilometers Way to Go", written by Professor LI Meng and Guzheng trio "Spirit of Zheng", written by Malaysian composer Zhao Junyi. Moreover, she was frequently invited to perform for Music Channel of CCTV. She won the Gold Prize for Guzheng Solo in the 4th Zhong Sin International Music Competition in 2010 and a Gold Award for guzheng solo in the 1st Huain Cup International Chinese Music Competition in 2012.
Since relocating to London in 2014, Mengmeng has performed at a wide range of venues including SOAS, University of London, Blackheath Hall with the Trinity Laban Orchestra, the Manchester International Festival (2015) with Damon Albarn, the Lake District Summer Music International Festival.
Mengmeng is an open-minded artist who enjoys experimenting with new music and fusion music, such as collaborative works of electronic music and Guzheng, trying to adapt LiberTango, using Chinese and Western musical instruments (guzheng, pipa and accordion) to interpret the work.
At the beginning of 2017, Mengmeng set up a music studio CCIS Chinese Classical Instruments Studio in the UK.
Discography:
The Art of the Chinese Guzheng (ARC Music, 2019)