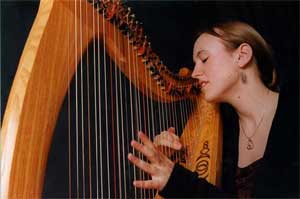 Harriet Earis was classically trained on concert pedal harp, but now specializes in the Celtic harp. She was the 'Harper of All Britain' in 2000 and 2002.
Harriet studied Irish, Scots Gaelic and Welsh and has a degree in Celtic Studies from Trinity College, Cambridge. She is a member of Siansa, a six-piece, London-based traditional Irish band that includes several All Ireland Champions.
Harriet's first solo recording was Jumping Ahead, released in 2003. It featured Irish and Scottish harp music with backing from a variety of world music instruments.
Her second album, From the Crooked Tree (2007), featured The Harriet Earis Trio (harp, bass and drums). Another trio album, Alignments was released in May 2016.
Harriet has recorded on various other albums, including the London Irish group Siansa's debut album (2001), two CDs titled "Through These Eyes" (1999) and "A Hundred Thousand Angels" (2000) by pop singer Luce Drayton and "Shake the Blossom Early" (2004) by London Irish singer Helen Roche. Other collaborations include "Craic of Dawn" by the German-Irish band An Tor (2006), "Ear to Ere", an American-Welsh crossover album produced by Red Kite Records (2007), "Dragons" (2007) with Welsh trio Triban.