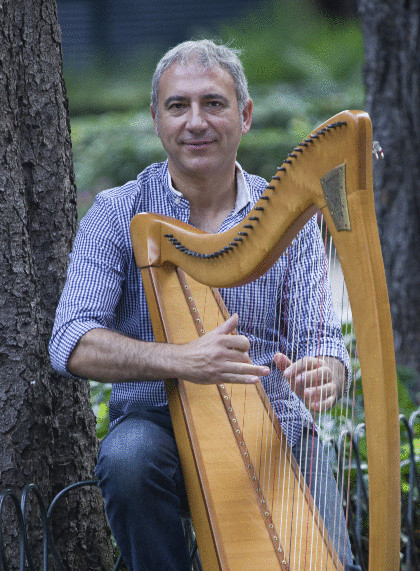 Rodrigo Romero, better known as Rodrigo Romaní, was born in Noia, Spain in 1957. He was involved in the Galician folk song movement in the second half of the 1970s. He formed a duo with fellow musician Antón Seoane.
Together with Seoane and with the traditional music group, Faíscas del Xiabre, Rodrigo founded the seminal folk group Milladoiro in 1979.
With Milladoiro he won several international awards, toured the world folk scene and recorded several albums. In 2001 he left the group to devote himself to other artistic and educational activities.
Discography:
Milladoiro (Ruada 1978)
A Galicia de Maeloc (Ruada 1979)
O Berro Seco (Ruada 1980)
Milladoiro 3 (CBS 1982)
Solfafria (CBS 1984)
Galicia no Pais das Maravillas (CBS 1986)
Divinas Palabras ( ION 1987)
Castellum Honesti (Ariola/Green Linnet 1989)
Galicia no Tempo (Discmedi/Green Linnet 1991)
A Via Lactea (Cormoran 1993)
A Xeometria da alma (Cormoran 1993)
Iacobus Magnus (Discmedi 1994)
Gallaecia Fulget (Cormoran 1995)
As Fadas de Estraño Nome (Discmedi 1995)
No Confin dos Verdes Castros (1999)
Auga De Maio (Discmedi 1999)
Cabana de Bergantiños (1999)