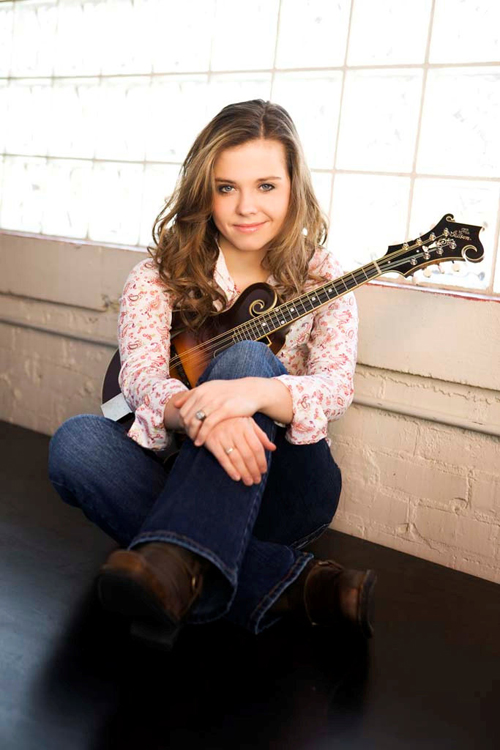 Sierra Dawn Hull was born September 27, 1991 in Byrdstown, Tennessee. She began playing mandolin at age eight and quickly became noted on the national festival scene for her fluid inventive picking, winning several mandolin and guitar championships in the process.
She self-released an instrumental CD, Angel Mountain in 2002. She recorded Secrets (Rounder) at 15 and released it in 2008 at 16. Among the musicians and vocalists joining her on Secrets are Ron Block, Barry Bales, Dennis Crouch, Jerry Douglas, Stuart Duncan, Clay Hess, Rob Ickes, Chris Jones, Jason Moore, Tony Rice, Dan Tyminski, Jim VanCleve, and the banjo phenom Cory Walker who was seventeen years old at the time and had already played alongside Sierra for several years.
"What I've seen in Sierra over the months of working on Secrets is a passion for music in general, and specifically for bluegrass," said Secrets co-producer Ron Block. "She has an intense desire for excellence a love of good songs and an attention to detail that is not often found in someone so young; she's only going to get better and better as time goes on. It'll be intriguing to watch how her vision and creativity affect the future of bluegrass in the coming years."
Sierra was a featured performer on the Great High Mountain Tour which included an all-star bluegrass lineup performing songs from the soundtracks of the hit movies O Brother Where Art Thou and Cold Mountain. A seasoned performer, she has appeared on the Grand Ole Opry radio and television shows and shared the stage with various bluegrass legends such as Alison Krauss, IIIrd Tyme Out, Sam Bush, Mountain Heart, and Ricky Skaggs.
An active member of the International Bluegrass Music Association (IBMA) Sierra has been performing in that organization's annual convention showcases of young bluegrass talent since she was ten. As co-host (with Ryan Holladay) of IBMA's educational DVD release Discover Bluegrass: Exploring American Roots Music, Sierra played an integral part in their effort to introduce young audiences to this uniquely American genre.
Her third album Daybreak was produced by Union Station's Barry Bales and features some of the best singers and pickers in the bluegrass scene.
The International Bluegrass Music Association named Sierra the 2016 Mandolin Player of the Year, the first woman in the association's history to take home this honor.
She released "Weighted Mind" in 2016.
Discography:
Angel Mountain (independent release, 2002)
Secrets (Rounder Records, 2008)
Daybreak (Rounder Records, 2011)
Weighted Mind (Rounder Records, 2016)