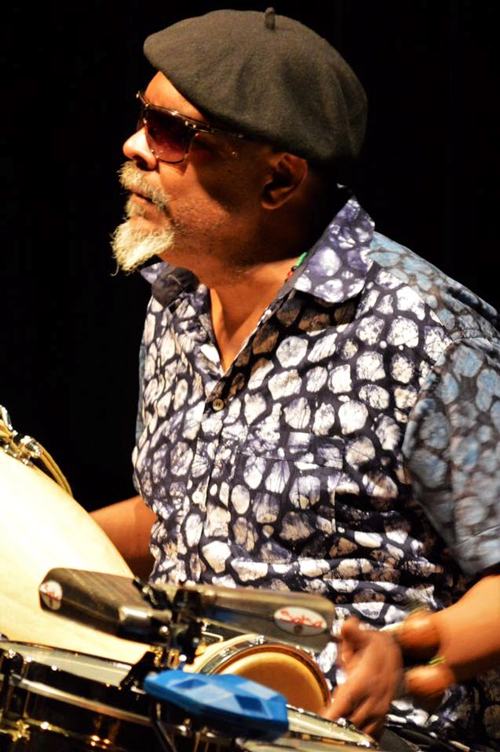 Batá drumming is getting more and more popular these days. With a lot of the masters who transmitted the tradition of batá drumming having passed away, the one living master today is Román Diaz, born in Cuba, now residing in New York City.
In Cuba, Román performed professionally with the Cuban legend of Afro Cuban folklore, female vocalist Mercerditas Valdés. She was known for her grand knowledge and recordings of Afro-Cuban folklore and Orisha songs. She recorded with the late master batalero Jesús Pérez. (batá master Francisco Aguabella's dear friends from Cuba.)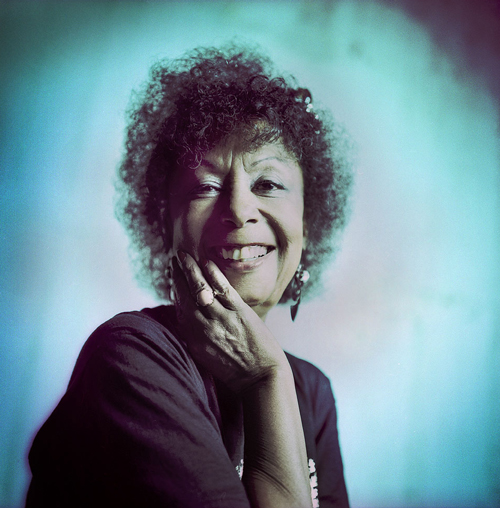 Merceditas Valdés is also renowned for having been a part of Pablo "Okilakpa" Roches Batá Ensemble in Havana, Cuba that included masters of masters, Pablo Roche, Trinidad Terregoza, Raúl Diaz and a young okónkolo player Francisco Aguabella. This ensemble was unsurpassable and not many bataleros or musicians can say that they performed with them.
To perform with one of their members, as in Merceditas Valdés is in itself "without words." Merceditas Valdés spread Afro-Cuban Folkloric history and knowledge, along with her vocals, lyrics, dance steps and drummers that performed and recorded with her.
Román Diaz was one of those drummers, relocating from Cuba to New York, to furthermore blossom his career and to spread the word, music, history and Afro-Cuban folklore to New York City and the world in its entirety.
Román has performed and directed many ensembles, too many to mention in this interview and has continued to perform and direct ensembles here in the United States, previously in Europe and now in New York City.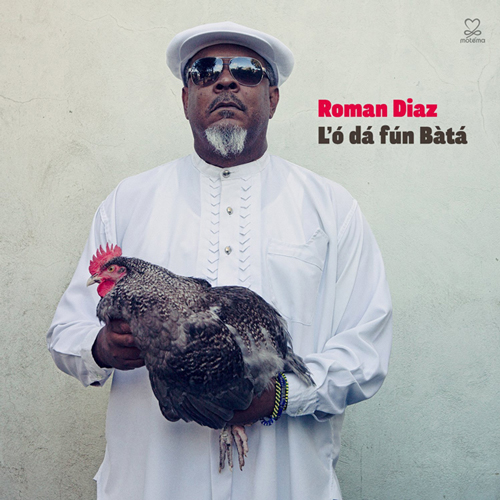 Let's see what Román Diaz has to say about his life and times in Cuba, and times with Merceditas Valdés and his present movement in New York City.
Román, can you tell me a little about your past, where you were born.
I was born in the City of Havana, Municipality of Central Havana in the Barrio "La Victoria".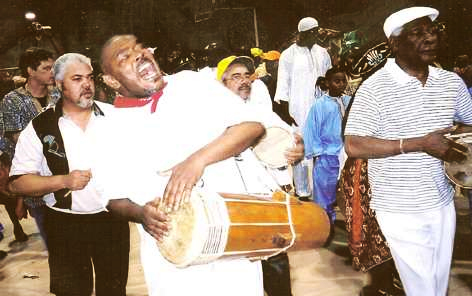 Can you tell me if any of your family members had a musical history or were musicians?
I had an uncle that was a percussionist/drummer and my grandfather a trovador (troubadour).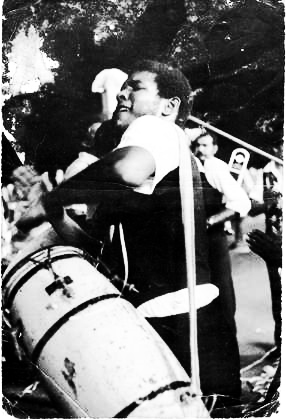 Román, can you tell me how you started to drum or become a drummer in Cuba?
I used to go to the comparsas (groups of musicians and costumed dancers that participate in parades and celebrations) and play bell. It was a friend from school, that motivated me to play in the comparsas. He lived in Solar de Africa, his name was Conrado Lam.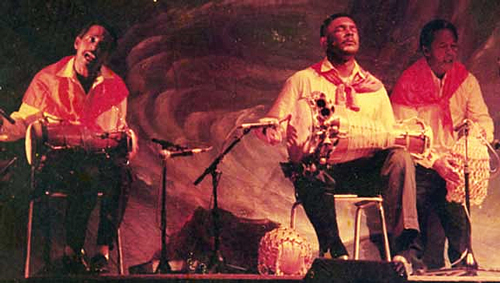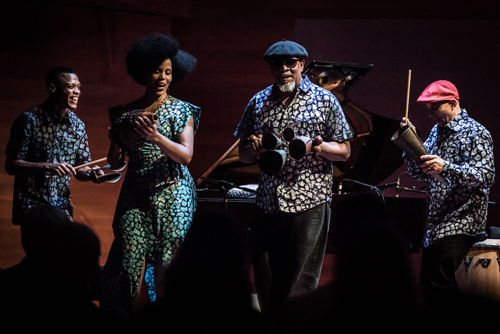 I would like to ask you about the vocalist whom you used to perform with in Cuba, legendary female Afro-Cuban Folkloric Vocalist, Merceditas Valdés.
Well, it was always a dream for me to play with Merceditas. As a young kid I would dream, just to play with her (Merceditas).
Yoruba Andabo (an Afro-Cuban Folkloric Group) that I was performing with, she came to our group to sing. Yoruba Andabo was already formed, it was formed in the 1960's. I was given this opportunity to perform with her. (since she was in our group).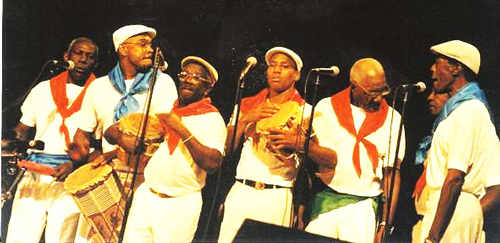 Who first started you on batá?
I learned with Humberto La Pelicula. He lives in Italy. When we lived in Cuba I used to go to Mariano #110, 10 de Octubre (October), that is where I learned.
What does the future bring for Román Diaz?
At the moment, I try to play in the best position that I can perform in, to keep studying music (drumming), because there may be something that I could learn.
The above video is Juan De Dios, filmed by the late Jerry Shiligi, courtesy of Michael Pluznick who also went to Cuba. This was from the year 1985. I, Les Moncada, along with other San Francisco Bay Area musicians sponsored the Cuba trip. This was at the cabaret inside Hotel Cabri, Salon Rojo (in the Red Salon). Román Diaz is playing tumbadora (conga) , he is the drummer in the middle.
Musical Credits for Román Diaz
Percussionist, Cuba:
La comparsa Los Marqueses de Atarés. La Habana. 1983-86.
La comparsa Componedores de Batea. La Habana. 1983-86.
Escuela Nacional de Instructores de Arte. La Habana. 1983-86.
Grupo Raíces Profundas. La Habana. 1984-86. Juan de Díos, director.
Grupo "T con E". La Habana. 1986-88. Lázaro Valdés, director.
Concerts in Panamá; Madrid and Barajas (Spain); Peru.
Orquesta Sublime. La Habana. 1988-89.
Grupo Yoruba Andabo. La Habana. 1989-1995.
Performances in Bogota, Colombia; Toronto, Canadá.
Grupo Añakí. La Habana. 1995. "Pancho Quinto," director.
Percussionist, Europe:
Zurich, Switzerland.
Escuela de percusión de Zurich de Billy 'Cotún'. 1995.
Paris, France.
Private percussion school. 1995.
Ekpe-Abakuá encuentro en Paris, 2007. Musée Quai Branly.
Percussionist, United States of America:
"Domingos de Rumba," Esquina Habanera, Union City, New Jersey. 1999-2003
David Oquendo, director.
Collaboration with the Horacio 'El Negro' Hernández album, New York City, 2000.
Grupo "Omi Odara." 'Román Díaz, director. Lecture demonstration with Dr. Ivor Miller. Amherst College, Amherst, MA. April 2002. Funded by the Georges Lurcy Lecture Series Fund and the Willis D. Wood Fund, Amherst College.
Grupo "Omi Odara." 'Román Díaz, director. Lecture demonstration with Dr. Ivor Miller. The Bildner Center for Cuban Studies, CUNY Graduate Center, New York City. March 2002.
Grupo "Omi Odara." 'Román Díaz, director. Lecture demonstration with Dr. Ivor Miller. African Studies, Columbia University, New York City. February 2002.
Collaboration with Juan-Carlos Formell. New York City, 2003. "Misión Cubana." Club Jazz Standard, Manhattan.
Grupo "Omi Odara." 'Román Díaz, director. Lecture demonstration with Dr. Ivor Miller. A multi-disciplinary conference. April 2003. DePaul University, Chicago. Sponsored by the City of Chicago Department of Cultural Affairs.
Lecture demonstration conwith Dr. Ivor Miller. Román Díaz, singer. Black Studies: Methodology, Pedagogy, and Research. Schomburg Center for Research in Black Culture. New York Public Library, February 2003.
International Festival of Yoruba Culture. San Salvador de Bahia, Brazil. 2004.
International Ekpe Festival. Calabar, Nigeria. December 2004. Collaboration with Dr. Ivor Miller. Sponsored by the Department of Tourism of Cross River State. Donald Duke, Governor.
Collaboration with Oriente López, pianista. Garden City, New Jersey. 2004.
Collaboration with percussionist Giovanni Hidalgo, singer Marlon Simón, saxophonist Paquito D'Rivera. Philadelphia, 2004.
Collaboration with Paquito D'Rivera, director. "Obra Panamericana." 2004. New York City; Newark, NJ.
Grupo "Omi Odara." Lincoln Center, New York City. Román Díaz, director. August 2003. August 2005.
Latin Percussion representative. 2001. 2005.
"Noches Cubanas." World Music Institute, New York University. April 2005. With Candido Camero, 'Chocolate' Armenteros; Orlando 'Punilla' Ríos.
Recordings:
Espíritu de la Habana, with Jane Burnett. Toronto, Canada. Won Juno award in 1992.
El callejón de los rumberos with Yoruba Andabo, Havana: (PM Records, 1993).
Aché IV with Mercedita Valdés, Havana (Egrem, 1995).
Aché V with Mercedita Valdés, Havana (Egrem 1996).
Del Yoruba al son with Yoruba Andabo, Havana (Magic Music/ Universal, 1997)
Montvale Rumba, New Jersey. (LP Productions, 2001)
Wemilere. Román Díaz, director. Recorded in 1996, Habana. Produced in 2002, Paris.
"Calle 54," a 2000 documentary film and CD about Latin jazz by Spanish director Fernando Trueba.
"Ay! que rico" with José Conde (2005)
Habana with Gema y Pavel (2006)
"(R)evolucion" with José Conde (2007)
In Case Your Missed It, with Marlon Simon and the Nagual Spirits (2007)
Ye-dé-gbé – The Afro Caribbean Legacy with Yosvany Terry (2008)
Yo Se Que Te Gusta with Grupo Irék (2008)
Time Travel. With Raphael Cruz (2008)
Hot House: Cuban Tribute To Charlie Parker with Steve Gluzband (2008)
Herencia Judia with Benjamín Lapidus (2008)
Fiesta Percusiva with Victor Rendón (2008)
Across the Divide with Omar Sosa (2009)
Rumbos de la rumba with Pedrito Martínez, New York (2009)
Okobio Enyenisón with Proyecto Enyenisón Enkama (2009)
—
I would like to thank the Maestro Román Diaz for his patience & time he spent for this interview, Román is from Cuba and speaks Spanish. Therefore, I translated the interview as in many cases. Gracias Román for his preservation of the batá and Afro-Cuban folklore.
Me gustaría agradecer al Maestro Román Díaz por el tiempo que dedicó a esta entrevista y gracias por la preservación del batá y el folklore afrocubano.
Les Moncada