There are drummers, then there are drummers. Some go out of their way for exceptional things to happen to them. Tony Rosa, master conguero and master batá drummer, resided in the City of Los Angeles, California. He played batá for the Orisha community for 7 years with conga batá master, legend of legends, Francisco Aguabella, from Matanzas, Cuba.
Francisco was a very stern group leader; whether it was his Latin Jazz Orchestra or Folkloric group and his religious batá ceremonies. Francisco either liked you or he didn't like you. It was always beneficial to be on his good side. Francisco had three Afro-Cuban folkloric groups in California: one in San Francisco, another one in Los Angeles, and a third in Sacramento. Sometimes I say 'Masters' are so good, that they actually are not teachers.
Francisco Aguabella's apprentices have reached legend status and Tony Rosa is one of them. Tony Rosa performed with Francisco Aguabella's Afro Cuban folkloric group in Los Angeles, along with batá master Virgilio Figueroa and Francisco Aguabella.
Virgilio Figueroa, also from Matanzas, Cuba, made a remark in one article I wrote for World Music Central, where Virgilio contributed on a tribute to Francisco Aguabella. He said that Francisco showed his apprentices Afro Cuban rhythms that are no longer played in Matanzas today!
Tony Rosa took the big step and moved to New York City. Being an accomplished conga drummer, he linked with great all time master timbalero Manny Oquendo and Conjunto Libre, with co-leader bass legend Andy Gonzalez, brother of legendary conguero and trumpet player Jerry Gonzalez. Tony also performed and recorded with the legendary group Conjunto Folklórico Nuevoriqueño Experimental and recently won a Grammy performing and recording with Arturo O'Farrill.
Let see what Tony has to say about his life and career.
Tony, tell me your background, or family background in Latin music and drumming.
I am Puerto Rican, born in New York City, raised in Los Angeles, California. My father is from Mayagüez, Puerto Rico and my mother from Loiza, Puerto Rico. My influence comes from my mother, being a priestess of Elegua and taking me to all the African dance classes and "tambores" (religious drum ceremonies) as a kid.
How did you meet conga bata master Francisco Aguabella? Tell us some of your history with Francisco Aguabella.
I met Francisco Aguabella in Los Angeles in the 1980s. Francisco was very serious when it came to Cuban drumming (batá, yesa, etc…) He was very selective with who he would share and teach Matanzas-style drumming with.
So how was it that it occurred for you to go to New York City from Los Angeles?
I went to perform in New York with El Chicano. While there, I hung out, checking out other Latin bands. The music vibe in New York was intense at that time. Salsa was booming. I felt like I wasn't growing musically in Los Angeles so I decided to move to New York in 1996.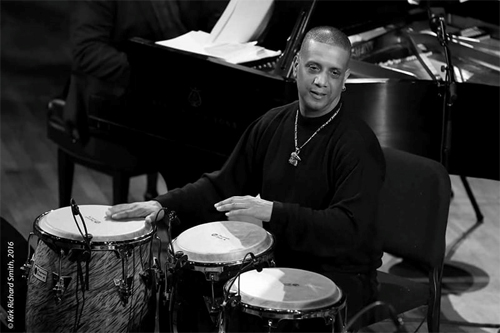 You performed with Manny Oquendo and Conjunto Libre. What was your experience with that orchestra?
I started with Manny Oquendo y Conjunto Libre in 2000. Never ever did I think I would be with Libre steady. Manny was very picky when it came to conga players. That's how I got respect from others; plenty wanted "that chair". Laughs out loud.
What other bands have you played with in New York?
In New York I have performed and shared the stage with artist like Nelson Gonzales (legendary tres player), Miles Peña, Chocolate's group Grupo Foklórico Nuevayorkino Experimental, DLG, Orlando "Puntilla" Rios, Bebo Valdés, MalPaso Dance Co. from Havana Cuba, Lou Soloff, among other artists.
What do you think is the difference in musicianship Los Angeles, vs. New York City?
There are great musicians and drummers everywhere, I think it's all about attitude. New York musicians are aggressive, where Los Angeles musicians are more laid back. My opinion!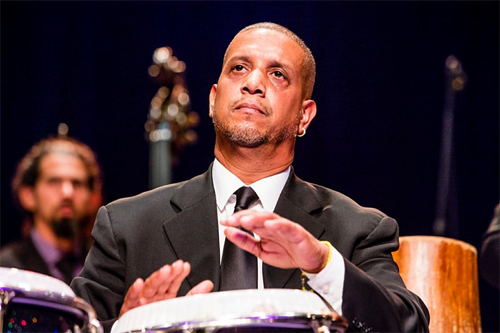 You won a Grammy. Tell us a little about that situation?
Winning a Grammy was very exciting and awesome. My first Grammy was with Cachao Master Sessions in Los Angeles 1994. I didn't find out till later on. Conguero Richie Flores informed me. I am so proud to say I am a 4 times Grammy Award Winner, feeling blessed. The other 3 Grammys were with Arturo O'Farrill and The Afro Latin Jazz Orchestra.
What are you doing now musically in New York?
I currently have a 9-5 and traveling and still playing drums.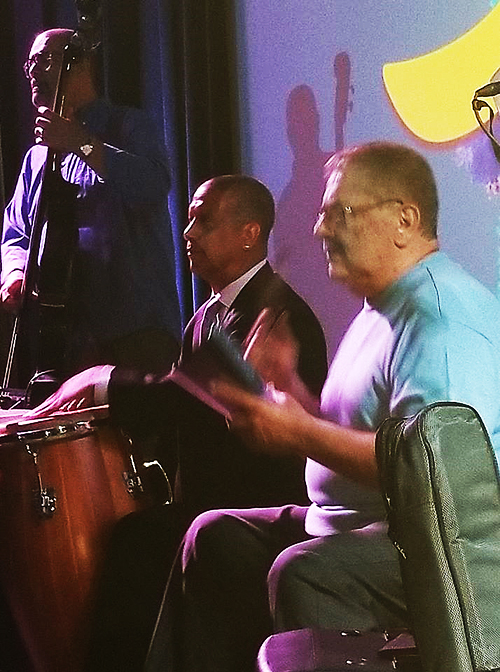 What does the future bring for Tony Rosa, master conguero and batalero, the musician?
I am currently working on my own project CD, recording. Latin Jazz with Afro Cuban and Puerto Rican rhythms. Lots of drums…
Thank you, Tony Rosa for your interview. Now that I have up and coming musicians that have been in the circuit for a while, the next few interviews that I will be doing is with the middle generation of musicians, to expose their contributions to the Latin music community. Those musicians are Latin percussionist, orchestra leader and Puerto Rican Folkloric Director, California-based Jeri Quiñones from Vieques, Puerto Rico and legendary Latin bassist Lalo Vazquez from northern California, residing in Mexico City. There will also be other specialty interviews to surprise the readers as well.