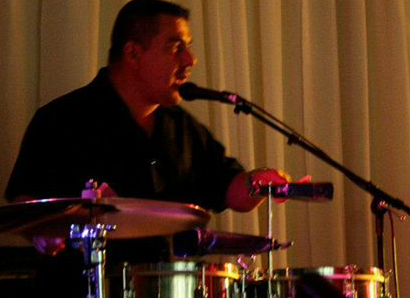 Interview by Marco Moncada
The person behind the Latin music interviews for World Music Central and one of the co-creators of 10 Facebook Latin percussion & instrument education sites is Les Moncada. Let's have a chat with him.
Les, can you tell us about your musical background and what directed you to music?
My mother was of Spanish descent, always playing records of Tito Rodriguez Sr. when I was a kid and also my grandmother would put on records of Perez Prado and the Latin Orchestra really influenced me at a young age.
I played the guitar at 10 years, tried the trumpet but stuck with the timbales at age 15, and bongo & later congas, still playing today. I was also an FM DJ at Sacramento State University and did interviews while being a young timbalero, meeting Cal Tjader, Tito Puente, Pete and Coke Escovedo, and promoter Bill Graham. They had me backstage. I was also friends and interviewed many many more artists.
Cal had Fantasy Records. Gretchen Horton send me DJ copies of records and so did Tito. At that time it was Tico Records prior to Fania Records in New York City. Cal and Tito showed me the respect and confidence and quality that they had as musicians. Being near the San Francisco Bay Area, I was fortunate to meet all the great congueros of our time.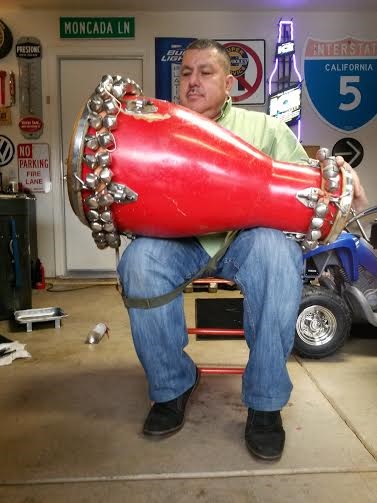 Who can you say your musical influences are?
There are too many to mention. Pete Escovedo kind of took me under his wing. I was born in Oakland and when I was a youngster he guided me regarding timbales questions. There were no lessons at that time. The Masters, Tito Puente, Mongo Santamaria and Francisco Aguabella had the knowledge and you would have to sit in front of the stage and just watch.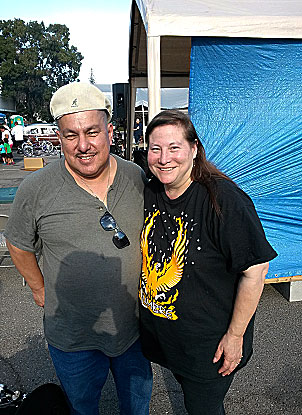 Can you tell us a little about your musical background?
Yes I was in a guitar trio at age 13 in the San Francisco Bay Area, and have been asked how I had the knowledge to direct a Latin Orchestra. Well, getting the knowledge of chords from the guitar helped. I would say most of it came naturally. I have been fortunate to play with a lot of musicians, great friends. I also had the opportunity to study batá under conga and batá master Francisco Aguabella and he would perform with me with my Latin Jazz band and Afro-Cuban folkloric sessions and, at times, gigging 2-3 a day.
I was in one of three folkloric groups Francisco Aguabella had at the time, he had one in Los Angeles, one in San Francisco and one in Sacramento, California. I also formed a couple of Afro-Cuban folkloric groups myself.
Francisco was very knowledgeable. He showed me more than batá, He showed me how to be a great musician, bandleader and also the secrets of musicianship that you cannot learn in books to this day. I think Aguabella made me a greater musician and person. I am very grateful to him (Aguabella). He only had a handful of personal batá students.
I also give the late timbalero Benny Verade a lot of thanks for his guidance, patience and assistance with me as a Latin bandleader.
How was it that you got involved with the Facebook Latin music educational sites?
Marco Moncada, my son and co-administrator to the sites, made a suggestion to create a different caliber of site, due to frustration with facts from other Facebook sites. There are 10 sites for now. I can think of plenty more to make and the public would love, but to monitor them it is something else. We do it between the 2 of us, Marco and I.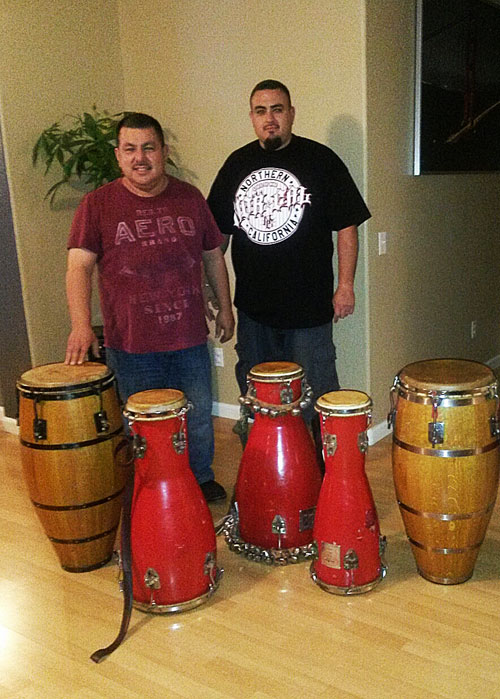 The main site is Timbales and Congas Bongo Bata and bells
The other sites are:
Congueros, Professional Congueros & their Instrument
Bongoseros, Professional Bongoseros & their Instrument
Timbaleros, Repique, Baqueteo & bells
El Tumbao Del Bajo, Y Sus Creyentes
Las Blancas y Las Negras, Flauta y Violin del Monte
Alambres Dulces, Tres, Cuatro & Laud
Rumbero y Rumbera
Trompeta Latina, Guajeo del Sax y el Trombon Criollo
Percussion Classifieds by Moncada, for personal instruments sales
They are educational sites, and I do appreciate the support from the musicians around the world, some masters in their own right and as well as students. It has been a great success and goes hand in and with the interviews that I write for World Music Central, which is the greatest world music site. World Music Central is always ahead of the game and I like that!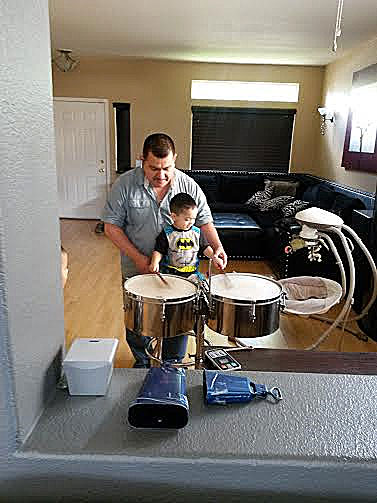 Les, how did you get involved with World Music Central?
I lived in Arkansas for a time and was bored living in the Ozarks, learned to play and read music with the mandolin (beside the tres and cuatro). I started writing obituaries for World Music Central about Latin music artists, and then later started with interviews with fellow musicians and friends, trying to preserve the actual words of the artist.
I believe I was one of the first writers for World Music Central and with World Music Central we were the first music website to offer actual interviews with the artist. Most internet writers for other sites were getting incorrect info from blog sites. It has been a complete success and I will continue to write for World Music Central because the public has found it educationally informative and interesting. I try to also publicize the artists that do not always get the publicity they deserve. This is not in all cases but with some.
I have a lot of exciting interviews coming up, and I myself can't wait for the public to see them, they are so exciting and educational.
Les, you mentioned that bongosero Richie Bastar stated that he wanted to interview you, to see what was behind the World Music Central and Facebook timbales, congas bongo, batá & bells sites.
Yes, Richie's father was the famous Puerto Rican timbales player "Kako" Bastar (Francisco Angel Bastar, b1937-d 1994) and Richie Bastar is the bongo player for El Gran Combo in Puerto Rico. I have different members of the Timbales, Congas, Bongo, Batá & bells site and others folks have been asking questions of who was behind the Latin drumming andinstrument educational sites.
Marco Moncada, my son, has been involved with music all his life, with musicians at my house, conguero, Francisco Aguabella, conguero Poncho Sanchez, timbales legend Ramon Banda, Latin bass legend Tony Banda and a lot more. He was raised with around the music and musicians, Marco is extremely charismatic and is very informed about Latin music; he is also a welder by trade.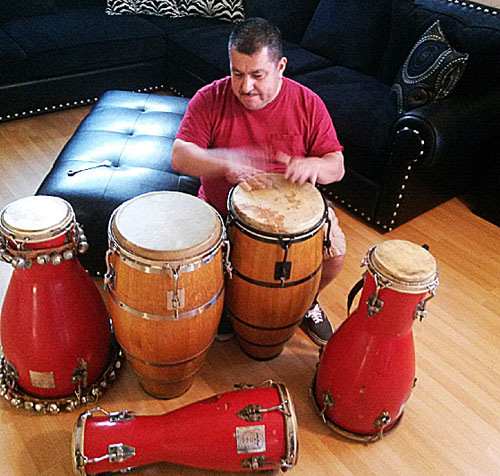 Well what is the future for Les Moncada and the sites?
I definitely will keep doing the interviews for World Music Central. The artist as well as the reader are thrilled with the actual interaction with the artists.
The Facebook pages will continue there are on the main site over 2,500 members, viewers and the viewers, members and Latin percussion students enjoy the site.
Musically, for me, I am presently subbing on Latin percussion at the moment, but will be playing again with Les Moncada Latin Jazz Band this spring.
A sample of Les Moncada interview for World Music Central: An interview with Enrique Papo Lucca, famed Salsa and Latin Jazz Pianist, and Director of La Sonora Ponceña.