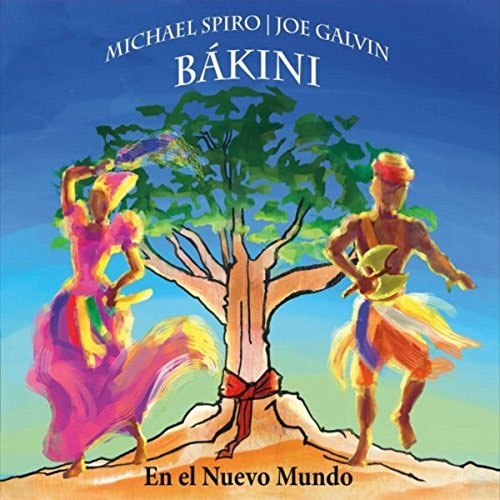 Michael Spiro & Joe Galvin – Bákini: En el Nuevo Mundo (Iu Music, 2017)
Bakini: En el Nuevo Mundo is a celebration of Afro-Latin percussion performed by the acclaimed Afro-Cuban Folkloric Ensemble that came out of the Indiana University Jacobs School of Music.
Produced by percussionists Michael Spiro and Joe Galvin, Bákini: En el Nuevo Mundo is a fabulous introduction to the marvelous world of Afro-Cuban folkloric percussion. However, the ensemble goes beyond Cuba by incorporating Brazilian musical forms, Caribbean calypso, strings, brass and percussion instruments from other regions of the world.
Bákini: En el Nuevo Mundo is divided into three suites. The first one, Aganyú suite, combines Afro-Cuban religious music and secular sounds. The lead singer (akpuón) is Jesús Diaz.
Macarambique Suite mixes Brazilian maracatú with a relatively modern Cuban rhythm called Mozambique and celebrates carnaval (carnival) festivities throughout the Americas.
The final set is "Oyá Suite," another Afro-Cuban inspired piece with some unexpected innovations like a Brazilian samba battery. The akpuón here is Michael Mixtatacki.
The CD booklet includes extensive information about the artists, musical forms, instruments used and the development of the suites. It also contains a glossary.
The personnel that participated in Bákini includes Michael Spiro on iyá (batá drum), caja, quinto and other percussion instrument; Joe Galvin on okónkolo (batá drum), vocals, steelpan, chequeré (shaker) and vocals; Kristin Olson on itótele (batá drum), vocals and keyboard percussion; Jesús Diaz on quinto and lead vocals; Michael Mixtacki on chequeré; Scott Ketner on percussion; Eli Edelman on yonofó drum, caja and various other percussion instruments; Andy Miller on timbal; Ben Christensen on vocals; Jen Bollero on vocals, Fabiana Masili on vocals; Liliana Araujo on vocals; Brenna Johns on trombone; Alex Dura on saxophone; Mitchell Shiner on vibraphone; Jeremy Allen on double bass; Marco Núñez on flute; Daniel Stein on violin; Clara Scholtes on violin; Rose Wollman on viola; Leonardo Vásquez on viola and Chris Cho on cello.
Buy the digital download version of Bakini: En el Nuevo Mundo.The CD is available from cdbaby.com