Steve Khan – Patchwork – Medio Mezclado (Tone Center, 2019)
Virtuoso jazz guitarist Steve Khan continues his enchanting combinations of jazz and Afro-Cuban rhythms on Patchwork. In this case, Khan has taken jazz classics and recreated them with harmonic and rhythmic modifications. The jazz artists chosen include Thelonious Monk, Ornette Coleman, Joe Henderson, Alan Jay Lerner, Keith Jarrett, and Bobby Hutcherson.
Khan has built one of the most formidable rhythm sections in contemporary American jazz, featuring an exquisite blend of Afro-Cuban rhythms; masterfully arranged and recorded.
Khan's colleague, keyboardist, composer and arranger Rob Mounsey plays a bigger role on Patchwork with inspired string and brass arrangements as well as superb electric piano and synth work.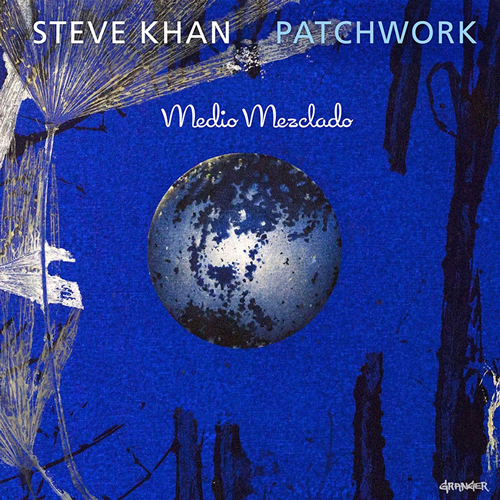 Highlights include the opening track, Thelonious Monk and Kenny Clarke's "Epistrophy," a high energy electric guitar piece with a creative rhythm section of drum set, Afro-Cuban drums and bass; and "Bouquet" by Ornette Coleman, with Khan acoustic guitar. This piece is turned into a lovely down tempo bolero with exquisite Spanish and Latin American-influenced guitar work, delicate drums and percussion, and beautiful orchestrations.
Other high points include Khan's composition "Naan Issue," a delicious bluesy cha cha cha; the lively "A Shade of Jade" (Joe Henderson) featuring a superb flugelhorn performance by Randy Brecker; the timeless Alan Jay Lerner and Burton Lane piece "Too Late Now" transformed into a bolero-paced ballad with outstanding guitar work, magnificent orchestrations and subtle rhythms; and the fusion-leaning "T. & T.," where Khan turns this Ornette Coleman composition into high energy Latin jazz rooted in a Mozambique rhythm. 
Lastly, a tune that captivated me is the outstanding rendering of Keith Jarret's "The Journey Home." This is the longest track on the album, with various sections. It opens with a dreamy slow tempo segment with Khan back on acoustic guitar, delivering delicious interplay with the electric piano, and then moving forward to lively Afro-Cuban beats and electric guitar, beautiful wordless vocals. And then the music slows down and concludes with a truly excellent acoustic guitar and synthesizer duet over a layer of percussion and masterfully-crafted orchestrations.
The lineup on Patchwork includes Steve Khan on guitars and vocals; Rubén Rodríguez on baby bass and electric bass; Dennis Chambers on drums; Marc Quiñones on timbales, bongos, percussion; Bobby Allende on conga; Rob Mounsey on keyboards and orchestrations: Randy Brecker on flugelhorn; Bob Mintzer on tenor saxophone; Tatiana Parra on vocals; and Jorge Estrada on keyboards and arrangements.
Buy Patchwork