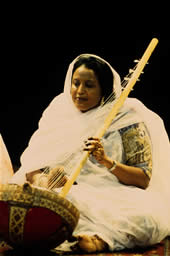 Aicha Mint Chighaly was born in 1963 in Kaedi, Mauritania. Her father, Yuba Al-Mokhtar ould Chighaly, was one of the most influential musicians of the 20th century.
In 1982, the family Chighaly moved from the Senegal border area to the Mauritanian capital, Nuakchott.
Aicha became a singer and ardin (Mauritanian harp-lute) player. In 1996, she started her international career. She released her first CD for the Inedit collection of the Maison Des Cultures du Monde in Paris.
Discography:
Griote de Mauritanie (Inedit)
Azawan, the art of the griots