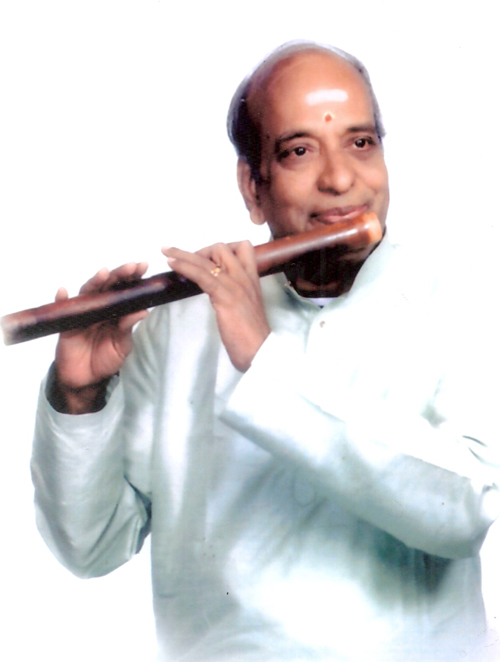 Dr. Natesan Ramani was born October 15, 1934. He was commonly known as N. Ramani or N. Flute Ramani. He was widely acknowledged as one of the world's most masterful bamboo flute players. In 1934 he was born into a family of musicians where he began his studies with his grandfather, Sri Azhiyur Narayanaswamy Iyer, and his first public performance was given at the age of eight. He later continued his training under Sri T.R Mahalingam who was known for developing a unique style of blowing and crossfingering.
Dr. Ramani has further developed these techniques and is known for his technical excellence and masterful improvisation. He has been a performer for All India Radio since 1947 and has toured worldwide.
Dr. N. Ramani died on October 9, 2015.
Discography:
Balachander – Featuring The Flute Of Ramani (World Pacific Records, 1963)
The Soul Of Indian Flute (World Pacific, 1968)
Enchanting Flute Melodies (1976)
La Flute De N. Ramani (Disques Espérance, 1978)
Classical Karnatic Flute (Nimbus Records, 1990)
Fabulous Flute Melodies of Dr. N. Ramani (Oriental Records, 1990)
Charm of the Bamboo Flute (Oriental Records, 1992)
Lotus Signatures (Music of the world, 1999)
Nadopasana (Dreams Audio, 2000)
Live In Concert Vol I, Vol II (Charsur, 2006)
Together (Felmay Records, 2009)
Serene Moods (Living Media, 2011)