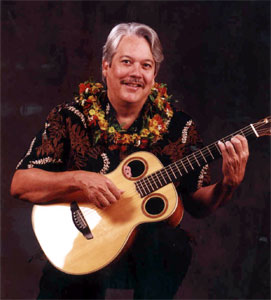 Keola Beamer was born January 18, 1951 in Oahu, Honolulu County, Hawaii. Keola's 'ohana (family) was well equipped to nurture his musical interests. One of Hawaii's best known musical clans the Beamers trace their roots back to the 15th century. Ancient ancestors include Big Island Queen Ahiakumai Ki'eki'e and Ho'olulu one of the kapu (sacred) twins born of Kame'eiamoku favored wife of Kamehameha Nui. More recent family members include composer and hula exponent Helen Desha Beamer (Keola's great-grandmother) composer Pono Beamer (his grandfather) master teacher Louise LeiomAlama Beamer (his grandmother) falsetto singer and pianist Mahi Beamer (his cousin) and chanter and teacher Winona Beamer (his mother). Keola cites his family as his primary musical influence and consciously seeks to maintain its legacy.
Hawaiian society has always placed a high value on sound which has led to a strong commitment to preserving traditional musical forms and an equally powerful interest in the music of other cultures. Reflecting this duality Keola has crafted his style with elements of the ancient and the modern the indigenous and the introduced. On the one hand he actively champions Hawaiian forms that predate contact with Europeans. As illustrated by the pieces The Beauty of Mauna Kea and Pele Trilogy he loves the chant form and plays traditional instruments such as 'ohe hano ihu (bamboo nose flute) and 'ili'ili (lava stone castanets). Says Keola "For me as for most Hawaiians hula and chant connect the generations."
On the other hand Keola was one of the first slack key masters to experiment with electronic effects multi-track recording complex chord progressions even innovative guitar construction. Keola attributes the controversy this sometimes causes to healthy aesthetic and generational differences. "I remember at fifteen sitting at the feet of Aunty Alice Namakelua and hearing her call Gabby Pahinui a radical," related Keola. "Now he's considered traditional. For me that's the beauty of slack key. Who wants to be in an art form with no room for expression left in it?"
In the 196s Keola studied at the Kamehameha Schools in Honolulu a hotbed of the emerging "Hawaiian Renaissance." He also gained valuable experience performing with his mother who remains his favorite collaborator. Their most recent project a CD of stories and slack key entitled The Golden Lehua Tree (Starscape Music 96112) brings Hawaiian folklore to children and adults around the world.
In 1973 Keola released his groundbreaking solo album Hawaiian Slack Key Guitar in the Real Old Style (Music of Polynesia) and published the first slack key instruction book. In the 1970s Keola and his brother Kapono also formed The Beamer Brothers bringing slack key to the rock generation. Their mix of Hawaiiana and pop produced many Island standards including Keola's best known original Honolulu City Lights. Through the 198s Keola continued his solo exploration of new musical territory while gaining inspiration from traditional music.
Keola's first album on Dancing Cat Wooden Boat was released in 1994. Each of his Dancing Cat albums focuses on a different aspect of his art and is characterized by keen intelligence instrumental virtuosity and deep sensitivity to nature. "I'm pretty much a nature person," Keola said. "Wherever we go my wife and I always pause and listen to the environment: the wind blowing through the hala leaves the water the birds. I get a lot of inspiration from those moments." One such moment inspired Keola's fourth album for Dancing Cat Kolonahe which centers on images of ka makani (the wind). Several songs in this recording make direct references to wind an important image in Hawaiian music while others incorporate subtle musical allusions to it.
In Hawai'i the creative impulse usually stems from a pleasurable experience. The concept for Kolonahe came to Keola one afternoon on Maui. "I was out in a distant valley sitting under some hau trees enjoying the space the quiet when all of a sudden the most beautiful refreshing breeze came through. It caressed everything in its path: the trees the grass the stones. It changed the whole complexion of that day. At a time like that how can you feel anything other than peace in your heart? Music is like that too. You can't see the kolonahe but you can feel its presence. It brings something beautiful into our lives."
In high school and college Beamer studied classical guitar and later when he began to teach guitar he published the first method book for his instrument. Around the same time in 1972 he recorded his first landmark solo album Hawaiian Slack Key Guitar in the Real Old Style filled with the nahenahe (soft and sweet) sound of this Hawaiian tradition. To this day this album continues to influence many guitarists.
Mutual fans of one another's musical careers Keola Beamer and R. Carlos Nakai met when Nakai was organizing a workshop at Kalani Honua in Hawaii. Nakai wanted to include Hawaiian culture in the workshop and Beamer offered his services. Nakai who has brought the traditional Native American flute into new musical genres including jazz new age and classical constantly seeks new collaborators and new musical worlds to explore. Therefore it was natural that he would approach Beamer to see if he would be interested in doing a musical collaboration mixing disparate cultures. The result isOur Beloved Land.
Our Beloved Land features the sound of the Native American flute accompanied by the harmonies of the slack key guitar. Several songs also feature Beamer's soulful vocal renditions of original and traditional Hawaiian songs.
Discography
Hawaiian Slack Key Guitar in the Real Old Style (1972)
Keola and Kapono Beamer (1976)
Honolulu City Lights (1978)
Sweet Maui Moon (1989)
Wooden Boat (1994)
Moe'uhane Kika – Tales from the Dream Guitar (Dancing Cat Records, 1995)
The Golden Lehua Tree (narrated by Nona Beamer) (1996)
Mauna Kea – White Mountain Journal (1997)
Kolohane – From the Gentle Wind (1999)
Island Born (2001)
Ka Leo O Loko – Soliloquy (Dancing Cat Records, 2002)
Mohala Hou – Music of the Hawaiian Renaissance (2003)
Ki Ho'alu (Loosen the Key) DVD (2003)
Our Beloved Land (with R. Carlos Nakai) (2005)
Keola Beamer & Raiatea (2010)
Kahikina O Ka Hau (The Coming of the Snow) (2011)
Malama Ko Aloha (Keep Your Love) (2012)