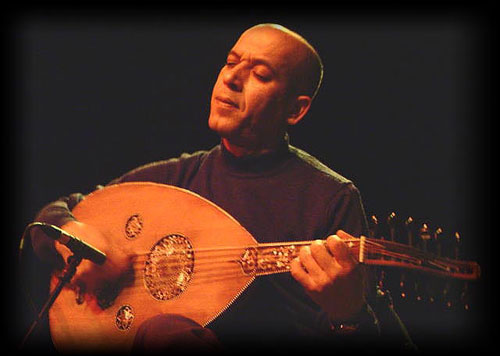 Palestinian 'ud player and composer, Adel Salameh was born in Nablus, Palestine, in 1966. He started performing as a soloist while still living in the Arab World, but emigrated to Europe in 1990.
He quickly established a reputation as one of the finest performers of the 'ud. He performed in more than thirty countries including Japan, Australia, Singapore, Hong Kong, South Africa, and numerous countries in North Africa and Europe.
When performing as a soloist or with musicians from a variety of musical backgrounds, Adel believed that music is an excellent tool to build bridges between various cultures. In an effort to tackle these cultural barriers, he worked with Turkish, Spanish, Indian, French, English, Israeli and jazz musicians.
Adel worked with Womad/Real World for several years and performed at the most prestigious concert halls in Europe.
He collaborated with Algerian singer Naziha Azzouz and recorded several CDs with her.
Adel Salameh died on January 23, 2019.
Discography:
Master of the Oud (Playasound)
Awda (Enja)
Nuzhu (Arion)
Kanza (Enja)
Rissala (Enja)
Mediterraneo (Riverboat)