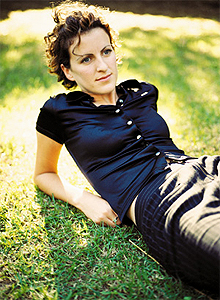 Kathleen Maclnnes was born and brought up on South Uist Western Isles, in a Gaelic speaking home and has enjoyed an interesting career in television as an actress presenter and singer. Kathleen's various projects on television include being presenter of 'Tacsi' a Scottish Bafta award-winning television show of Gaelic and Celtic arts and culture; a part in the Gaelic 'soap 'Machair'; parts on BBC TV's comedy shows such as 'Ran Dan' and 'PC Alasdair Stewart'; the film 'Interrogation of a Highland Lassie' in which she performed two songs; children's TV programs plus regular voice-overs for BBC cartoons and the series 'Animations From Around The World' for Mor Media.
Her stage work includes a part in 'The Well' from the producers of 'Riverdance' a theatre production for Dublin Theatre plus a handful of plays for Tosg and performances at various music festivals. More recently Kathleen has been a regular guest on music program such as MacTV's 'Bard nan Orain' BBC's award-winning series 'Aig Cridhe ar Ciuil' and Mike Alexander's 'Columba Sessions' where she sang alongside leading Scottish and Irish singers and musicians. Kathleen also took part in the concert 'Flower of The West' a tribute to Runrig brothers Calum and Ruaraidh MacDonald and enjoyed last summer's performance with Bias as the support singer to Van Morrison.
Og-mhadainn Shamhraidh (Summer Dawn) is Kathleen Maclnnes's debut album on Greentrax Recordings. Kathleen recorded Og-mhadainn Shamhraidh early in 26 in Park Lane Studios Glasgow. The album was produced by lain MacDonald who also played whistles and pipes. lain called in several fine musicians and singers including Ross Martin (guitar) John McCusker (fiddles) Marc Duff (bouzouki) Donald Shaw (accordion & piano) James MacKintosh (percussion) Neil Johnstone (cello) and Cathy-Ann MacPhee (backing vocals) who did some session work.
Discography:
Òg-Mhadainn Shamhraidh – Summer Dawn (2006)
Cille Bhrìde – Kilbride (2012)