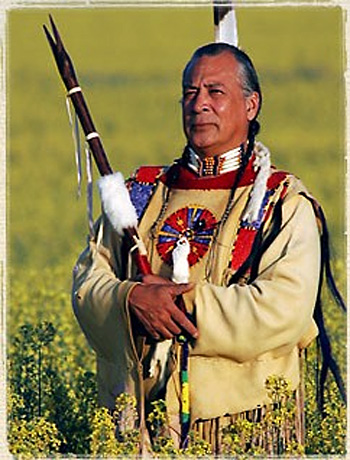 Keith Bear's name in the Nu E'ta (Mandan) language is O'Mashi! Ryu Ta. It means Northern Lights or He Makes the Sky Burn with Great Flame. A self-taught flute player Bear has been performing since 1986. His critically acclaimed performances include traditional storytelling and the sacred Buffalo Dance ceremony which only honored tribal members may perform.
According to Keith "The Nu E'ta people have had flutes for hundreds of years using the wind birds and water from the Big and Little Missouri Rivers for accompaniment." His first recording Echoes of the Upper Missouri reflects Keith's desire to take each listener on a journey back to the bottom lands as in times passed. In fact the natural sounds heard on this release were recorded on location in the ancestral lands of the Mandan-Hidatsa people.
Keith's accomplishments as a flute player and performer include extensive performances at schools conventions and state and national parks. During the summer of 1995 Keith made his professional acting debut in the feature film "Dakota Sunrise". In July Keith performed on QVC's Home Shopping Network and sold over 2 copies of Echoes of the Upper Missouri in less than 5 minutes.
Born and educated in North Dakota, Bear lives on the Fort Berthold Reservation and is the father of four children. He volunteers to help children on the Fort Berthold Reservation. When he's not performing he enjoys beading quilling and making flutes
Discography:
Echoes of the Upper Missouri (Makoche Records, 1996)
Earthlodge (Makoche Records, 2000)
Morning Star Whispered (Makoche Records, 2007)
website: http://keithbear.net