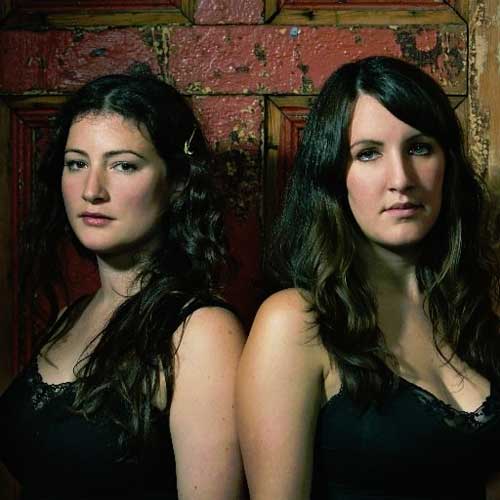 The Unthanks, from Tyneside, are one of the biggest names to come out of the English folk scene in the last years. The group was formed in 2004. Their stunning arrangements, haunting vocals and absolute dedication to sourcing, arranging and telling the stories of these isles is second to none.
The Unthanks is a family act for sisters Rachel and Becky Unthank. Rachel married pianist, producer, arranger and composer, Adrian McNally. Even though McNally has scored symphony scale arrangements for The Unthanks, all three are musically untrained, and put their collective musical vocabulary down to the music they grew up listening to, rather than playing, for which both McNally and the Unthank sisters have parents to thank for.
Using the traditional and folk music of the North East of England as a starting point, the influence of Steve Reich, Miles Davis, Sufjan Stevens, Robert Wyatt, Antony & The Johnsons, King Crimson and Tom Waits can be heard in the band's albums.
In 2012, The Unthanks released 3 project albums in 12 months, under the banner 'Diversions' – a reimagining of the work of Robert Wyatt and Antony Hegarty, an orchestral scale adventure with National Champions Brighouse and Rastrick Brass Band, and a live soundtrack to a film about the shipbuilding industry.
The Unthnaks released four volumes of the Diverions series during 2011-2017.
In 2018, The Unthanks released a trilogy of albums with a poetic theme titled Lines.
Discography:
Here's the Tender Coming (Rabble Rouser Music, 2009)
Last (Rabble Rouser Music, 2011)
The Songs of Robert Wyatt and Antony & The Johnsons (Rabble Rouser Music, 2011)
The Unthanks with Brighouse and Rastrick Brass Band (Rabble Rouser Music, 2012)
Songs from the Shipyards (Rabble Rouser Music, 2012)
Mount the Air ( Rabble Rouser Music, 2015
Archive Treasures 2005–2015 (2015)
The Songs and Poems of Molly Drake and The Songs and Poems of Molly Drake: Extras (Rabble Rouser Music, 2017)
Lines Part One: Lillian Bilocca (Rabble Rouser Music, 2018)
Lines Part Two: World War One (Rabble Rouser Music, 2018)
Lines Part Three: Emily Brontë (Rabble Rouser Music, 2018)