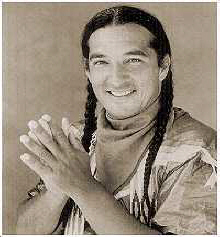 "It is incredible to see the beauty of the people on this earth the vast richness of humankind. All people have the same impulses spirits and goals."- Kevin Locke
Considered the world's pre-eminent Lakota traditional-style flute player and hoop dancer Tokeya Inajin (Kevin Locke) was awarded a National Heritage Fellowship by the National Endowment for the Arts in 199. His life's work is both a bridge and a balance of the traditional and the modern. He is a recognized authority on his native culture tradition and language and has a Master's of Arts degree from the University of South Dakota in Educational Administration.
A popular lecturer and storyteller working to ensure his cultural heritage survives and prospers. Locke has traveled to 45 countries from Canada to China from Australia to Africa to Europe sharing his vision of balance joy and diversity through music and dance. As he explains "through my music and dance I wish to give voice to the beauty of the land and to help define the role of the human sprit in relationship to the immensity of this infinite hoop of life." His belief in the unity of humankind is reflected in his dancing. Kevin uses 28 hoops to tell a story depicting such things as flowers butterflies stars the sun and an eagle. The hoops represent unity while the colors of the hoops -black red yellow and white – represent the four directions four seasons four winds and the four races of humankind. Towards the end of the dance all 28 hoops are interlocked in a spherical shape as fragile as the balance he works for in human affairs.
Locke is both an artist and educator. As a world citizen striving to forge bonds of harmony his contributions to both professions are unique.
Kevin Locke is a member of the Standing Rock Reservation in South Dakota.
Discography:
Flash of the Mirror
Dream Catcher (Earthbeat 1993)
Keepers of the Dream (Earthbeat 1995)
Love Songs of the Lakota (1995)
Open Circle (Makoche Records 1996)
First Flute (Makoche Records 1999)
Midnight Strong Heart (Red Feather 2003)
Earth Gift (2008)
Wind of the North (Red Feather 2008)
Preserving the Heritage Insights & Songs (2011)