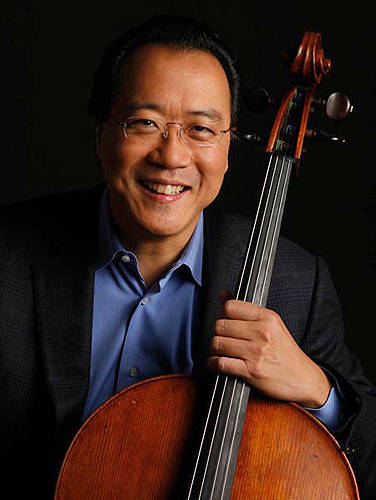 Yo-Yo Ma was born to Chinese parents living in Paris. He began to study the cello with his father at age 4 and soon moved with his family to New York, where he spent most of his formative years. Later, his principal teacher was Leonard Rose at the Juilliard School. He sought out a traditional liberal arts education to expand upon his conservatory training, graduating from Harvard University in 1976. He plays two instruments, a 1733 Montagnana cello from Venice and the 1712 Davidoff Stradivarius.
Yo-Yo Ma maintains a balance between his engagements as soloist with orchestras throughout the world and his recital and chamber music activities. He draws inspiration from a wide circle of collaborators, creating programs with such artists as Emanuel Ax, Daniel Barenboim, Christoph Eschenbach, Pamela Frank, Jeffrey Kahane, Kayhan Kalhor, Ton Koopman, Jaime Laredo, Bobby McFerrin, Edgar Meyer, Mark Morris, Mark O'Connor, the late Isaac Stern, Kathryn Stott, Wu Man, Wu Tong and David Zinman. Each of these collaborations is fueled by the artists' interactions, often extending the boundaries of a particular genre.
One of Ma's goals is the exploration of music as a means of communication, and as a vehicle for the migrations of ideas, across a range of cultures throughout the world. To that end, he has taken time to immerse himself in subjects as diverse as native Chinese music with its distinctive instruments and the music of the Kalahari bush people in Africa.
Taking this interest even further, Ma established the Silk Road Project to promote the study of the cultural, artistic and intellectual traditions along the ancient Silk Road trade route that stretched from the Mediterranean Sea to the Pacific Ocean. By examining the flow of ideas throughout this vast area, the Project seeks to illuminate the heritages of the Silk Road countries and identify the voices that represent these traditions today.
Yo-Yo Ma is strongly committed to educational programs that not only bring young audiences into contact with music but also allow them to participate in its creation. While touring, he takes time whenever possible to conduct master classes as well as more informal programs for students-musicians and non-musicians alike.
In 2004, Ma won his 15th Grammy for Obrigado Brazil, his best-selling release that celebrates the music of Brazil. The success of that recording and a subsequent international tour inspired a sequel disc, released in 2004, entitled Obrigado Brazil Live in Concert, which went on to win a Latin Grammy.
Yo-Yo Ma formed The Silk Road Ensemble in 2000. It is a collective of internationally renowned performers and composers from more than 20 countries. Many of the musicians first came together under the artistic direction of Yo-Yo Ma at a workshop at Tanglewood Music Center in Massachusetts in 2000. Since then. in various configurations. Ensemble artists have collaborated on a diverse range of musical and multimedia projects, presenting innovative performances that spring from Eastern and Western traditions and contemporary musical crossroads. The Silk Road Ensemble has recorded several albums and performed to critical acclaim throughout Asia. Europe and North America.
The Silk Road Project acts as an umbrella organization and common resource for a range of cultural and educational programs, participating in more than a dozen festivals, including the Smithsonian Folklife Festival in 2002. To learn more, visit the Silk Road Project website at silkroadproject.org.
In 2011, Yo-Yo Ma participated in the acclaimed The Goat Rodeo Sessions, a collaboration that brought together four string virtuosos: Yo-Yo Ma, fiddler Stuart Duncan, bassist Edgar Meyer and mandolinist Chris Thile. The cross-genre album combined classical, jazz and American roots music. A DVD titled The Goat Rodeo Sessions Live followed in 2012.
Yo-Yo Ma's classical music discography is quite extensive. An enormous boxed set titled Yo-Yo Ma: 30 Years Outside the Box contains 90 CDs that include his classical works as well as the albums focused on tango, the music of Brazil and other traditions.
Silk Road Ensemble Discography:
Silk Road Journeys: When Strangers Meet (2002)
Silk Road Journeys: Beyond the Horizon (2005)
New Impossibilities (2007)
Traditions and Transformations: Sounds of Silk Road Chicago (2008)
Off the Map (2009)
A Playlist Without Borders (Sony Classical, 2013)
Sing Me Home (Sony Masterworks, 2016)
Website: www.yo-yoma.com