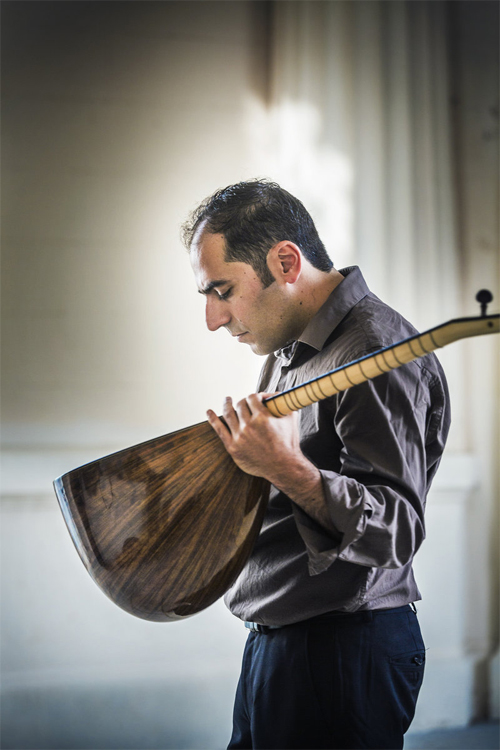 Vardan Hovanissian & Emre Gültekin recently released Karin, an album that reached number 1 on the January 2019 Transglobal World Music Chart. Emre Gültekin discussed his musical background and Karin with World Music Central.
How did Vardan Hovanissian & Emre Gültekin meet?
One of the first meetings was when we were looking in Brussels for a duduk player for a recording. It was an album project with my father Lutfu Gultekin…So he came, we met and recorded; it was wonderful.
At that time, I was studying sound engineering and there was a class named "soundscape" or something like that. One of our exercises was to put a poem in sound without using music.
I was often the first student to present my works because we had a home studio in our house. 
So I presented the work which was a poem of Nazim Hikmet and asked Vardan to play duduk.
So the Poem (20th century) was presented with just a voice and duduk in front of the class and the teacher.
A lot of students were laughing, etc…Then the teacher said 'Ok! You forgot the main instruction for this work (no music) but your work touched me so much that I will give you 18/20 and if you correct this part by doing this, I will make it 19/20.'
I answered something like "I am ok with 18/20". After that it was obvious that we would keep in touch through music.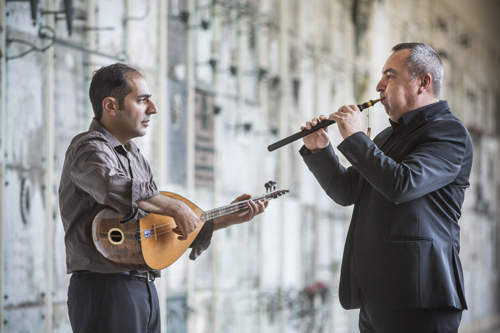 What attracted a Belgian with Turkish roots and an Armenian to collaborate?
There is no point for us not to collaborate because of so many common things from food to music.
For me, the "modern Turkish identity" they wanted to create doesn't mean so much or it is not relevant. Turkey is a mosaic of more than 40 ethnic groups with several languages, which includes Kurdish, Aramaic, Pontos Greek, Armenian, Laz… so much!
Unfortunately, a lot of blood and tragedies accompany their stories.
As in Europe with Bretons, or all the "little communities" which are actually so big for me as the Baul, in India for giving just one example…Sorry for my English.
For Vardan and me particularly, the music is the common language we want to express our feelings… and I think in this attempt the goal is quite appreciated for that we are so grateful to our respective masters… you have some interviews where their names are noted.
For me, Lutfu Gultekin, my father then so lot of so nice musicians. Specially and first from Turkey (one of my main roots), Talip Özkan, Mustafa Karaçeper, Neşet Ertaş, Muharrem Ertaş, Tamburi Cemil Bey, Cengiz Özkan, Engin Arslan, Ertan Tekin.
I want to apologize because there are so many.
Then also here in Europe or India or Africa, America, Far East, Middle-East.
Actually, Muziekpublique based in Brussels or De Centrale based in Gent can give a good idea about the diversity of musical cultures we exchange in Belgium.
My second root is related with Belgium, where I was born. 
So it means through Brussels more than 170 countries… so much diversity who can give so much perspective in the way of musical exchange creations, etc.
At the end, the world is like a village 🙂
Very soon, I hope we can effectively understand the absurdity in so much ideas like borders, papers. Music has to remember that as an artistic point of view of life.
Then there is no point of defining music by "nationality" which is also nonsense. Of course, territorial geographical particularities is relevant. Sometimes even between two neighboring village stylistic differences exist…Particularly for Armenian and Turkish folk music we can say that there is a so large common background through the centuries of living together than we can hope to collaborate with Vardan all our life. As long as breathe, we will perform!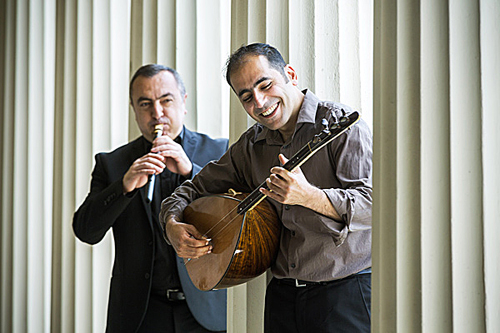 What do you consider as the essential elements of your music?
Soul and spirit…feelings…fluidity… all our respective lives in a way… get in our music our hopes to transmit all of this through our music
Whom can you cite as your main musical influences?
I already mentioned some earlier, my father Lutfu Gultekin, and a lot of his colleagues or friends, Talip Özkan, Mustafa Karaçeper, and a lot more.
Recently I met after 20 years Aynur, for a Kurdish folk project. Through the platform muziekpublique I get the chance to meet a lot of musicians from "world music." I dislike this categorization of music. A big mistake;-) the categorization.
Vardan has also his own masters (I don't have the names in memory but you can find through muziekpublique.be His roots related to Armenia so old and deep traditions…so the sound of duduk is printed by all of this…
Tell us about your previous album Adana and your musical evolution.
Adana is before all the idea to combine some examples from Armenian and Turkish musical cultures. Through this friendship we developed with Vardan. Musically it is a mix I made as I am sound engineer…One of the rules I learned through years it is: less rules or indication or scores…to the musicians…
Just feelings… even the musician cannot understand the deep roots the expression he is giving to the music my role is to catch them and then put together.
And for this process I am so grateful to people with ears so fined tuned as my father Lutfu Gultekin, Cengiz Özkan, Talip Özkan…and many others.
The ear is our main tool; as musician or sound engineer which has to be in fusion (the two functions) if we want to give a chance to the music…to be heard. Music coming first and before sound engineering (modern way to broadcast "diffuser."
After Adana and in parallel a lot of projects…
There is no impossibility in music if you are open mind and if you want to share and find a common way. So it is a permanent journey. These are some of the projects: www.amusicjourney.com, www.seyirmuzik.com
A lot of recordings we have also to share, but in this very troubled period in the way they are diffusing consuming music sometimes it is very difficult to find it. Then you give up to think about and continue to play record. Making music is our life.
You play two traditional Turkish musical instruments, the saz and the baglama. What's the difference between the two instruments?
Saz is a generic term for all the lute family we can find in Turkey. There is no standard format of this instrument. Each instrument maker has his signature… initially it was like that. Today, industrial mood and process can be used. But I like signatures.
So baglama is one of the format but in different regions it can represent different instruments.
Baglama in Aegean part (west) is a cura in another part…More than 40 different ethnic group in Turkey;-)
Complicated a bit, but if you change the perspective to analyze music, it becomes quite ok.
We can make music with spoon in Greece or Turkey:-)
Who makes your musical instruments?
I never bought instruments. Till today, my father had a very good approach of restoring old saz (as wine it is better older) and we have not this idea of mine, my instrument. Every material things for music is shared as it has to be through music, so in that way we share instruments.
Also I received some gifts from very good masters. The instrument makers are in Turkey, Central Asia, Iran…Difficult to find here in Europe.
Are you involved in any form of musical education?
After years of "teaching," you understand if you can go further that there is no point to teach, and maybe we have more to call it sharing…
Also as "teacher," I learned a lot because new things generally can come also from "students" if the "teacher" is attentive.
So in that way I was involved a lot but neither in academy or conservatory where they cannot teach the spirit of the saz…Some cultural association.
The masters as considered like were never in institutions or conservatory or academy. Some have opened their own school and sometimes they also the same impact as institutions for music… they empty the music from its own soul or spirit.
That is one of the thing I heard from Talip Özkan and then I experiment in my own musical trip.
So it is continuing like that…Some young people interested they can follow you, then it will depend of their own intention, to be or not actor in musical developments. And how… a lot of questions of course.
If you could gather any additional musicians or musical groups to collaborate with, whom would that be?
There is no impossibility. We can make music with anyone who is close to our feelings. You cannot cheat in music. In that way if the person is sincerely involved to share and express something which is above us, the music, then this one can emerge.
For Adana and Karin it is with double bass percussion and a lot of other instruments. For Karin we invited also a lot of guest: Iranian, Kurdish, Georgian, French, Belgian, and Indian.
Do you have any other upcoming projects to share with us?
Baul meets saz (Indian Baul); Aynur Kurdish; Osuna Trio Silk Road folk; Gultekinler (kalan music); Guo Gan "lune de jade." And so much more in hard drives 🙂 Easy to get info through internet…
Discography:
Chansons Pour La Fin D'un Jour ‎(Homerecords.be, 2011)
L'exil, Refuge Du Barde, with Lütfü Gültekin ‎(Homerecords.be, 2013)
Adana, with Vardan Hovanissian ‎(Muziekpublique, 2015)
Lune De Jade, with Guo Gan (Homerecords.be, 2016)
Karin (Muziekpublique, 2018)