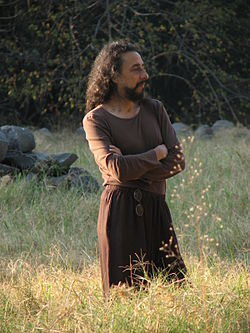 Born in Mexico City in 1946, Antonio Zepeda is the first contemporary musician and composer who, from a non-western point of view, gives relevance to the pre-Columbian musical universe of Mexico.
Inspired in the sonority of native pre-Hispanic musical instruments such as drums, flutes, rattles, water drums, turtle shells, conch shells, ocarinas, clay pots and log drums, he re-creates with them the mystical ambience smothered by the dust of history.
Zepeda has inspired hundreds of musicians to follow his path, creating the revival of a musical genre that had remained forgotten for centuries. He has come to represent the voice of the past, carried through to the present by the sounds whose echoes reverberate into our generation.
Zepeda gave his first concert in 1967, and since then he has been able to live with ethnic groups for long periods of time, studying their philosophy, rhythms and customs and continuously researching about the archaeological and anthropological past of the American pre-Columbian civilizations.
He has composed music for multiple documentary and fiction films and recorded special programs for the BBC of England, CBS of the United States, CBC of Canada, WDR of Germany, Radio France, Radio Denmark, Radio and TV of Sweden and NHK of Japan. Through the Mexican Ministries of Culture and Foreign Affairs he has officially represented his country in North America, South America, Africa, Asia and Europe and has participated in great international festivals.
He is also an outstanding lecturer, and has been presented in schools, universities, conservatories, and museums in Mexico and the world, discoursing on ethnic instruments of Mexico, as well as on the role of music in Mesoamerican pre-Columbian cultures.
Discography:
Templo Mayor – Música Con Instrumentos Prehispánicos (Olinkan, 1982)
El Rostro de la Muerte Entre Los Nahuas (Universidad Nacional Autonoma De Mexico, 1984)
A La Izquierda Del Colibrí, with Jorge Reyes (Philips, 1986)
La Region Del Misterio [The Place Of Mystery] (Olinkan, 1986)
Corazòn Del Sol (Olinkan, 1987)
Retorno A Aztlan (Olinkan, 1989)
In Necuepaliztli In Aztlan (Retorno A Aztlan) (Olinkan, 1989)
Paisajes, with Eugenio Toussaint (Producciones Fonograficas, S.A. De C.V., 1993)
Brujos Del Aguatierra (Global Entertainment, 1997)
La Música De Los Espíritus (Knife Music, 2000)
Los sonidos del pasado (2001)
Nature (2002)